The Wall Street Journal editorial board slammed Rep. Alexandria Ocasio-Cortez, D-N.Y., for arguing that the Biden administration should ignore a Texas federal judge's ruling that halted the Food and Drug Administration's approval of a new abortion pill.
Last week, Trump-appointed U.S. District Judge Matthew J. Kacsmaryk ordered the FDA to stop the approval of mifepristone, citing a lawsuit challenging the drug's safety that's currently being litigated. Kacsmaryk gave the federal government seven days to "seek emergency relief from the United States Court of Appeals for the Fifth Circuit."
"I believe that the Biden administration should ignore this ruling," Ocasio-Cortez argued over the weekend.
Ocasio-Cortez said during an interview with CNN that the courts have undermined their own legitimacy and said they do not have the power to enforce their own decisions. She advocated for President Biden to ignore the courts.
AOC DOUBLES DOWN ON 'IGNORING' ABORTION RULE, CLARENCE THOMAS IMPEACHMENT: 'ABUSE OF JUDICIAL OVERREACH'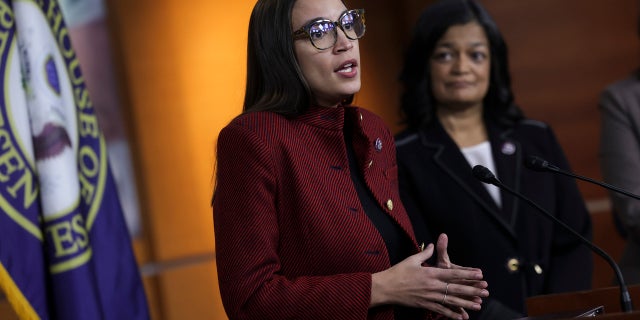 WASHINGTON, DC – APRIL 07: U.S. Alexandria Ocasio-Cortez (D-NY) (L), joined by Rep. Pramila Jayapal (D-WA), speaks at a news conference on banning stock trades for members of Congress, on Capitol Hill, April 07, 2022 in Washington, DC.  (Photo by Kevin Dietsch/Getty Images)
The Wall Street Journal editors slammed Ocasio-Cortez for her remarks Monday in an editorial titled, "Democrats for Defying Court Orders."
"One depressing sign of the political times is that partisans on the left and right are willing to trash political norms and institutions to get their way. The latest example comes from Democrats urging the Biden Administration to ignore last week's federal court order concerning the abortion drug mifepristone," the editors wrote. "This is dangerous for the rule of law."
The editorial board contended that if Biden took such as course of action, conservatives would follow suit once they were in power.
CNN PRESSES REP OCASIO-CORTEZ OVER CLAIMS BIDEN ADMIN SHOULD 'IGNORE' ABORTION RULING: 'STUNNING POSITION'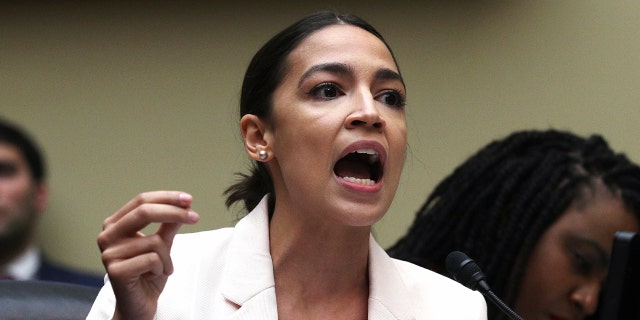 U.S. Rep. Alexandria Ocasio-Cortez recently boasted about her campaign to block Amazon from building a headquarters building in New York City. (Photo by Alex Wong/Getty Images)
The editors described it as "encouraging" that Biden has not taken Ocasio-Cortez's advice on this matter thus far.
"But there's a risk the Administration will cave under progressive pressure if the legal rulings don't go its way. If it does, the U.S. will take another giant step toward lawless politics," they argued.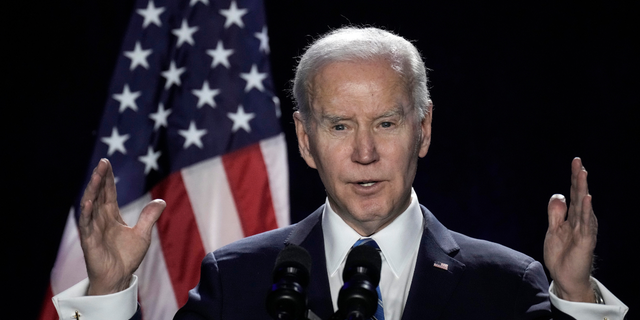 President Biden Speaks At The House Democratic Caucus Issues Conference In Baltimore. (Drew Angerer/Getty Images)
CLICK HERE TO GET THE FOX NEWS APP
President Biden did slam Kacsmaryk's decision, saying that the court "has substituted its judgment for FDA, the expert agency that approves drugs."
"If this ruling were to stand, then there will be virtually no prescription, approved by the FDA, that would be safe from these kinds of political, ideological attacks," Biden said.
Sen. Ron Wyden, D-Ore., agreed with Ocasio-Cortez and issued a statement after the judge's ruling.
"There is no way this decision has a basis in law. It is instead rooted in conservatives' dangerous and undemocratic takeover of our country's institutions," Wyden said. "No matter what happens in seven days, I believe the Food and Drug Administration has the authority to ignore this ruling, which is why I'm again calling on President Biden and the FDA to do just that."
Fox News' Chris Pandolfo contributed to this report.