BOSTON – Canadian assets overheard "banging noises" in the search for the missing Titan submersible on multiple occasions over the past two days, authorities confirmed during a briefing Wednesday at the U.S. Coast Guard base in Boston.
The sounds were first registered Tuesday, and deep-sea remote-operated vehicles, or ROVs, "immediately" responded to the area, according to USCG Capt. Jamie Frederick. The data has been shared with the U.S. Navy for expert analysis.
Carl Hartsfield, a retired Navy captain and a scientist from the Woods Hole Oceanographic Institution, said during the briefing that the noises had been "described as banging," but authorities did not elaborate.
"I can't tell you what the noises are," Frederick said. "But what I can tell you, and I think that this is the most important point, is that we're searching where the noises are."
ROV assets in the vicinity are capable of reaching as deep as 4,000 meters, he said.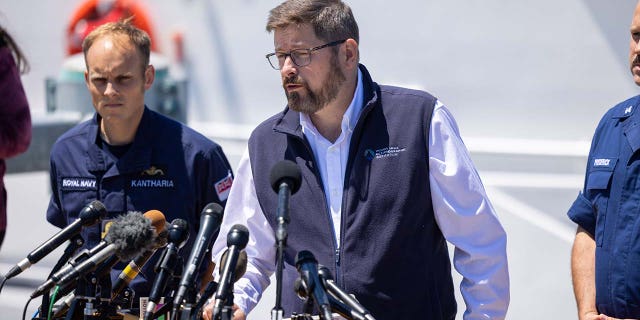 Carl Hartsfield of the Woods Hole Oceanographic Institute talks about the noises heard during a U.S. Coast Guard update on the search efforts for five people aboard a missing submersible in Boston on Wednesday. (Scott Eisen/Getty Images)
"This is a search-and-rescue mission, 100%," he said.
WEATHER FORECAST FOR FINAL HOURS AS RESCUE CREWS WORK TO FIND MISSING TITANIC TOURIST SUBMERSIBLE
The Titan vanished Sunday during an attempt to visit the shipwreck of the Titanic about 900 miles east of Cape Cod.
CLICK HERE TO GET THE FOX NEWS APP
The crew had only an estimated 16 to 17 hours left of breathable air as of 1 p.m. Wednesday.