U.K. Prime Minister Rishi Sunak praised the bravery of political leaders who struck the Good Friday peace accord 25 years ago Monday, as he urged Northern Ireland's current politicians to return to work.
While the peace deal largely brought an end to 30 years of hostilities, the Northern Ireland Assembly has been in limbo for more than a year since the main unionist party pulled out of the government to protest new post-Brexit trade rules for Northern Ireland.
Sunak discussed the importance of compromise in reaching the April 10, 1998 peace deal and called for redoubling efforts toward economic opportunity, prosperity, and stability.
NORTHERN IRELAND POLICE DISRUPT ALLEGED NEW IRA BOMB PLOT AHEAD OF BIDEN'S VISIT: REPORT
"It is a promise we must continue to fulfill," he said. "So we must get on with the business of governance."
Sunak is set to greet U.S. President Joe Biden when he arrives Tuesday night in Belfast for a four-day visit to Northern Ireland and Ireland. The White House said Biden would mark the progress since the agreement was struck and underscore Northern Ireland's economic potential.
The U.S.-brokered deal got Irish republican and British loyalist paramilitary groups to lay down their arms, largely ending the violence known as "the Troubles" that claimed 3,600 lives. It also ended direct British rule and set up a power-sharing government for Northern Ireland.
"As we look forward, we will celebrate those who took difficult decisions, accepted compromise, and showed leadership — showing bravery, perseverance, and political imagination," Sunak said. "We commemorate those who are no longer with us and the many who lost their lives by trying to prevent violence and protect the innocent."
While an entire generation has grown up without the regular fear of violence, divisions remain over the conflict's legacy. Occasional attacks by dissidents led U.K. authorities last month to raise Northern Ireland's terrorism threat level to "severe," meaning an attack is highly likely.
Police had warned that officers could be attacked in an Easter Monday parade — for which official permission had not been granted — in Londonderry by Irish republican dissidents who opposed the Good Friday Agreement.
During the otherwise peaceful demonstration in the Creggan neighborhood, a group of youths in hoods and black face masks threw fire bombs and bottles at a police Land Rover, before it drove off in flames.
Police said no officers were injured and no arrests were reported.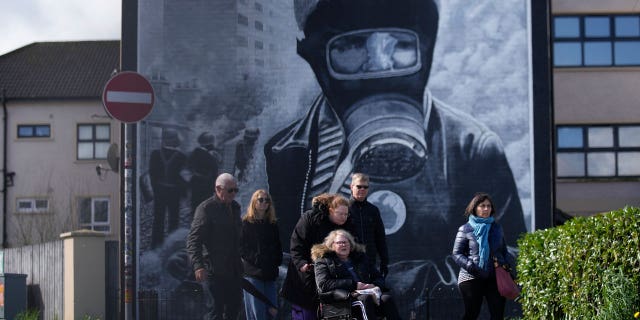 Tourists walk by a mural at Londonderry, Northern Irelands Free Derry corner. Conservative British Prime Minister Rishi Sunak on Monday praised the Northern Irish politicians who brokered the Good Friday Agreement of 1998, and urged its incumbent politicians to return to work. (AP Photo/Christophe Ena)
The parade was to commemorate the 1916 Easter Rising against British rule in Ireland, which Stephen Murray, a leading Republican dissident, told the crowd was "unfinished business."
"I have a message for the British occupiers," Murray said. "Their paramilitary police and their entire establishment: so long as you continue to oppress us, you will meet with the inescapable consequences."
Politicians who condemned the attack included Michelle O'Neill, vice president of the Irish nationalist Sinn Fein, which was allied with the paramilitary Irish Republican Army during the decades of Catholic-Protestant violence.
"Twenty-five years on from the Good Friday Agreement this needless street disorder in Derry has no place in our society," O'Neill said. "We must stand united, appealing to all those concerned to end these attacks and refrain from further threats of violence."
With the Troubles legacy in the backdrop, Britain's exit from the European Union has created newer political tensions over trade issues.
British unionist politicians left Northern Ireland's 1.9 million people without a functioning administration when they walked out of the power-sharing Belfast government a year ago to protest customs checks between Northern Ireland and the rest of the U.K. imposed after Brexit, which they say undermine the region's place in the United Kingdom.
Last month the U.K. and the EU signed an agreement, known as the Windsor Framework, that aims to eliminate many of the checks while maintaining an open border between the north and its EU neighbor the Republic of Ireland — a key pillar of the peace process.
BREXIT DEAL: RISHI SUNAK, EU REPORTEDLY REACH AGREEMENT ON NORTHERN IRELAND PROTOCOL
But the Democratic Unionist Party refuses to return to government because it says the deal leaves some EU laws in place in Northern Ireland.
Northern Ireland Secretary Chris Heaton-Harris said he couldn't put a timeline on when power-sharing would be back up and running.
"Anybody who is predicting a date by which the executive would go back in Northern Ireland would be someone who can also sell you a four-leaf clover," he told BBC Radio 4.
Irish premier Leo Varadkar said he would work with Sunak to help restore the Belfast government, saying he learned from the Good Friday Agreement that the two leaders need to be "in lock-step."
CLICK HERE TO GET THE FOX NEWS APP
"What we know from history is that Northern Ireland only really works when the two governments work hand in hand," he told RTE, Ireland's national public media service.