A high school graduate warned Dr. Phil's audience on Tuesday that education is dividing classrooms into oppressors and oppressed students based upon their ancestry, arguing such curriculum should be banned.
A mother named Alma who raised children of mixed White and Latino heritage warned that critical race theory is teaching children radical ideas about race and politics without parents' knowledge.
"There's this group of kids that are oppressors, and there's this group of kids that are oppressed," she said. "That really was troubling for my daughter."
After noting that their own family have different complexions, she said that she and her more tanned complexion daughter would be labeled as oppressed, while on the other hand, "there's these people, the half of the family – the sister, the brother, the father – that are oppressors."
CRITICAL RACE THEORY TAUGHT TO FUTURE MILITARY LEADERS AT U.S. MILITARY ACADEMIES, ACCORDING TO NEW STUDY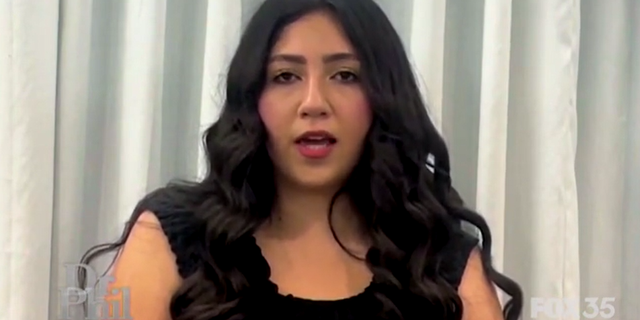 A recent high school student spoke about the racialized education she encountered in school during a recent episode of Dr. Phil.
Dr. Phil then played footage of Alma's daughter warning about racialized education she encountered in her own California high school.
"I am a recent high school graduate from a school located in California. I was recently put into an Ethnic Studies class my senior year of high school," she said. "This class was teaching us about how minorities are oppressed."
She added, "Because of the color of my skin, because I'm considered to be a Latina, and I am more Brown that I will never be successful like my White peers. People like my dad or my sister or my brother would have more prosperity, just because of the color of their skin."
She then noted that it was awkward to be of even partial White ancestry in a room full of people being told they are in a racial hierarchy.
"The fact of the matter was, I was the only person who was considerably half White, half Mexican, and the rest of my peers were minorities," she said. "They were all people of color learning about how we're all put in a hierarchy, and we'll never be successful."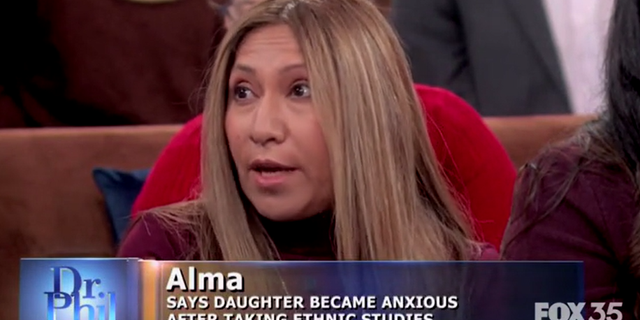 Alma, the high schooler's mother, explained how such divisive education would divide her own racially mixed family into "oppressors" and "oppressed."
CRITICAL RACE THEORY TAUGHT AT MANY OF AMERICA'S 50 MOST ELITE PRIVATE K-12 SCHOOLS, ACCORDING TO NEW STUDY
"When it comes to Ethnic Studies, I believe that it is a course that shouldn't be taught. It should be banned," she said.
Elsewhere in the episode, a teacher named Kali who fled California for Florida warned about the same "Ethnic Studies" curriculum in her former home state.
"In California, right now, there is a push for this class called 'Ethnic Studies.' It's going to be a requirement for graduation," she warned.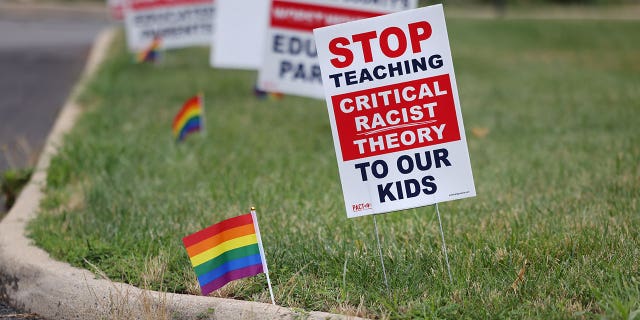 Racially and culturally divisive education has sparked massive controversies across the country. (REUTERS/Evelyn Hockstein)
CLICK HERE TO GET THE FOX NEWS APP
"The teacher that taught Ethnic Studies at my site had the same platform that I was using, so I was able to see all of her lessons. It was shocking, what I saw. They have this term called 'hegemony' in critical race theory, which means that America was built to only help the White man," she said. "All of the institutions were put in there to benefit the White man and to oppress everybody else, and so, our students are learning about these concepts. It is dividing America based on race. It's hyper-race focused. Whenever you see hyper-race focus, you're going to see racism along with it."