Three bodies were found Monday in the rubble following an explosion that collapsed a building in the southern French city of Marseille, bringing the confirmed death toll to five as rescuers continued searching for three more people who are unaccounted-for.
Two other bodies had previously been found overnight. The judicial authority will proceed to identify the victims, firefighters said in a statement.
"The hope to find survivors is still there," Minister for Cities and Housing Olivier Klein told reporters earlier Monday, after he met with rescuers on site. More than 100 firefighters were mobilized for the searches.
FRENCH RESCUERS RECOVER 4 BODIES AFTER EXPLOSION COLLAPSES BUILDING IN MARSEILLE, SEARCH CONTINUES FOR MISSING
Rescuers were using a crane to move heavy blocks of concrete and rubble with great caution so as not to hurt people who could still be trapped underneath, and then continuing the investigation with their hands.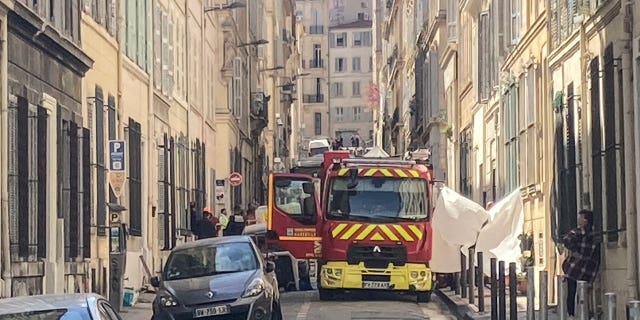 A fifth body has been found at the site of an explosion-induced building collapse in Marseille, France. (AP Photo/Bishr El Touni)
Marseille Mayor Benoit Payan tweeted Monday that "the pain and sorrow are great." He expressed his thoughts for the families of the victims and "those who are suffering."
"Rescue and search operations are continuing, without respite," he said.
BUILDING IN MARSEILLE, FRANCE, COLLAPSES AFTER EXPLOSION, MULTIPLE PEOPLE BELIEVED TRAPPED UNDER RUBBLE
An investigation has been opened for involuntary injury, at least initially sidestepping possible criminal intentions. A gas explosion was among the avenues of investigation, prosecutor Dominique Laurens said Sunday evening.
The collapse occurred shortly before 1 a.m. on Sunday, in an old quarter in the center of Marseille, France's second-largest city, less than a half-mile from its iconic old port. About 200 people have been evacuated from their homes in the area.
CLICK HERE TO GET THE FOX NEWS APP
In 2018, two buildings in the center of Marseille collapsed, killing eight people. Those buildings were poorly maintained — not the case with the one that collapsed Sunday, the interior minister said.