The Department of Justice filed an emergency motion with a federal appeals court Monday seeking to halt a judge's ruling last week that would suspend access nationwide to the abortion drug mifepristone.
U.S. District Judge Matthew Kacsmaryk, a Trump appointee, ordered a pause Friday to the FDA's approval of mifepristone, which is used with the drug misoprostol to end a pregnancy within the first 70 days. Kacsmaryk gave the federal government seven days to seek emergency relief from the U.S. Court of Appeals for the Fifth Circuit.
Lawyers for the Justice Department called that ruling "extraordinary and unprecedented" in their appeal on Monday.
"Plaintiffs lack standing to challenge FDA's approval of a drug they neither take nor prescribe; their challenge to FDA actions dating back to 2000 is manifestly untimely; and they have provided no basis for second-guessing FDA's scientific judgment," the attorneys wrote. "If allowed to take effect, that order will irreparably harm patients, healthcare systems, and businesses."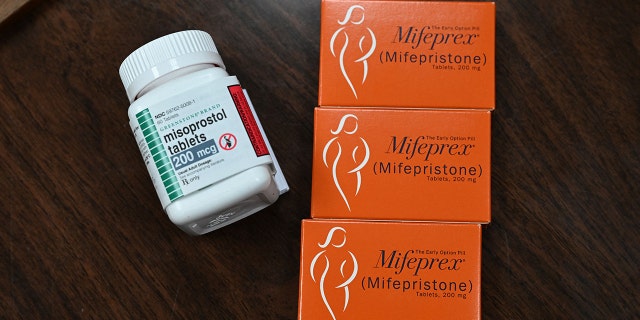 Mifepristone (Mifeprex) and Misoprostol, the two drugs used in a medication abortion, are seen at the Women's Reproductive Clinic, which provides legal medication abortion services, in Santa Teresa, New Mexico, on June 17, 2022.  (ROBYN BECK/AFP via Getty Images)
Attorneys asked the appeals court to stay Kacsmaryk's ruling while the issue makes its way through the courts. It is likely to end up at the Supreme Court, which overturned Roe V. Wade and returned abortion restrictions to the states last year.
CNN PRESSES REP OCASIO-CORTEZ OVER CLAIMS BIDEN ADMIN SHOULD 'IGNORE' ABORTION RULING: 'STUNNING POSITION'
Separately, Obama-appointed U.S. District Judge Thomas Rice issued a preliminary injunction on Friday barring the FDA from "altering" the current availability of mifepristone in several Democratic-led states. Attorneys general for those states had sued the health agency earlier this year, arguing that mifepristone is "safer than many other common drugs FDA regulates, such as Viagra and Tylenol."
The Biden administration swiftly condemned Kacsmaryk's ruling, with Health Secretary Xavier Becerra suggesting that the FDA could ignore Kacsmaryk's ruling altogether.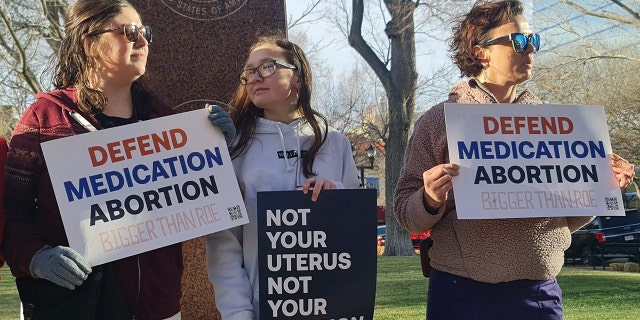 Abortion rights adovcates gather in front of the J Marvin Jones Federal Building and Courthouse in Amarillo, Texas, on March 15, 2023.  (MOISES AVILA/AFP via Getty Images)
A spokesperson for the Department of Health and Human Services walked that statement back on Sunday.
"People are rightly frustrated about this decision — but as dangerous a precedent it sets for a court to disregard FDA's expert judgment regarding a drug's safety and efficacy, it would also set a dangerous precedent for the Administration to disregard a binding decision," Department of Health and Human Services spokesperson Kamara Jones tweeted Sunday.
CLICK HERE TO GET THE FOX NEWS APP
More than 300 biotech and pharmaceutical industry executives signed on to an open letter on Monday calling for a reversal of Kacsmaryk's ruling.
"We call for the reversal of this decision to disregard science, and the appropriate restitution of the mandate for the safety and efficacy of medicines for all with the FDA, the agency entrusted to do so in the first place," the executives wrote.