Justin Jones, the former Democratic Tennessee state representative who was expelled after participating in an anti-gun protest at the state Capitol, claimed that his removal was the result of a "White supremacist system."
After a transgender shooter killed six people, including three children, at a private Christian school in Nashville, anti-gun protesters stormed the state Capitol to call for stricter bans on assault weapons.
Jones and then-state Rep. Justin Pearson participated in the protest and were expelled Thursday from their seats on violation of House rules. Democratic Rep. Gloria Johnson also participated in the protest, but avoided expulsion.
"We're in the midst of a third Reconstruction here in Tennessee that hopefully will have national implications," Jones told MSNBC's Al Sharpton Sunday after his expulsion. "But what it means is that this White supremacist system being led by Speaker Cameron Sexton is an attempt to divide and conquer us. But in reality, you see we, the Tennessee Three, we continue to stand together."
EXPELLED TENNESSEE LAWMAKERS RUPPED FOR BLAMING RACISM ON EXPLUSION: 'THERE YOU OUT FOR VIOLATING THE RULES'
Tennessee state Rep. Justin Jones calls on his colleagues to pass gun control legislation at the State Capitol, March 30, 2023, in Nashville. (Nicole Hester/The Tennessean)
"Though their vote was racist, though their vote was to expel the two youngest Black lawmakers, their attack on democracy hurts all of us, whether you're Black, brown or White, it's an assault on all of us" the Democrat continued.
BIDEN CONDEMNS TENNESSEE HOUSE EXPULSION VOTE AND CALLS FOR GUN CONTROL
Despite claims that the vote to expel the lawmakers was "racist," Fox News contributor David Webb recently highlighted that the representatives were removed for rebelling against House rules.
"They broke rules that have been in place for a very long time. And enough already with this racism. If everything's racism, nothing's racism. They didn't throw you out because you were Black. They threw you out because they had the votes, and you violated the rules," Webb said.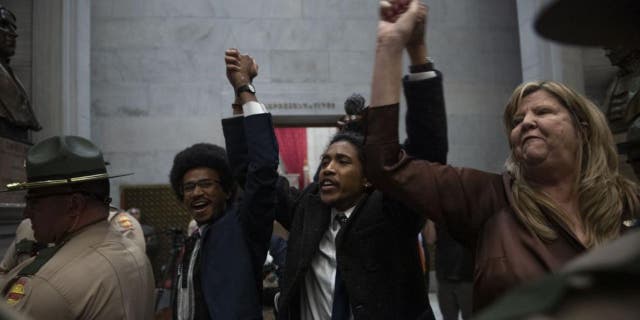 Reps. Justin Pearson, Justin Jones and Gloria Johnson hold their hands up as they exit the House Chamber doors at the state Capitol in Nashville, Tennessee on April 3, 2023. (Nicole Hester/The Tennessean)
When discussing the expulsion, Rep. Jeremy Faison, Tennessee Republican Caucus chair, described the Democrats as "leading a choir" during the protests.
Vice President Kamala Harris traveled to The Volunteer State to meet with "The Tennessee Three" after their expulsion, despite not yet visiting with any families affected by the tragic mass shooting.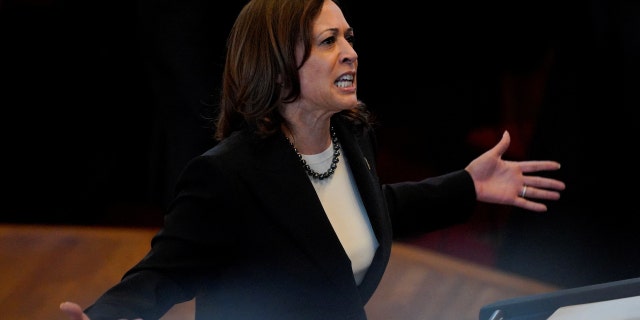 Vice President Kamala Harris speaks during an address at Fisk Memorial Chapel a day after the Tennessee House voted to expel two Democratic members for their roles in a gun control demonstration at the state Capitol, in Nashville, April 7, 2023. (Cheney Orr)
On Friday, President Joe Biden invited the expelled Democrats to the White House in a letter praising them for "seeking to ban assault weapons and standing up for our democratic values" in their protest.
CLICK HERE TO GET THE FOX NEWS APP
Despite being removed Thursday, Jones could return to his seat Monday as Nashville's metro council seeks to reappoint him.
Fox News' Ashley Carnahan and Bradford Betz contributed to this report.