A religious liberty nonprofit is threatening the federal government with a legal battle after a Catholic hospital in Oklahoma was offered the choice of either extinguishing a sacred candle in its chapel or being stripped of its federal funding.
The Becket Fund for Religious Liberty and the law firm Yetter Coleman LLP fired off a letter to officials with the Department of Health and Human Services (HHS) this week after the Joint Commission demanded earlier this year that Saint Francis Health System snuff out a candle that represents the presence of Jesus Christ in the Eucharist.
The Joint Commission is an independent accrediting organization whose findings are often used to meet conditions for Medicaid and Medicare certification with the HHS-affiliated Centers for Medicare and Medicaid Services (CMS).
Saint Francis Health System, which is the 12th-largest hospital in the U.S., was told following a hospital inspection in February that its solitary candle at Saint Francis Hospital South was a safety hazard and that it would lose its ability to accept Medicare, Medicaid or the Children's Health Insurance Program (CHIP) if the flame was not removed, according to a letter sent to the hospital last month.
ANTI-CHRISTIAN HOSTILITY REACHING 'UNPRECEDENTED' LEVELS IN CULTURE, GOVERNMENT UNDER BIDEN, OBSERVERS WARN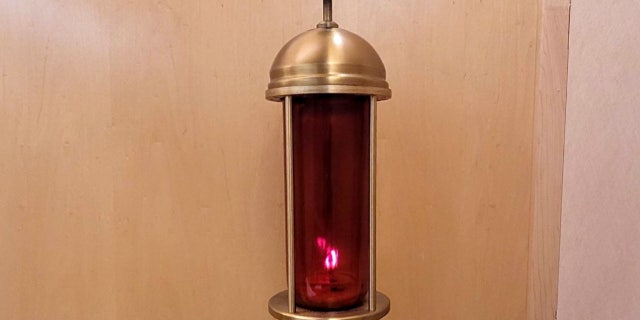 The sacred candle representing the presence of Jesus Christ is encased in glass, covered with a brass top and located near sprinklers far away from medical equipment. (Saint Francis Health System)
The letter maintained that the law requires flames be "placed in a substantial candle holder and supervised at all times they are lighted."
The hospital entreated the agency in vain four times for a waiver regarding the candle, according to the Becket Fund, which noted that similar flames in the building such as pilot lights and those in gas stove heaters did not prove to be a problem.
"The government's demand is absurd and unlawful — it is targeting Saint Francis's sincere beliefs without any good reason," Becket vice president and senior counsel Lori Windham said in a statement provided to Fox News Digital. "The government has a simple choice: either stop this attack on Saint Francis's faith or expect a legal firestorm."
In their May 2 letter to the Biden administration, the Becket Fund urged the government to back off the sacred candle, which is encased in glass, covered with brass and located near sprinklers far away from medical equipment. The letter warned the ultimatum violates federal law and threatens to "cripple the operations of the premiere hospitals in the State of Oklahoma, simply because they keep a candle in hospital chapels."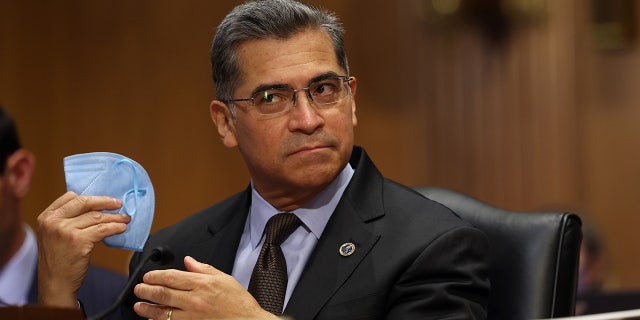 Health and Human Services Secretary Xavier Becerra was among the recipients of the letter from the Becket Fund for Religious Liberty about the sacred candle. (Kevin Dietsch/Getty Images)
St. Francis Health System operates five hospitals in eastern Oklahoma and employs 11,000 people, cares for approximately 400,000 patients annually and has provided more than $650 million in free medical care to needy patients during the past five years.
BIDEN DOJ RECOMMENDS NO JAIL TIME FOR TRANS VANDAL OF CATHOLIC CHURCH: 'F— CATHOLICS'
"Over 60 years ago, Saint Francis was founded by William K. and Natalie Warren as an act of gratitude and service to God and to the people of Oklahoma," Barry Steichen, executive vice president and chief operating officer of Saint Francis, said in a statement provided to Fox News Digital.
"The cornerstone of Saint Francis is love for God and man. To this day, the Saint Francis torch insignia indicates a space of hope: a place where the medical and spiritual stand as one," he continued. "We're being asked to choose between serving those in need and worshiping God in the chapel, but they go hand-in-hand."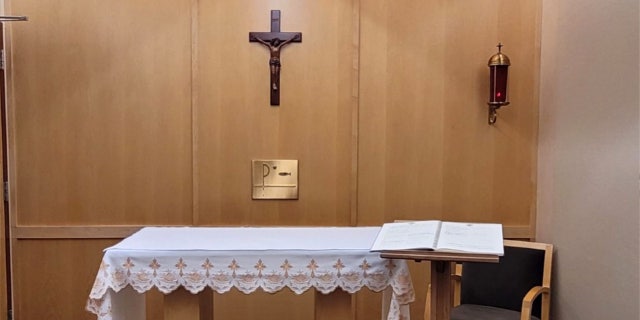 Barry Steichen, executive vice president and chief operating officer of Saint Francis, said the sacred candle represents their faith in God as they help needy patients. (Saint Francis Health System)
"To share a quotation of Saint Francis Xavier that is familiar to many Saint Francis staff, 'it is not the actual physical exertion that counts towards one's progress, nor the nature of the task, but by the spirit of faith with which it is undertaken.' Our work depends upon our faith in the living God, and the sanctuary candle represents this to us," Steichen added.
A spokesperson for HHS told Fox News Digital that the department "is aware of a safety finding involving a fire risk, made by an independent accrediting organization, issued to a hospital in Oklahoma."
"CMS is working with the hospital's accrediting organization to develop options to mitigate the potential fire risk and remove the safety finding," the spokesperson added.
CLICK HERE TO GET THE FOX NEWS APP
The Joint Commission declined to comment, citing pending litigation.