Rescuers in the French port city of Marseille have recovered the bodies of four people from beneath the rubble of a residential building that collapsed in an explosion early Sunday as the search continues for at least four others who remain unaccounted-for.
Minister for Cities and Housing Olivier Klein told reporters at the scene Monday that at least four people were killed in the five-story building collapse in France's second-largest city.
"The hope to find survivors is still there," Klein said. "It is very meticulous work done by firefighters," he added, noting the risk for adjacent buildings to collapse.
A fire burned beneath the rubble following the collapse shortly before 1 a.m. on Sunday, and more than 100 firefighters were mobilized to put out the blaze and search for victims.
FRENCH PROTESTS REIGNITE IN EFFORT TO GET PRESIDENT EMMANUAL MACRON TO SCRAP PENSION REFORM PLANS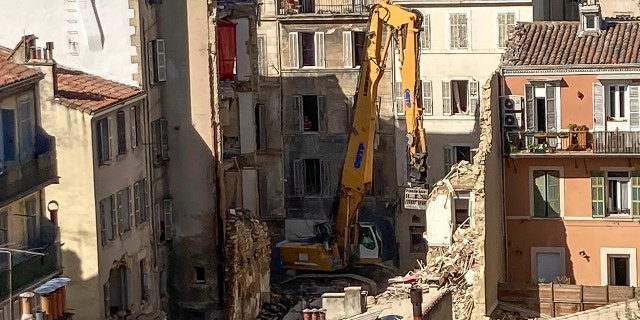 An excavator clears debris on the scene where a building collapsed, in Marseille, southern France, on Monday. (AP Photo/Bishr El Touni)
Two neighboring buildings partially collapsed during the incident and about 200 people have been evacuated from their homes in the area. Marseille Mayor Benoit Payan also noted that at least one of the nearby buildings was in danger of collapsing.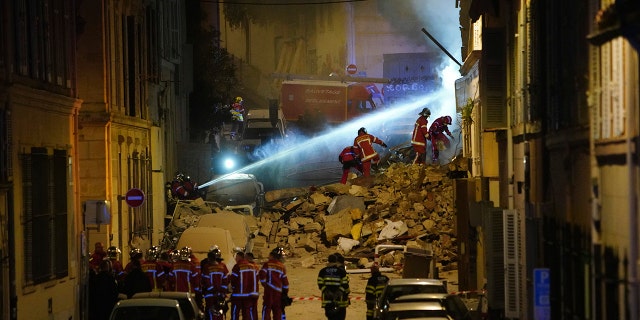 Firefighters worked Sunday to put out a fire deep within the rubble that hindered rescue efforts. (AP Photo)
An investigation has been opened for involuntary injury, at least initially sidestepping possible criminal intentions.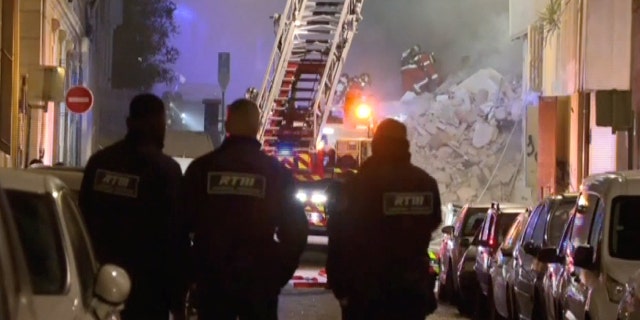 In this screengrab obtained from social media video, firefighters scoured the debris in search of victims trapped beneath the rubble. (BFMTV/via Reuters)
FRENCH GOVERNMENT APPROVES BIGGEST MILITARY SPENDING SPREE IN OVER 50 YEARS AS WAR IN UKRAINE CONTINUES
While the cause of the blast is still unknown, a gas explosion was among the suspected possibilities, prosecutor Dominique Laurens said Sunday evening.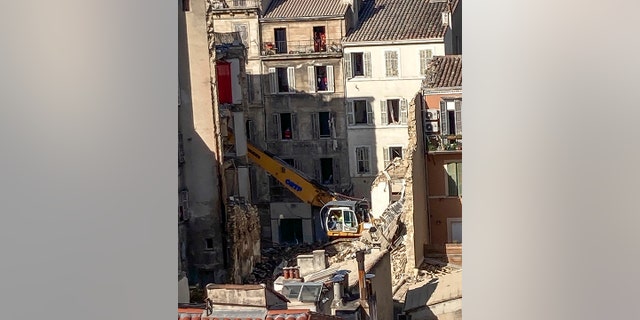 Rescuers continued searching Monday for at least four people who are unaccounted-for, authorities said. (AP Photo/Bishr El Touni)
CLICK HERE TO GET THE FOX NEWS APP
In 2018, two buildings in the center of Marseille collapsed, killing eight people. Those buildings were poorly maintained – not the case with the building that collapsed Sunday, the interior minister said.
The Associated Press contributed to this report.