Gold Star parents are outraged at the Biden administration after it was revealed the Taliban killed the ISIS-K leader responsible for the airport bombing in Kabul, Afghanistan, that killed 13 U.S. service members during the withdrawal.
Mark Schmitz's son, Lance Cpl. Jared Schmitz, was one of the military personnel killed in the suicide bombing in August 2021 at Kabul International Airport. Schmitz joined "America's Newsroom" to discuss his reaction to the news as the White House continues to face harsh criticism over the U.S. pullout.
He also shed doubt on the fact the ISIS militant was actually killed, noting there has been no name or evidence released in connection with the terror mastermind's elimination.
SEAL TEAM SIX KILLS KEY ISIS FACILITATOR BILAL AL-SUDANI, 10 OPERATIVES IN COUNTERTERRORISM MISSION IN SOMALIA
"Has he [been killed] though… Do we have photos? Do we have DNA? Do we have a name? When I spoke to the Pentagon yesterday, they had no answers of anything, so as far as I'm concerned, we can throw the word alleged in front of that entire statement," Schmitz told Dana Perino Wednesday.
"Why is the Taliban handling our dirty laundry is my main question," he continued. "We allegedly have this over-the-horizon capability. Why didn't we take him out? Do we even know who he is? Those are questions that I didn't get answers to."
The Pentagon confirmed Tuesday the ISIS-K leader was killed in an operation. A senior administration source previously told Fox News Digital that the U.S. was made aware of the news through its own intelligence streams, and not through Taliban militants.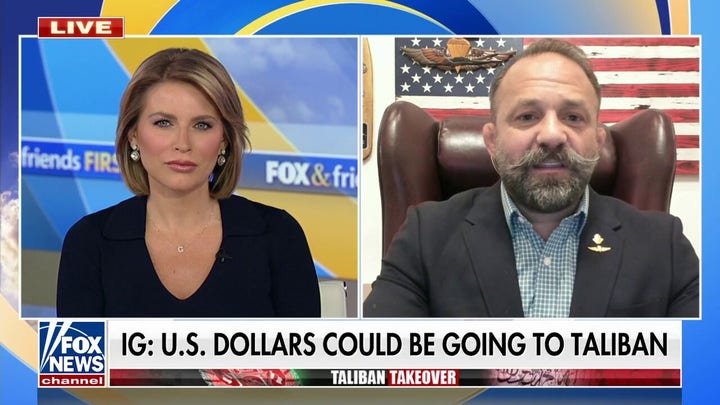 Video
"The United States was not involved in this operation," Pentagon Press Secretary Air Force Brig. Gen. Pat Ryder said. "Our thoughts and prayers remain with the families of our 13 service members lost at Abbey Gate, whose courageous service and sacrifice for our nation will always be remembered."
MCCAUL TARGETS CHINA, AFGHANISTAN WITHDRAWAL AS TOP OVERSIGHT PRIORITIES: 'I HAVE SUBPOENA POWER'
Fox News Digital had previously reported that the suicide bomber had been a prisoner released from Bagram Air Base on Aug. 15, 2021, after the Taliban seized control of the facility.
Schmitz cited his release amid the withdrawal of U.S. forces as the reason for why he was able to carry out his attack that took the lives of 11 Marines, one Navy corpsman, and one Army soldier.
"This goes back to Bagram, in my opinion," Schmitz said. "This guy escaped from prison in Bagram after we snuck out in the middle of the night, so there wouldn't be a mastermind to kill had this guy not taken the lives of our 13 because he escaped out of Bagram, which we should have never left."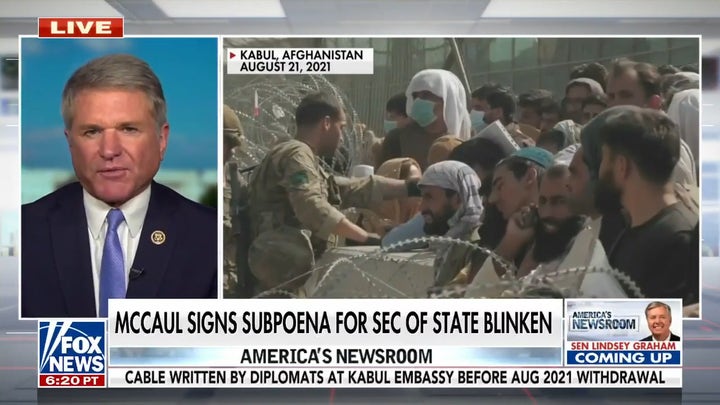 Video
Meanwhile, the House Foreign Affairs Committee is still searching for answers on the chaotic withdrawal after Chairman Mike McCaul, R-Texas, previously subpoenaed Secretary of State Antony Blinken to access additional information about the exit.
THESE ARE THE US SERVICE MEMBERS KILLED IN THE KABUL AIRPORT ATTACK
He wants to retrieve dissent cables from U.S. embassy officials in Kabul that could disclose concerns they had about the withdrawal in real-time.
But Blinken has showed no signs of cooperating with the investigation after he missed the deadline to provide the requested information.
Schmitz said he "absolutely" thinks the Biden administration is trying to cover up its handling of the deadly withdrawal as Republicans accuse the White House of trying to "stonewall" the probe.
"Look what's happening right now in the Foreign Affairs Committee. You've issued a subpoena to Blinken, who has stonewalled and not turned over the dissent cables from the embassy workers," Schmitz said. "I'd love to see what's in those… If these embassy workers are telling the administration, 'don't do what you're planning on doing,' let's see that."
CLICK HERE TO GET THE FOX NEWS APP
"If they want to redact the names, so be it. That's fine, but I don't think what Representative McCaul is asking for is asking too much," he continued.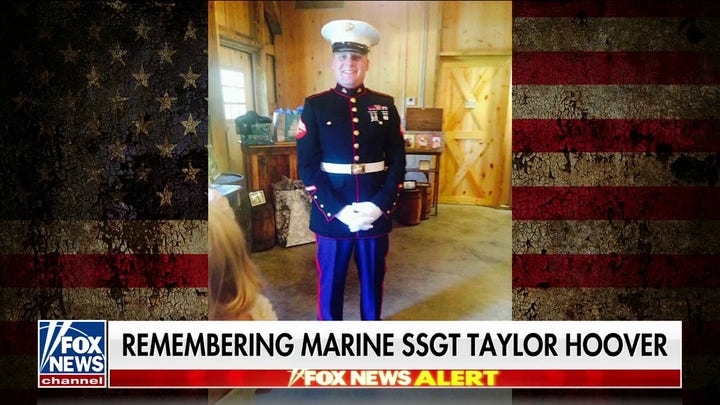 Video
Marine Staff Sgt. Darin Taylor Hoover was another hero killed during the Abbey Gate suicide bombing. His father, Darin Hoover, echoed Schmitz's anger surrounding the Biden administration's secrecy of the pullout during "Fox & Friends."
" [I am] frustrated, pissed off… I'm sick and tired of the games," Hoover told Brian Kilmeade. "The president can't even say our 13 fallen heroes' names. Still hasn't to this day. And for all of these spokespeople… from John Kirby of the NSC and Secretary Austin, to sit there and say that it wasn't chaotic from his perch and he didn't… think that this was a problem, that everything was good, I don't know what they were looking at or what planet they live on, because it sure as heck isn't this one."
Hoover was a hero up to his final moments as he distributed ammunition to his fellow service members before succumbing to his injuries.
Fox News' Brooke Singman contributed to this report.