As former President Donald Trump ramps up his 2024 presidential campaign, new polling reveals that while more than half of Americans believe he intentionally did something illegal after his indictment, many believe it was politically motivated.
Trump was arraigned Tuesday in New York City on charges stemming from alleged 2016 hush money payments to adult film actress Stormy Daniels, making him the first former president in American history to be criminally charged.
A recent ABC News/Ipsos poll found that 48% of Americans think Trump should suspend his presidential campaign following the indictment, up 5 points from last week.
The survey reported that 53% of respondents think that Trump's actions were intentionally illegal. According to the poll, 20% of voters believe Trump did nothing wrong, while 11% said while they think he acted improperly, it was not intentionally illegal.
DEMOCRATS IGNORE WEAKNESS OF TRUMP'S INDICTMENT BECAUSE CASE IS 'LIFE OR DEATH' FOR THEM: GINGRICH
Former U.S. President Donald Trump was indicted in March. (Carmen Mandato)
About 52% of respondents view the charges as serious, up 2 percentage points when compared to an ABC/Ipsos poll from last week, while 39% do not view the indictment as serious.
MEDIA TIRELESSLY TRACKED TRUMP DURING INDICTMENT, ARRAIGNMENT
Following Trump's indictment, 45% of Americans believe the 2024 candidate should be charged with a crime, up 5-points from last week's poll. According to the poll, 32% of respondents do not think he should face charges.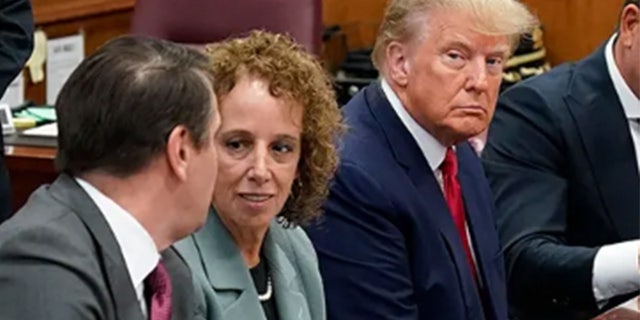 Former U.S. President Donald Trump sits at the defense table with his defense team in a Manhattan court during his arraignment on April 4, 2023, in New York City. Trump was arraigned during his first court appearance today following an indictment by a grand jury that heard evidence about money paid to adult film star Stormy Daniels before the 2016 presidential election. (AP)
Nearly half of respondents, 47%, believe the indictment was politically motivated, with 32% saying politics did not play a role in the criminal probe.
When separated among party affiliation, 16% of Democrats, 48% of independents, and 79% of Republicans believe the indictment was politically driven.
The poll was conducted April 6 to 7, with a margin of error of plus or minus 4.4 percentage points.