King Charles is saddling up for a very special tradition that hasn't been seen in more than 30 years.
On Monday, Buckingham Palace announced that the 74-year-old will take part in the annual Trooping the Colour as sovereign on horseback. This will be the first time a reigning monarch has ridden in the parade since his mother, Queen Elizabeth II, in 1986.
Britain's longest-reigning monarch passed away in September. She was 96.
"His Majesty The King will take the Salute as Colonel in Chief of the seven regiments of the Household Division, at the Birthday Parade on Horse Guards Parade, on Saturday 17th June 2023," the palace announced in a statement.
PRINCE HARRY'S UK COURT BATTLE: ROYAL FEARED BEING 'OUSTED' OVER 'DAMAGING' RUMOR THAT JAMES HEWITT IS HIS DAD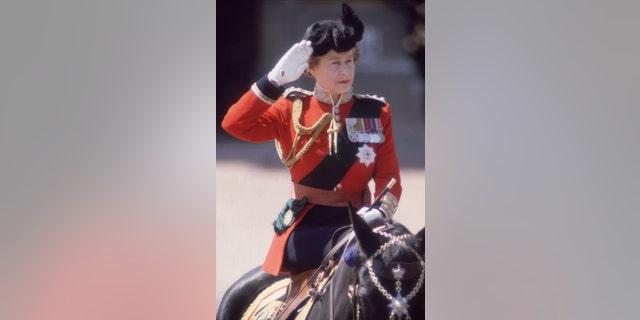 Queen Elizabeth II salutes during the Trooping the Colour ceremony in London on June 14, 1986. (Fox Photos/Getty Images)
According to the Royal Museums Greenwich, the tradition was first started by King George II in 1748. His November birthday was deemed too cold for a celebratory parade, which prompted him to tie his public celebrations with the annual Trooping the Colour military parade.
The museum noted that Trooping the Colour has its origins on the battlefield. It described that a regiment's flag or "colours" was a key rallying point for soldiers during battle.
Over 1,400 soldiers, 400 horses and 400 musicians take part in Trooping the Colour, it added. The monarch arrives and receives a royal salute before he inspects the troops, which are dressed in ceremonial uniforms and bearskin hats. The military band performs and the regimental colour is taken on a procession down the ranks of soldiers.
Members of the British royal family travel by horse-drawn carriage or on horseback. The king will lead the procession to Buckingham Palace and take another salute from the dais. Charles will then lead members of the royal family out on the palace balcony. The Royal Air Force, in a sweeping finale, will soar to the skies and perform a colorful flypast. There will also be a 41-gun salute fired from nearby Green Park.
CLICK HERE TO SIGN UP FOR THE ENTERTAINMENT NEWSLETTER
According to reports, it's unlikely that the king's youngest son, Prince Harry, will attend. The Duke of Sussex and his wife, Meghan Markle, stepped down as senior royals in 2020. They now reside in California. The king's brother, Prince Andrew, stepped down from public duties in 2019 following the scandal involving his relationship with late American financier and convicted sex offender Jeffrey Epstein.