Multiple police vehicles were firebombed with molotov cocktails during a dissident republican parade in the Northern Ireland border city of Derry on Monday, one day before President Biden is set to visit the country, according to police.
A group of people in paramilitary uniforms marched through the streets to commemorate the anniversary of the 1916 Easter Rising, in which Irish nationalists launched an armed insurrection in protest of British rule.
Monday also marks the 25-year anniversary of the Good Friday Agreement, which ended three decades of the low-intensity civil war known as "the Troubles."
Nigel Goddard, the police chief in Derry, called the violence on Monday a "senseless and reckless attack on our officers."
"What we saw develop this afternoon in Creggan was incredibly disheartening. As the parade was un-notified, police were in attendance with a proportionate policing operation. Sadly, before the parade even started, we observed young people in the vicinity making petrol bombs to throw at police," Goddard said in a statement.
"Shortly after the parade commenced, petrol bombs and other objects were thrown at one of our vehicles at the junction of Iniscarn Road and Linsfort Drive."
UK TO PROBE WHETHER THE 1998 OMAGH BOMB, ONE OF IRELAND'S DEADLIEST INCIDENTS, COULD HAVE BEEN PREVENTED
Local newspapers reported on Sunday that the Police Service of Northern Ireland disrupted a bomb plot by members of the New IRA, paramilitary splinter group of the Irish Republican Army.
MI5 also upped the terrorism threat level in Northern Ireland from "substantial" to "severe" last month, ahead of the planned celebrations for the Good Friday Agreement's anniversary.
President Biden will meet with UK Prime Minster Rishi Sunak in Belfast on Wednesday to commemorate the Good Friday Agreement, then give a speech at Ulster University before departing for Dublin to meet with Irish President Michael Higgins.
National Security Council spokesperson John Kirby said on Monday that the White House is aware of the recent threats of violence in Northern Ireland.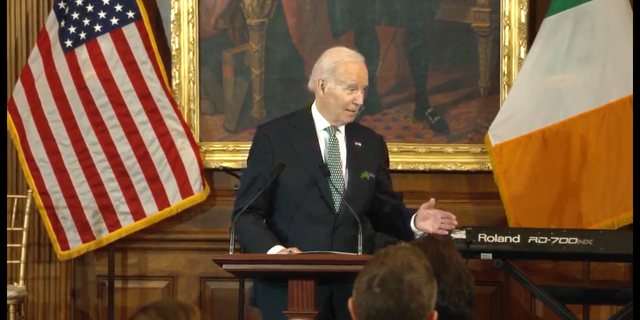 President Joe Biden speaks at the Friends of Ireland Luncheon on St. Patrick's Day, March, 17, 2023. (Fox News Digital)
CLICK HERE TO GET THE FOX NEWS APP
Biden, who is also set to meet with distant relatives during the trip, has frequently commented on how his Irish heritage shaped his life.
"I'm the proud son of Catherine Eugenia Finnegan Biden," Biden said at the annual Friends of Ireland Luncheon last year. "And like so many Americans of Irish heritage, I love Ireland and I was raised in a circumstance where you would have thought my whole family… they came in 1844 and 1845, but you'd think they'd all lived in Ireland the last 60 years — the previous 60 years."