Federal and state officials reacted to the Louisville mass shooting on Monday with one Democrat congresswoman claiming mass shootings are a "uniquely American epidemic."
Several lawmakers in both chambers of Congress reacted to Monday morning's mass shooting at an Old National Bank in Louisville that left five dead and six injured.
"Elaine and I are devastated by the news coming out of Louisville this morning. Thank you to LMPD and our first responders for your bravery at the scene," Senate Minority Leader Mitch McConnell, R-Ky., tweeted.
LOUISVILLE POLICE SAY 5 DEAD, 6 INJURED IN SHOOTING IN KENTUCKY CITY'S DOWNTOWN AREA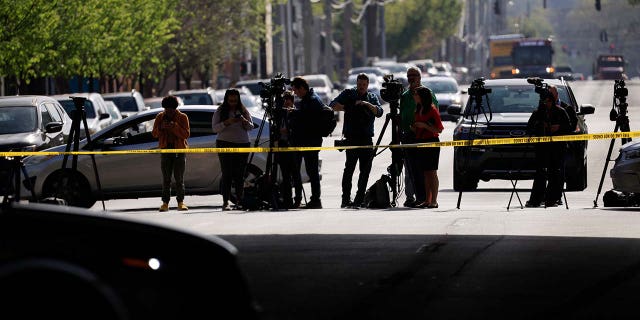 LOUISVILLE, KY – APRIL 10: Members of the media work at the scene of an active shooter at the Old National Bank building on April 10, 2023 in Louisville, Kentucky. According to reports, there are multiple fatalities and casualties. The shooter died at the scene.  ( Luke Sharrett/Getty Images)
"We send our prayers to the victims, their families, and the city of Louisville as we await more information," he continued.
"Kelley and I are praying for everyone involved in the deadly shooting in downtown Louisville this morning," fellow Kentucky Senator Rand Paul, a Republican, wrote. "Our hearts break for the families of those lost."
Kentucky Governor Andy Beshear confirmed the shooting on Twitter and said he was headed to the site of the shooting at the time of publishing the tweet.
"Please pray for all of the families impacted and for the city of Louisville," Beshear wrote.
Beshear told reporters on Monday that he lost two close friends in the Louisville attack.
Progressive Rep. Pramila Jayapal wrote she stands "with the Louisville community as our country grieves after yet another mass shooting and that her "heart is with those who have lost loved ones."
"This kind of gun violence is a uniquely American epidemic," Jayapal claimed. "We must take meaningful action. Enough is enough."
Nevada Democrat Rep. Susie Lee called for gun control legislation in the wake of the shooting.
"Once again, we turn our hearts to the loved ones [and] community members grieving in the wake of yet another mass shooting — this time in Louisville at a bank," Lee wrote.
"Thoughts [and] prayers are not enough. We can act," Lee continued. "We can break the cycle. We can pass legislation to prevent gun violence."
Other officials reacted, as well:
The Louisville Metropolitan Police Department says there are five people dead and six injured in the Kentucky city Monday following a shooting.
The lone shooter in the incident – who has not been publicly identified – is "deceased," according to police. The shooting happened around 8:30 a.m. local time at a building that houses an Old National Bank location and officers responded within minutes.
CLICK HERE TO GET THE FOX NEWS APP
"There is no longer an active aggressor threat," Louisville Metropolitan Police Department said.
A White House official told Fox News Monday morning that President Biden had been briefed on what is known about the shooting.
Biden tweeted Monday afternoon that "Once again, our nation mourns after a senseless act of gun violence – Jill and I pray for the lives lost and impacted by today's shooting."
"Too many Americans are paying for the price of inaction with their lives, the tweet continued. When will Republicans in Congress act to protect our communities?"
Fox News Digital's Greg Norman contributed reporting.