Oregon Gov. Tina Kotek said Thursday she has directed the state to obtain a supply of the most commonly used abortion medication in the U.S. amid fears that a court ruling could restrict access to it.
The Democratic governor said regardless of the court's decision about mifepristone's availability, patients in Oregon will have access to it for years.
"I will make sure that patients are able to access the medication they need and providers are able to provide that medication without unnecessary, politically-motivated interference and intimidation," Kotek said in a statement.
SMALL NEW MEXICO CITY CHALLENGES NEW STATE LAW THAT GUARANTEES ABORTION ACCESS
According to Kotek's office, the state is partnering with Oregon Health & Science University to obtain 22,500 doses of mifepristone. The state joins Washington, California, New York and Massachusetts in buying bulk amounts of abortion medication in recent weeks.
Maryland's governor announced Friday that his state was doing the same, while New Jersey's governor has said he's considering doing so.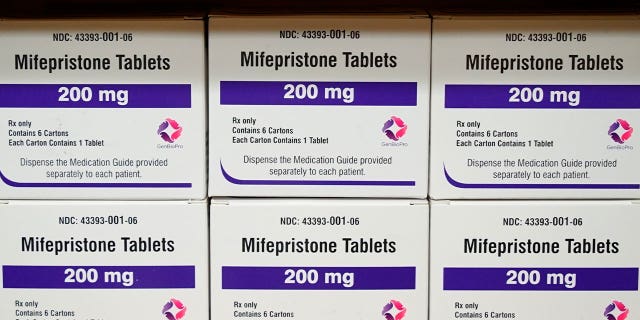 Boxes of the drug mifepristone sit on a shelf in Tuscaloosa, Alabama, on March 16, 2022. Oregon Gov. Tina Kotek has directed the state to obtain a large supply of the abortion drug in preparation of a court ruling that could restrict its access. (AP Photo/Allen G. Breed, File)
Mifepristone was approved for use by the Food and Drug Administration over two decades ago and has been used by more than 5 million women to end their pregnancies, the Justice Department said. Research shows that medication-induced abortions are safe and effective and that complications afterward, such as infection, are rare.
The lawsuit over mifepristone was filed in Texas last year by conservative Christian legal group Alliance Defending Freedom, representing the pill's opponents, who say the FDA's approval of mifepristone was flawed. The Supreme Court is currently considering whether to allow restrictions on the drug to take effect while the legal challenge continues.
CLICK HERE TO GET THE FOX NEWS APP
The conservative group filed the lawsuit after last year's U.S. Supreme Court decision overturning Roe v. Wade took away the constitutional right to end a pregnancy.
A federal judge in Washington state, meanwhile, has ordered the FDA to preserve access to mifepristone under the current rules in 17 Democratic-led states including Oregon and the District of Columbia that filed a separate lawsuit.
President Joe Biden's administration has said the rulings conflict and create an untenable situation for the FDA.