Pennsylvania Sen. Bob Casey announced Monday that he is launching a re-election campaign in hopes of securing his fourth term representing the battleground state.
The Democrat has been serving in the position since 2007, with his current term set to expire in January 2025.
"I'm running for re-election because with so much on the line for Pennsylvania's working families, I want to keep delivering results for Pennsylvania," Casey said in a statement.
"There's still more work to cut through the gridlock, stand up to powerful corporate special interests, and make the lives of hardworking Pennsylvanians a little bit easier," he added. "I won't back down from any fight for communities and families across our Commonwealth."
PENNSYLVANIA SEN. BOB CASEY UNDERGOES PROSTATE CANCER SURGERY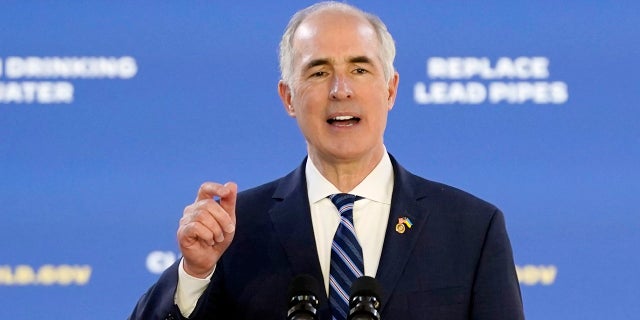 Sen. Bob Casey speaks before President Joe Biden on Feb. 3 about his infrastructure agenda while announcing funding to upgrade Philadelphia's water facilities and replace lead pipes. (AP/Patrick Semansky)
Casey highlighted his recent accomplishments as helping pass the CHIPS Act – a bill that includes money to fund semiconductor chip manufacturing in the U.S. – passing legislation to cap the cost of insulin for seniors and expanding access to health care for veterans.
"The first and only person to have won six statewide elections in Pennsylvania, Bob Casey has built a winning coalition made up of Pennsylvanians from Erie County to Delaware County," his office said Monday. "He stands ready to do that again in 2024."
Casey last won re-election in 2018, defeating Republican Lou Barletta and capturing around 56% of the vote.
"Senator Casey serves on four committees, including the Finance Committee, the HELP Committee, and the Select Committee on Intelligence," his website says. "He is also the Chairman of the Special Committee on Aging, where his agenda is focused on policies that support seniors and individuals with disabilities."
THE 2024 SENATE BATTLE HAS BEGUN AND THE ELECTORAL MAP DOES NOT FAVOR DEMOCRATS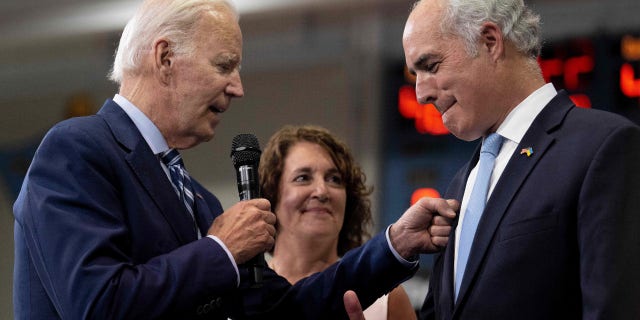 President Joe Biden arrives with Sen. Bob Casey and his wife Terese to speak at Wilkes University in Wilkes-Barre, Pennsylvania, on Aug. 30, 2022. (Jim Watson/AFP via Getty Images)
In a statement to Fox News Digital, Dave McCormick, who narrowly lost to Mehmet Oz in last year's GOP Senate primary in Pennsylvania and who's currently seriously mulling making a second straight Senate bid in 2024, said Casey "votes for Joe Biden and Chuck Schumer's failing, far-left agenda 100% of the time."
"Thanks to Casey's support for open borders, 5,000 Pennsylvanians lost their lives to fentanyl in 2020 alone. Pennsylvania is the second biggest gas-producing state in the country, yet Casey's support for leftist energy policies has cost our state thousands of jobs," McCormick added.
"And even though Philadelphia has one of the highest murder rates in the country, Casey has done nothing to fight crime and instead has supported dangerous policies. A vote for Casey is a vote for Biden and Schumer — he's a Washington insider and not a leader we can count on to deliver a better future for our great commonwealth," he also said.
In January, Casey, who is set to turn 63 this week, announced that he was diagnosed with prostate cancer.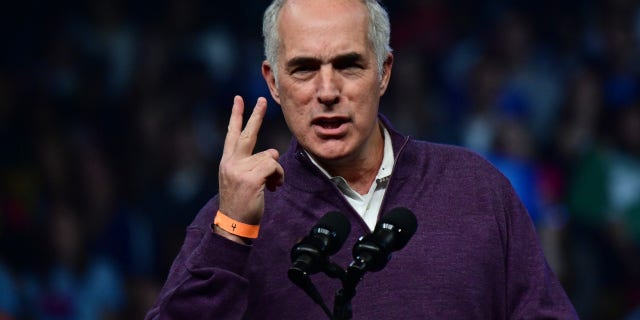 Sen. Bob Casey addresses supporters during a rally with President Joe Biden, former President Barack Obama, Senate candidate John Fetterman and gubernatorial nominee Josh Shapiro at the Liacouras Center on Nov. 5 2022, in Philadelphia. (Mark Makela/Getty Images)
"While this came as a shock, I can report that I have an excellent prognosis, as well as the benefit of exceptional medical care and the unwavering support of my family," Casey said at the time.
"In the coming months I will undergo surgery, after which I am expected to make a full recovery. I am confident that my recommended course of treatment will allow me to continue my service in the 118th Congress with minimal disruption, and I look forward to the work ahead," he added.
Democrats are expected to face tremendous headwinds in maintaining their razor-thin Senate majority during the 2024 elections.
CLICK HERE TO GET THE FOX NEWS APP
The party will be defending 23 of the 34 Senate seats up for grabs next cycle. Of their 23 seats up for election, seven are in states won by former President Donald Trump in either 2016 or 2020.
Fox News' Paul Steinhauser and Sophia Slacik contributed to this report.