A Pennsylvania district attorney determined a concealed carry permit holder will not face criminal charges after a fatal shootout at a cemetery, ruling the man acted in self-defense.
"(Arian) Davis was under attack and in danger of being killed when he fired his legally owned weapon to end the threat. For these reasons, I conclude that this was a justifiable shooting, and therefore, no criminal charges are warranted," Montgomery County DA Kevin R. Steele said in a press release last week. Montgomery County is located just outside of Philadelphia and is the state's third-most populous county.
Gunshots rang out at a cemetery in Horsham Township March 18, when Arian Davis, 33, and others were visiting the cemetery to celebrate the birthday of a friend who was killed in 2013, the DA's office said. Davis, who is from Philadelphia, was sitting with another person in a car at the cemetery when Daniel Hawkins, 29, of Philadelphia, began shooting.
Davis, who knew Hawkins, suffered gunshot wounds to his jaw, hand and leg but managed to pull out his concealed carry firearm, which was purchased legally and for which he had a valid concealed carry permit. He fatally shot Hawkins.
FOILED: FIVE TIMES ARMED CITIZENS FOUGHT BACK AGAINST ATTACKERS IN 2022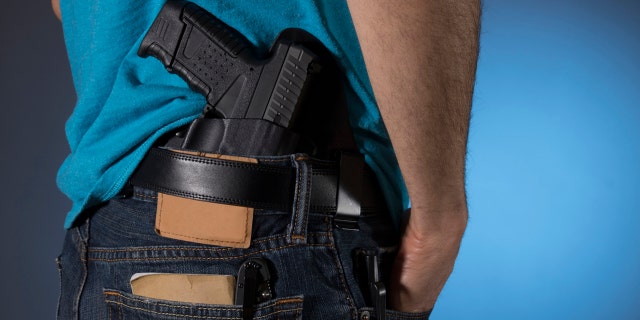 A man with a gun. (iStock)
Hawkins was found dead "in a grassy area inside the cemetery" near a Jeep Grand Cherokee that he had driven to the location. That Jeep had recently been reported stolen to Philadelphia Police.
A handgun was also recovered near his body that had been "illegally altered to fire rapidly," according to the DA. Hawkins was prohibited from possessing firearms due to previous felony convictions.
DESANTIS' SIGNATURE TIPS US INTO MAJORITY 'CONSTITUTIONAL CARRY' NATION WITH NEW FLORIDA GUN RIGHTS LAW
More than 30 shell casings were found in the cemetery, according to the DA.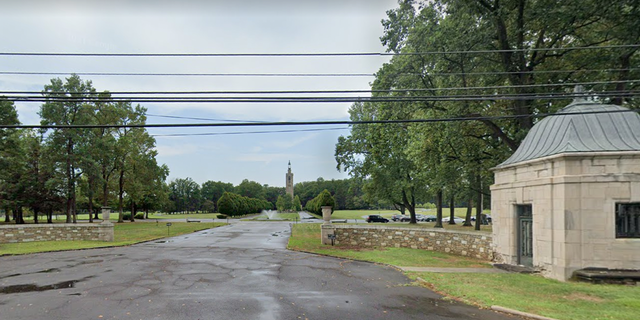 Whitemarsh Memorial Park was the scene of a shootout March 18.  (Google Maps )
"There is no doubt about who shot and killed Hawkins, so the legal issue to be analyzed is whether this was a justifiable killing. To be justified in his shooting of Hawkins, the shooter had to be in reasonable fear of death or serious bodily injury," the DA said, according to the press release.
GUN CRIMES GRAB MOST MEDIA ATTENTION, WHILE GUN USE IN SELF-DEFENSE GETS MERELY A FRACTION: EXPERTS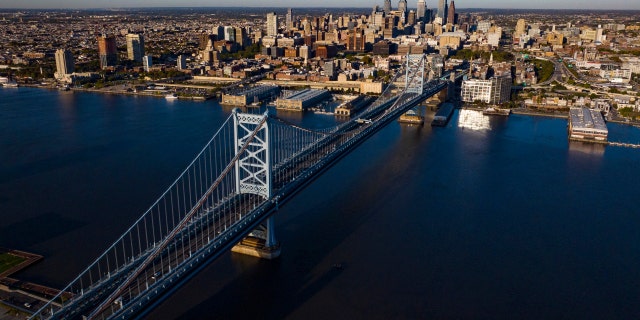 An aerial view of the Ben Franklin Bridge and Philadelphia from Cooper Point in Camden, N.J.  (Visions of America/Joseph Sohm/Universal Images Group via Getty Images)
"Evidence shows that Hawkins approached Davis' vehicle and began firing multiple rounds at him using a firearm that was illegally altered to fire rapidly. Bullets struck Davis in multiple parts of his body before he fired back, striking Hawkins and killing him."
CLICK HERE TO GET THE FOX NEWS APP
Davis will face no criminal charges for the death. He was transported to Abington Hospital for treatment after sustaining serious injuries during the attack, the DA's office said.