Hundreds of asylum seekers filed into a basketball arena in Portland on Monday as Maine's largest city deals with a months-long surge in immigration that has taxed its already limited housing market.
It's the second time in recent years that Portland has repurposed the Portland Exposition Building — a century-old red-brick gym that houses a minor league basketball team and has hosted everyone from President John F. Kennedy to the Beach Boys — to serve migrants. The floor of the arena was lined with cots as families carried in bags of clothes, food and personal possessions.
Communities around the country have been dealing with growing numbers of asylum seekers, and pending rule changes could mean more are coming. A COVID-19 pandemic rule that has suspended rights to seek asylum for many is slated to end in May.
DENVER TO SPEND UP TO $20 MILLION ON MIGRANTS IN JUST SIX MONTHS, OFFICIALS SAY
It was a massive undertaking to make Portland's temporary shelter ready for asylum seekers, but it was not as frantic as in 2019, when the city ramped up in 24 hours, said Kristen Dow, Portland's director of health and human services.
But the local situation is nonetheless dire.
More than 1,000 asylum seekers have arrived in Portland so far this year, and the city is has been sheltering about 1,200 people per night. A new emergency shelter with 208 beds filled to capacity on its opening night last month, and, including the Exposition Building, the city has no more large spaces to use, Dow said.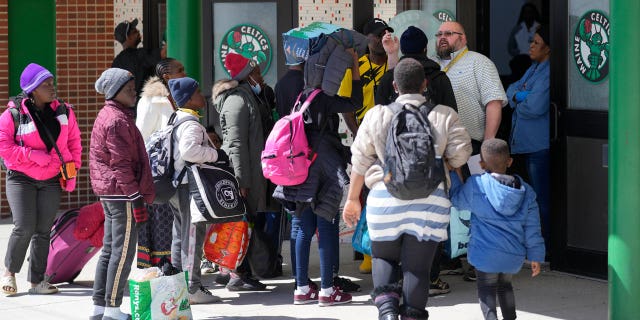 Maine's Portland Exposition Building is being opened to migrants for the second time in recent years amid an immigration surge and concurrent housing shortage. (AP Photo/Robert F. Bukaty)
Many of the asylum seekers are from Angola and the Democratic Republic of the Congo, Dow said.
Luvumbu Osvaldo, an immigrant from Angola, waited to enter the shelter on Monday while holding a child's backpack. Osvaldo said he's grateful for the safe housing.
"It is very good to be here," Osvaldo said. "Definitely."
The temporary shelter, open through August, will house up to 300 people per night, offering them a bed, three meals a day, health care screenings and immunizations.
BIDEN ADMIN TO HOLD MIGRANTS' 'CREDIBLE FEAR' SCREENINGS IN CBP FACILITIES AS BORDER PREPARES FOR SURGE
"Once it fills up, the city doesn't have another space to open," Dow said. "This is a temporary emergency shelter. There are a lot of smaller shelters around serving this population and we are grateful."
The city wants newcomers to be realistic about services that it can provide, Dow said, adding she hopes another solution is found between now and August. For example, MaineHousing, an independent state housing authority, has provided funding to some local agencies to open a 280-bed space for asylum seekers.
Papy Bongibo, a leader in the city's Congolese community, said the reopening of the Portland Exposition Building shelter is a good short-term solution, but finding permanent housing for asylum seekers will be more challenging because apartments in the Portland area are scarce and often expensive.
CLICK HERE TO GET THE FOX NEWS APP
"The problem is the housing. I understand they can't build housing in a day, right away," he said. "But if you look at rents now, you can't rent in Portland."