Senate Republicans on Tuesday evening blocked a request from Senate Majority Leader Chuck Schumer to temporarily replace Sen. Dianne Feinstein, D-Calif., on the Judiciary Committee so that committee has the numbers to advance President Biden's judicial nominees.
Schumer, D-N.Y., introduced the resolution and asked that it be approved by unanimous consent – a method that requires every senator to agree. Unanimous consent allows the Senate to quickly approve non-controversial measures without hours and days of necessary debate in the upper chamber.
But Sen. Lindsey Graham, R-S.C., stood to oppose the move and rejecting Schumer's request. That objection means Democrats will need to find 60 votes to approve his request, which will require 10 Republicans to cross the aisle.
SENATE GOP HOPES TO BLOCK SCHUMER FROM NAMING A TEMPORARY COMMITTEE REPLACEMENT FOR FEINSTEIN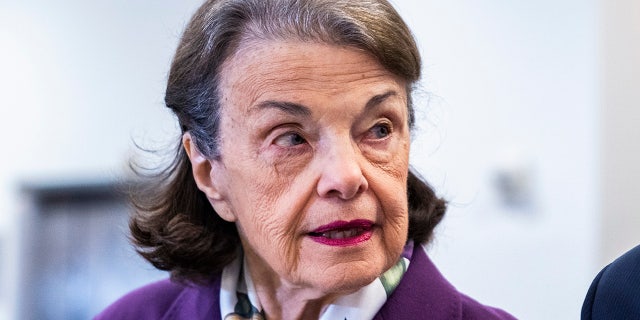 UNITED STATES – FEBRUARY 15: Sen. Dianne Feinstein, D-Calif., is seen in the U.S. Capitol subway on February 15, 2023. (Tom Williams/CQ-Roll Call, Inc via Getty Images) (Tom Williams/CQ-Roll Call, Inc via Getty Images)
Graham echoed the objections of many Republicans by saying they can't support an effort to put another Democrat on the committee because it will mean Senate confirmation of liberal judges that Republicans oppose.
It wasn't immediately clear if Schumer would push for a roll call vote to see if 10 GOP senators would help him reach the 60 votes he needs to pass the resolution and allow Feinstein to be temporarily replaced on the committee. Schumer has said that he would want Sen. Ben Cardin, D-Md., in her place for the time being.
Schumer told reporters during his press conference Tuesday that he was "hopeful" Feinstein would be back soon – but did not give a more specific timeline, or even indication that her return is a certainty.
"I spoke to Senator Feinstein just last Friday. She and I are very hopeful she will return soon," Schumer said.
FELLOW DEMOCRATS TURN ON DIANNE FEINSTEIN, CALL FOR HER TO RESIGN FROM SENATE: 'DERELICTION OF DUTY'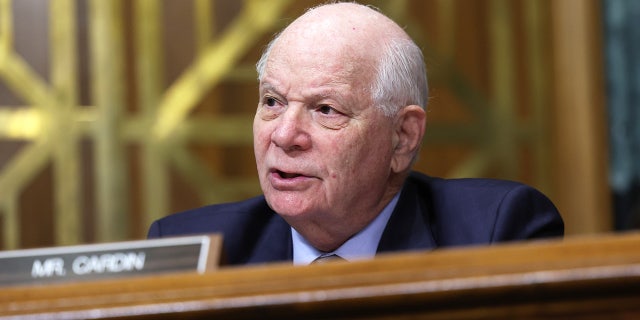 U.S. Sen. Ben Cardin (D-MD) during a hearing on February 15, 2023 at the U.S. Capitol in Washington, DC. (Kevin Dietsch/Getty Images)
Feinstein has been sidelined since early March after her office announced she was being treated for shingles at a San Francisco hospital.
Her absence has hamstrung Democrats' ability to confirm Biden's court picks, which the Senate had been doing at breakneck pace, and there is still no clear timeline on when she's expected to be back on Capitol Hill.
Even before the Monday vote, multiple senior Republican senators indicated they would not help Democrats temporarily replace Feinstein.
BIDEN REFUSES TO JOIN DEM CALLS FOR SEN. DIANNE FEINSTEIN TO RESIGN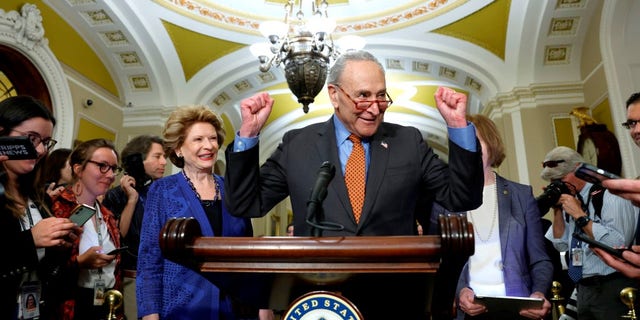 WASHINGTON, DC – APRIL 18: Senate Majority Leader Chuck Schumer (D-NY) arrives to a news conference following the Senate Democrat weekly policy luncheons at the U.S. Capitol Building on April 18, 2023 in Washington, DC. (Photo by Anna Moneymaker/Getty Images)
"During the past two years there has been a concerted campaign to force her off the committee. I think that's wrong and I won't be part of that," Sen. Susan Collins, R-Maine, told reporters in the Senate subway on Monday evening.
CLICK HERE TO GET THE FOX NEWS APP
Sen. John Cornyn, R-Texas, a top Republican on the Judiciary committee, slammed the effort on the Senate floor that evening. His remarks also suggested that the GOP was only refusing to move on Democrats' "most controversial" nominees, putting the onus on Biden to nominate more moderate picks that could get bipartisan support.
"Never, not once, have we allowed temporary substitutes on committees, and now is not the time to start. Republicans are not going to break this precedent in order to bail out Senator Schumer or the Biden administration's most controversial nominees," Cornyn said. "Senator Feinstein has been a mainstay of this body for more than three decades, and I hope to see her back in these halls soon. But until then, President Biden's most controversial, partisan judicial nominees would have to wait."