Robert De Niro surprised fans when he revealed that he had become a father again at the age of 79.
The actor shared the news Monday during an interview with ET Canada while discussing his new movie "About My Father" and parenthood. When asked about his six children, the Academy Award winner clarified, "seven, actually. I just had a baby."
De Niro told "CBS Mornings'" Gayle King that he and his girlfriend Tiffany Chen had welcomed a baby girl named Gia Virginia Chen-De Niro on April 6.
The "Taxi Driver" star added that he and Chen were "over the moon" about the arrival of their daughter and confirmed that the pregnancy was planned since they wanted to have a child together.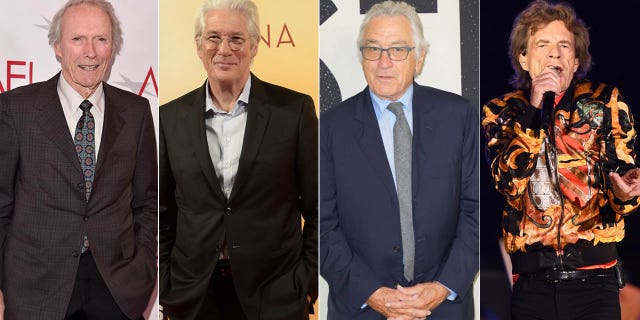 Robert De Niro, middle-right, who became a father again at 79, joined a number of Hollywood stars who have welcomed children in their later years. (Getty)
De Niro also shared the first photo of Gia, who weighed 8 pounds, 6 ounces at birth. In the image, the infant was clad in a pink and white-striped footed pajamas.
ROBERT DE NIRO'S CO-STAR REVEALS MOTHER OF SEVENTH BABY
The New York native and Chen, a martial arts instructor and kick boxer, met on the set of his 2015 movie "The Intern." The two first sparked romance rumors in 2021 when they were pictured leaving the Hotel du Cap-Eden-Roc in Antibes, France during a trip to celebrate De Niro's 78th birthday.
De Niro shares his seven children with three different women. The actor and his ex-wife Diahnne Abbott are parents to daughter Drena, 51, and son Raphael, 46. He adopted Drena, who is Abbott's daughter from a previous relationship, when he married the now 78-year-old actress in 1976. The former couple split in 1988.
He shares twin sons Julian and Aaron, 27, with ex Toukie Smith, as well as Elliot, 24, and Helen Grace, 11, with his second ex-wife, Grace Hightower. De Niro and Hightower married in 1997 but separated in 2018. After a lengthy and bitter alimony battle, their divorce was finalized in 2021.
De Niro is far from the first celebrity to welcome a new baby in his later years. Here's a look at other Hollywood stars who became fathers again after the age of 65.
David Foster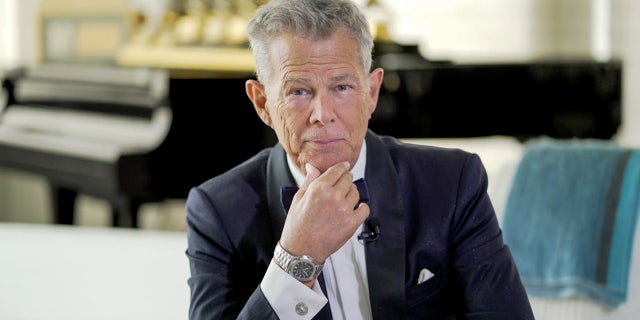 David Foster, 72, shares son Rennie with Katharine McPhee Foster, 39. (Getty Images for Childrens Diabetes Foundation)
David Foster became a father again at 71 after his wife Katharine McPhee gave birth to their son Rennie in February 2021.
The 72-year-old actor and the 39-year-old singer tied the knot in June 2019. Rennie, now 2, is the first child for McPhee and the sixth for Foster. The legendary musician, who was previously married four times, is also father to daughters Alison, 53, Amy, 49, Sara, 42, Erin, 40, and Jordan, 36.
In October, Foster told People magazine that welcoming a new baby at his age was "not something" he expected but added, "I haven't regretted a single day of it."
 
 

 
 
View this post on Instagram
 

 
 
 

 
 

 
 
 

 
 

"I've loved every single day," the 16-time Grammy Award winner told the outlet.
He continued, "It's the standard thing of like, 'Oh, well, you were so young when you had your children, and you were working day and night, you never saw them.'
KATHARINE MCPHEE EXPLAINS HOW SHE AND DAVID FOSTER KEEP THE ROMANTIC SPARK ALIVE: 'WE JUST WANT TO CONNECT'
"And there is some truth to that, sadly, for my [older] kids. I was just working a lot. Even though I'm working a lot now, I'll cancel anything just to hang with him. It's just different."
Mick Jagger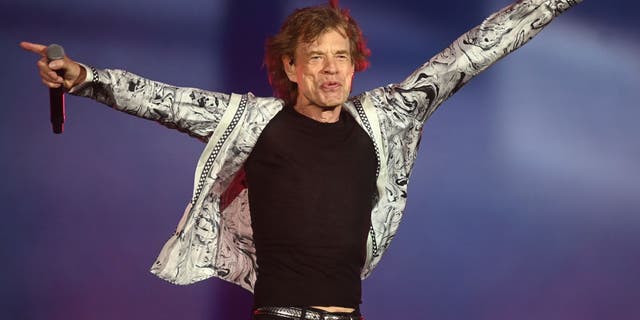 Mick Jagger welcomed his eighth child when he was 73. (Dave J Hogan/Getty Images)
Mick Jagger celebrated the birth of his eighth child in December 2016 when he was 73.
The Rolling Stones frontman, now 79, shares Deveraux Octavian Basil Jagger, 6, with his longtime girlfriend Melanie Hamrick. Jagger and the 36-year-old former ballerina began dating in 2014.
"Melanie Hamrick and Mick Jagger's son was born today in New York and they are both delighted," a spokesperson for the musician said in a statement at the time.
 
 

 
 
View this post on Instagram
 

 
 
 

 
 

 
 
 

 
 

The representative continued, "Mick was at the hospital for the arrival. Mother and baby are doing well and we request that the media respect their privacy at this time."
MICK JAGGER POSTS FIRST PHOTO AFTER REPORTED HEART SURGERY
Jagger shares daughter Karis, 52, with actress Marsha Hunt. He and ex-wife Bianca Jagger are parents to daughter Jade, 51.
The hitmaker also shares daughters Elizabeth, 39, and Georgia May, 31, and sons James, 37, and Gabriel, 25, with his ex-wife Jerry Hall, to whom he was married to from 1990 to 1997. In 1999, Jagger and model Luciana Morad Gimenez welcomed son Lucas, 23.
Jagger also has five grandchildren and two great-grandchildren.
Richard Gere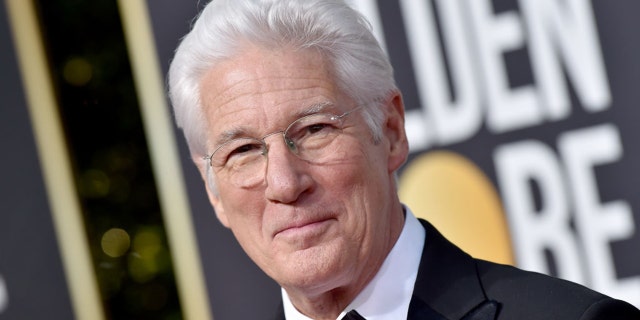 Richard Gere became a father again at 70. (Axelle/Bauer-Griffin/FilmMagic)
Richard Gere welcomed his second son with wife Alejandra Silva in April 2020, when he was 70 and she was 37.
The 73-year-old "Pretty Woman" star and 40-year-old Silva, who married in 2018, also share son Alexander, 4. The couple have never publicly released the name of their second child.
In addition to his children with Silva, Gere is also father to 23-year-old son Homer James, whom he shares with his ex-wife Carey Lowell.
 
 

 
 
View this post on Instagram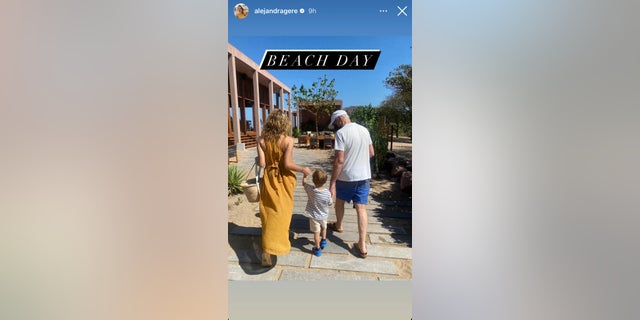 Gere and wife Alejandra Silva were seen strolling with their youngest son on a vacation in Mexico. (Alejandra Gere Instagram)
Though Gere and Silva mostly keep their sons out of the spotlight, the publicist shared a couple of snaps featuring their children during a February vacation in Mexico to celebrate her 40th birthday.
Silva uploaded a photo in which she was seen walking on a beach while holding hands with Alexander as her youngest son ran toward the waves ahead of them.
"Thank you all for the birthday wishes… after almost 3 weeks of everyone being sick in our family today finally I feel much better! Thank you for all the love," she wrote in the caption of her post, adding a red heart emoji.
RICHARD GERE, 73, AND WIFE ALEJANDRA SILVA, 39, HIT RED CARPET WITH JULIA ROBERTS' NIECE
She continued, "I give it all back to you #happybirthday #happy40."
Silva later shared a photo to her Instagram Story in which she and Gere were seen from behind as they walked hand in hand with their younger son. "Beach Day," Silva wrote on the photo.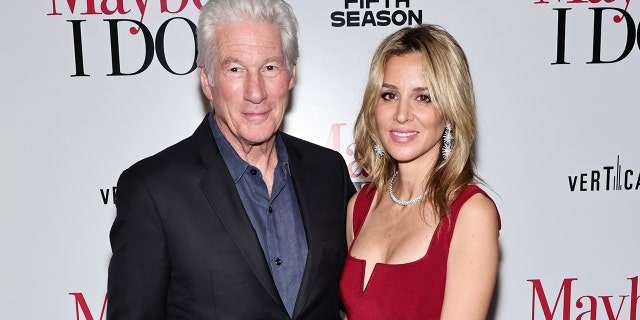 The actor and Silva share two sons. (Getty Images)
Steve Martin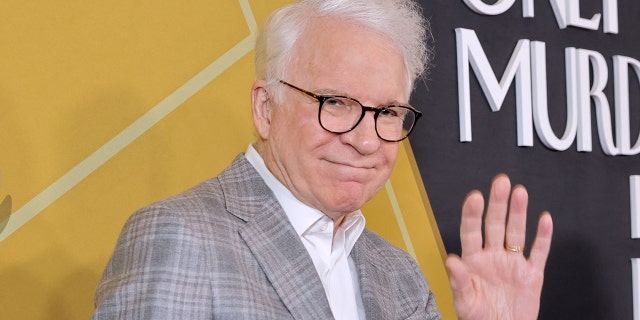 Steve Martin became a first-time father at 67. (Amy Sussman)
Steve Martin became a dad for the first time when he was 67.
The 77-year-old "Only Murders in the Building" star and his wife Anne Stringfield welcomed a daughter in 2012. Martin and the author married in 2007 after three years of dating.
The Emmy Award winner and Martin have never publicly disclosed their daughter's name. However, Martin joked about potential baby names during a 2013 appearance on "The David Letterman Show."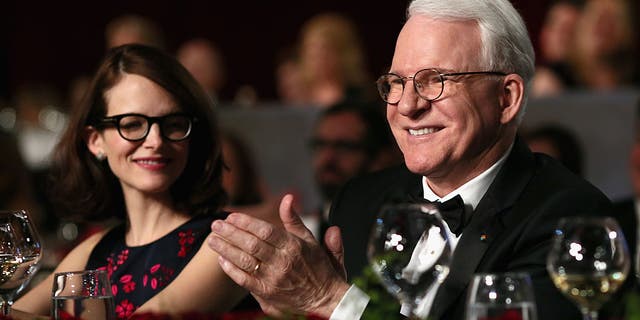 The actor and wife Anne Stringfield share a daughter, who was born in 2012. (Christopher Polk/Getty Images for Turner Image)
"We've thought about the name quite a bit. Conquistador," he quipped. "What do you think? I didn't want to go with one of those Hollywood weird names. Conquistador is a statement."
In 2017, the "It's Complicated" star told AARP magazine that having a young child was "fantastic."
"I think if I'd had a child earlier, I would have been a lousy father because I would have misplaced my attention on my career," he explained.
"I am very forthcoming with her, and it's great," Martin added. "She's giving me way more than I'm giving her."
Rod Stewart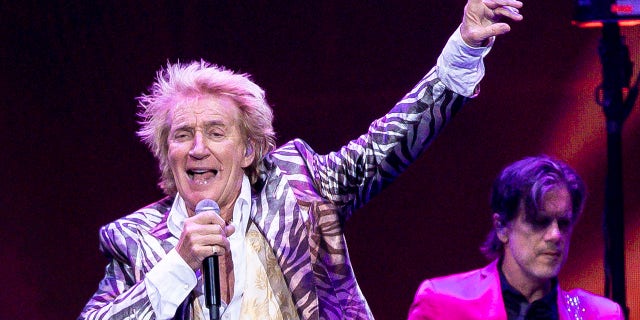 Rod Stewart welcomed his eighth child at 66. (Sam Tabone/WireImage)
Rod Stewart was 66 years old when he welcomed his eighth child, son Aiden Patrick, in February 2011.
The 78-year-old singer and his wife Penny Lancaster, whom he wed in 2007, also share son Alastair Wallace, 17. Ahead of Aiden's birth, the couple told People magazine that they were "were thrilled and delighted to be able to tell Alastair that he was going to be a big brother."
Stewart shares his eight children with five different mothers. The "Maggie May" rocker and ex-girlfriend Susannah Boffey are parents to daughter Sarah, 59. He and his ex-wife Alana Stewart share daughter Kimberly, 43, and son Sean, 42.
The U.K. native welcomed daughter Ruby, 35, with his ex-girlfriend Kelly Emberg. Stewart and his ex-wife Rachel Hunter share daughter Renee, 30, and son Liam, 28.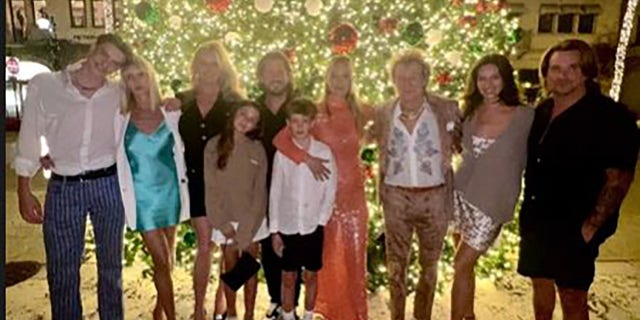 Rod Stewart shared a rare family photo last December. (Rod Stewart/Instagram)
Last December, Stewart posted a rare family photo that included six of his eight children. He captioned the photo shared on his Instagram Story: "family time."
In 2021, Stewart told People Magazine that he has to be "several different fathers" to children because they vary in age so widely.
"You really have to treat all of them as individuals with individual problems," he said.
He added that as he's grown as a father he's learned to "listen and not blow my top" when his kids went through rough patches.
ROD STEWART MOURNS THE DEATHS OF HIS BROTHERS: 'I'VE LOST TWO OF MY BEST MATES IN THE SPACE OF TWO MONTHS'
"All the [older] kids went through their little bad period of drinking too much and dabbling in drugs — except for Liam; I don't think he ever did — but they all came out on the other side. As a dad, I've learned to listen and not blow my top," he said.
Clint Eastwood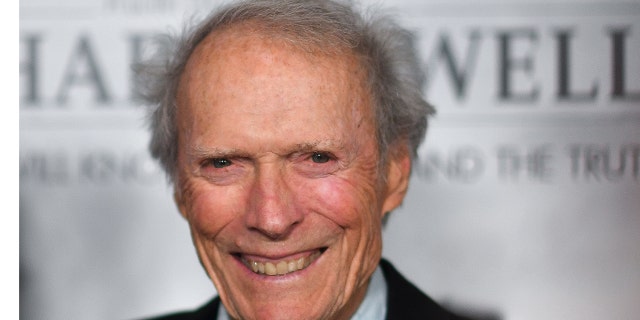 Clint Eastwood is father to eight children and welcomed his youngest, daughter Morgan, when he was 66. (Photo by Prince Williams/Wireimage)
Clint Eastwood also became a dad of eight at 66 years old.
The 91-year-old actor and his ex-wife Dina Eastwood welcomed daughter Morgan, 27, in 1996. Eastwood and Dina were married for over 17 years before divorcing in 2014.
The "Gran Torino" star's oldest child, daughter Laurie, 69, was put up for adoption by her mother. Eastwood was reportedly unaware of her existence until he and Laurie connected years later when she was searching for her biological parents.
Eastwood shares daughter Kimber, 58, with ex-girlfriend Roxanne Tunis. He and his first wife Maggie Johnson are parents to son Kyle, 54, and daughter Alison, 50.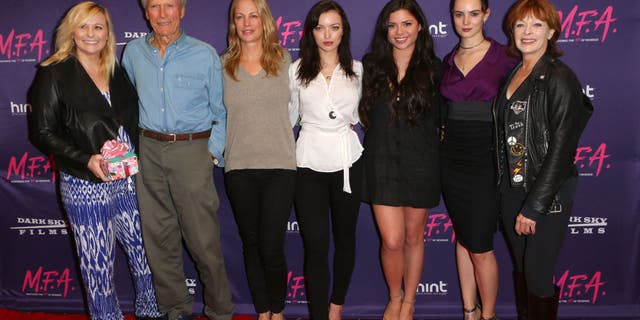 Clint Eastwood is pictured in 2017 with daughters Alison Eastwood, Francesca Eastwood, Morgan Eastwood and ex Francis Fisher. (Tasia Wells/Getty Images)
The filmmaker shares son Scott, 37, and daughter Kathryn, 35, with ex-girlfriend Jacelyn Reeves. Eastwood and actress Francis Fisher are parents to Francesca, 29.
In a 2008 interview with The Telegraph, Eastwood admitted that he spent his younger years "working all around the world." However, he told the outlet that he believed he was a "much better father now" to Morgan, who he said, "takes precedence over everything."
WHAT REALLY HAPPENED TO RICHARD JEWELL? CLINT EASTWOOD'S MOVIE ON 1996 OLYMPICS BOMBING UNDER FIRE
"I go to all the softball games and look ridiculous out there because almost everybody's got a much younger father than me," the five-time Academy Award winner said.
"But it's fun. I think you appreciate a lot more when you get to my age."
CLICK HERE TO GET THE FOX NEWS APP
Fox News Digital's Janelle Ash contributed to this report.