Senate Democrats are demanding Supreme Court Chief Justice John Roberts open an investigation into Justice Clarence Thomas over what they decry as his "misconduct" detailed in a ProPublica report published last week.
The liberal outlet's report accused Thomas of improperly receiving lavish vacations from Republican mega donor Harlan Crow, which reportedly included taking trips across the world on the latter's yacht and private jet without disclosing them.
In a Monday letter, Senate Judiciary Committee Chair Sen. Dick Durbin, D-Ill., along with every Democrat on the committee, cited the report as proof that Thomas has not upheld the ethical standards set for a Supreme Court justice.
REPORT ON CLARENCE THOMAS' TRAVEL HABITS IS 'POLITICS PLAIN AND SIMPLE': EXPERT
"The report describes conduct by a sitting Justice that he did not disclose to the public and that is plainly inconsistent with the ethical standards the American people expect of any person in a position of public trust," the letter read. "The Senate Judiciary Committee, which has legislative jurisdiction over Federal courts and judges, has a role to play in ensuring that the nation's highest court does not have the federal judiciary's lowest ethical standards."
"You have a role to play as well, both in investigating how such conduct could take place at the Court under your watch, and in ensuring that such conduct does not happen again. We urge you to immediately open such an investigation and take all needed action to prevent further misconduct," it added.
AOC DOUBLES DOWN ON 'IGNORING' ABORTION RULE, CLARENCE THOMAS IMPEACHMENT: 'ABUSE OF JUDICIAL OVERREACH'
Experts, however, have dismissed the ProPublica report as political hit piece, and explained that justices are permitted to accept invites to properties of friends for dinner or vacations without paying for it or disclosing it.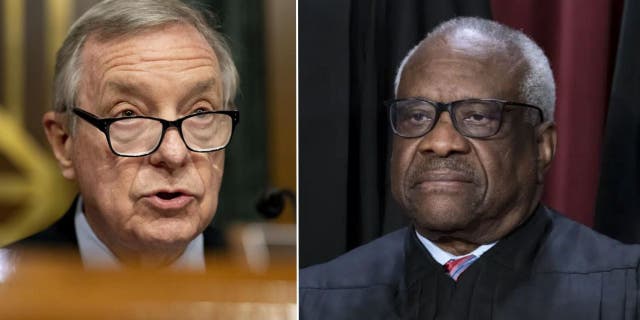 Senator Dick Durbin, D-Ill., and Supreme Court Justice Clarence Thomas. (Associated Press)
"This is just grasping at straws by the left that is desperate to tear down Justice Thomas because he now has a working originalist majority on the court," Roger Severino, vice president of domestic policy and The Joseph C. and Elizabeth A. Anderlik Fellow at The Heritage Foundation, told Fox News Digital following the report's release.
"This is politics. Plain and simple," he added.
JUSTICE THOMAS DEFENDS TRIPS TAKEN WITH 'DEAREST FRIENDS' AFTER REPORTS SAY HE ACCEPTED GIFTS
Constitutional law professor and Fox News contributor Jonathan Turley told Fox News Digital that until recently, "even lower court judges were not required to report such trips under a personal hospitality exception."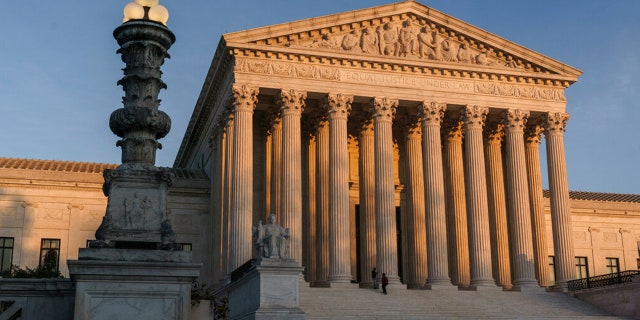 The Supreme Court is seen at sundown in Washington, on Nov. 6, 2020. (AP Photo/J. Scott Applewhite, File)
CLICK HERE TO GET THE FOX NEWS APP
"Justice Thomas would not have been required to report the trips under the prior rule," Turley said. "Once again, the Democrats and the media appear to be engaging in the same hair-triggered responses to any story related to Thomas. This includes the clearly absurd call for an impeachment by Rep. Alexandria Ocasio-Cortez."
Fox News' Andrew Mark Miller and Matteo Cina contributed to this report.