If you're like me, you know the pain of constantly being interrupted by iPhone notifications. Nothing is worse than being rudely interrupted and embarrassed during your nightly dinner by a pointless yet irresistible Facebook notification.
Fear not, my fellow phone-addicted friends. Apple has released an updated version of a popular feature called "Focus." It might be the answer to all our anxiety-inducing notification woes.
What is "Focus Mode"? 
Whether you're at the supper table with family creating valuable memories, or you're reading an action-packed book before bed, or maybe you're just in the middle of driving — no matter the situation — if your phone has begun to bug you at the worst possible times, we're to help.
With Focus, you can create custom modes like Driving, Gaming or Reading or use the premade modes. This can help you filter out unwanted distractions to remain focused on what's important.
CLICK TO GET KURT'S FREE CYBERGUY NEWSLETTER WITH QUICK TIPS, TECH REVIEWS, SECURITY ALERTS AND EASY HOW-TO'S TO MAKE YOU SMARTER
Once you've chosen a mode, you can customize it by allowing notifications from certain apps and people or by silencing notifications from others.
With the sweet ability to customize and schedule different Focus modes, you can finally take control of your phone (and your life) and only receive the notifications that matter to you at the right times.
So, how do you get started with this mini cellular detox? Well, first things first, you'll need an iPhone running iOS 15 or later (sorry, Android users.)
How to turn on "Focus Mode" 
Once you have that, head to your settings app and click on the Focus tab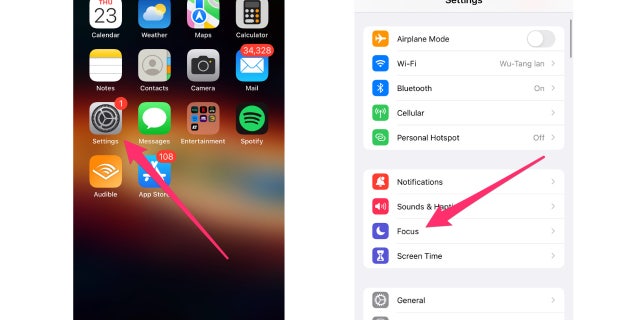 Here's how to find Focus Mode on iPhone. (CyberGuy.com)
There, you'll find pre-made Focus modes like Sleep, Personal, and Work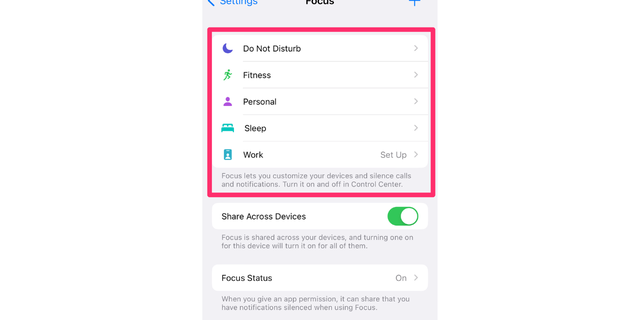 You'll see a variety of Focus Mode options. (CyberGuy.com)
How to create a custom "Focus Mode" 
If you want more, you can create your own custom Focus mode by clicking the plus sign in the top right corner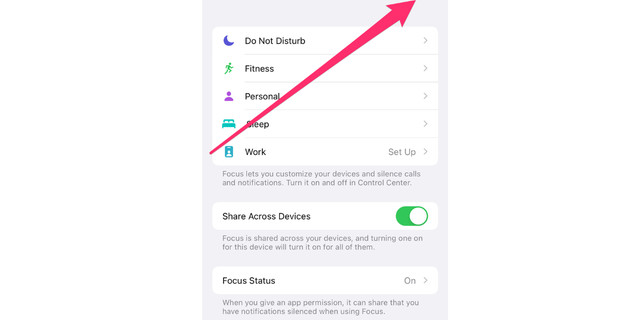 Here's how to create a custom iPhone Focus mode. (CyberGuy.com)
You can choose a name for your new mode and an icon to match your vibe. I chose to start a reading club focus mode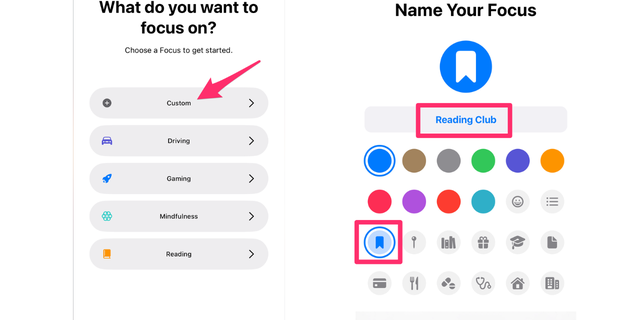 Here's where you can customize your iPhone focus mode. (CyberGuy.com)
After you've created your custom Focus mode, you can customize it by allowing notifications from certain apps and people or by silencing notifications from others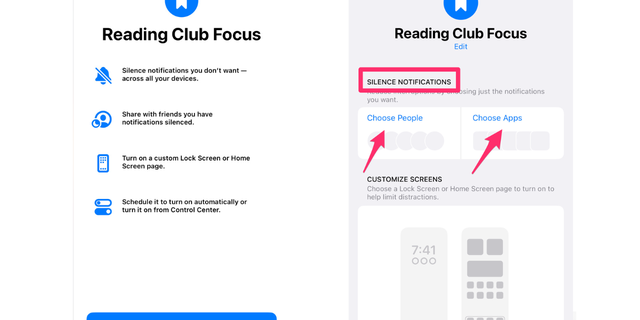 Now, you can chose which notifications to allow or to silence. (CyberGuy.com)
5 AMAZING THINGS YOU DIDN'T KNOW YOU CAN DO ON AN IPHONE 
What happens when you silence notifications? 
This means notifications from people or apps not on your allowed list will be blocked or silenced. You won't see or hear any notifications from them, which can help you stay focused on your work or other activities. However, if someone tries to contact you in an emergency or repeatedly calls you, they will still be able to reach you.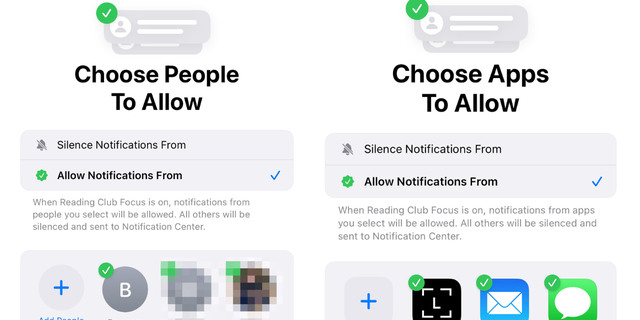 You can still allow certain people to reach you while on iPhone Focus Mode. (CyberGuy.com)
Additionally, you'll receive a summary of the notifications you missed while in Focus mode once you turn it off, so you won't miss out on anything important.
FOR MORE OF MY TIPS, SUBSCRIBE TO MY FREE CYBERGUY REPORT NEWSLETTER BY HEADING TO CYBERGUY.COM/NEWSLETTER
What is Smart Activation? 
You can even create a schedule for your Focus mode or use Smart Activation, which sets schedules for your different modes. This enables your phone to turn on your custom mode based on your location or the apps you use.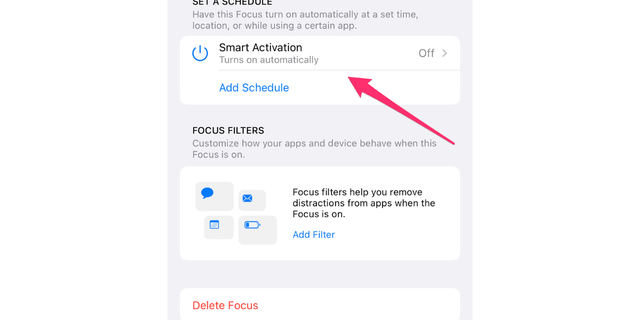 iPhone Smart Activation lets you schedule certain Focus Modes. (CyberGuy.com)
For example, if you choose "Based on Time," you can set a specific time for the Focus mode to activate each day automatically. Or, if you choose "Location," you can choose a location where the Focus mode should activate, such as your workplace or favorite diner.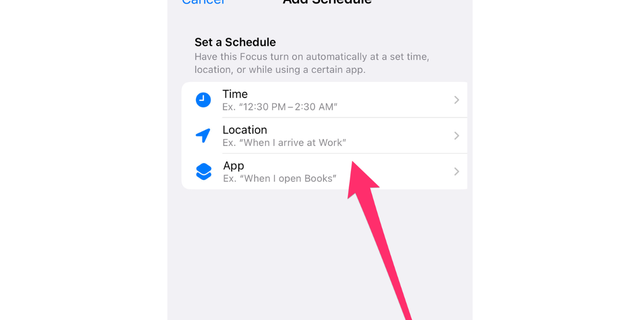 Here's how to schedule out your iPhone Focus Modes. (CyberGuy.com)
Once you've set up Smart Activation for your Focus mode, your iPhone will automatically enable the mode based on your chosen settings. This can be a helpful way to ensure that you stay focused during specific times or locations without having to enable the mode manually each time.
MORE: SECRET IPHONE GESTURES YOU NEED TO KNOW 
How to share your Focus Mode 
You can also choose to share your Focus settings across your other Apple devices, so you can stay focused no matter where you are.
Simply toggle on the Share Across Devices option.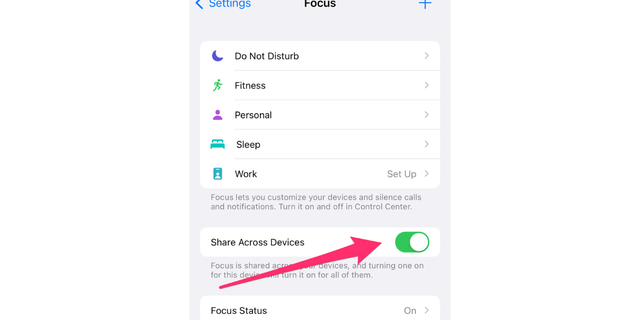 Here's how to share your iPhone Focus settings with other people. (CyberGuy.com)
Ensure all your Apple devices are signed in with the same Apple ID and your Focus modes will be shared automatically.
Final Thoughts 
So, what are you waiting for? Say goodbye to endless notifications and hello to a more productive, focused you.
CLICK HERE TO GET THE FOX NEWS APP
How often do you use your phone during the day? Would you and your family benefit from being more present and less distracted by phones? Let us know by writing us at CyberGuy.com/Contact.
For more of my tips, subscribe to my free CyberGuy Report Newsletter by heading to CyberGuy.com/Newsletter.
Copyright 2023 CyberGuy.com. All rights reserved.