The Taliban have banned families and women from restaurants with gardens or green spaces in Afghanistan's northwestern Herat province, an official said Monday. The moves followed complaints from religious scholars and members of the public about mixing of genders in such places, he said.
It was the latest in a slew of restrictions imposed by the Taliban since they took power in August 2021. They have shut girls out of classrooms beyond sixth grade and women from universities, most types of employment, including jobs at the United Nations. They are also banned from public spaces such as parks and gyms.
Authorities say the curbs are in place because of gender mixing or because women allegedly are not wearing the hijab, or Islamic headscarf, correctly.
UNITED KINGDOM STILL NEGOTIATING WITH TALIBAN FOR THREE BRITS IN CUSTODY, INCLUDING 'DANGER TOURIST'
The outdoor dining ban only applies to establishments in Herat, where such premises remain open to men. Baz Mohammad Nazir, a deputy official from the Ministry of Vice and Virtue's directorate in Herat, denied media reports that all restaurants were off limits to families and women, dismissing them as propaganda.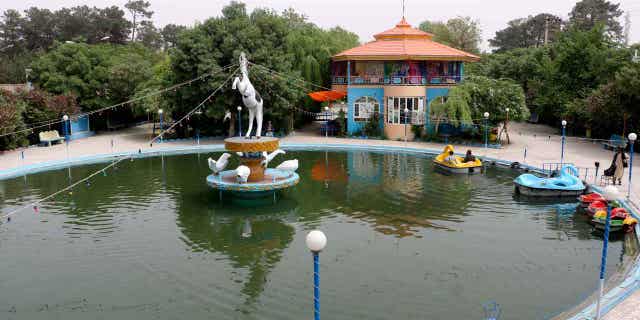 A restaurant closed by the Taliban in Herat province, Afghanistan, is shown on April 10, 2023. The Taliban has banned families and women from restaurants with gardens or green spaces in the country's Herat province. (AP Photo/Omid Haqjoo)
It applied only to restaurants with green areas, such as a park, where men and women could meet, he said. "After repeated complaints from scholars and ordinary people, we set limits and closed these restaurants."
AFGHAN TALIBAN RAID KILLS 6 MEMBERS OF ISLAMIC STATE GROUP
Azizurrahman Al Muhajir, who is head of the Vice and Virtue directorate in Herat, said: "It was like a park but they named it a restaurant and men and women were together. Thank God it has been corrected now. Also, our auditors are observing all the parks where men and women go."
Nazir also denied reports that sales of DVDs of foreign films, TV shows and music are banned in the province, saying that business owners were advised against selling this material because it contradicted Islamic values.
CLICK HERE TO GET THE FOX NEWS APP
Shopkeepers who did not follow through on the advice eventually saw their shops closed, Nazir added. He also denied local media reports that internet cafes have shut down in Herat, but said that gaming arcades were now off-limits to children because of unsuitable content. Some games insulted the Kaaba, the cube-shaped structure in the Great Mosque at Mecca toward which Muslims turn when praying, and other Islamic symbols.
"Internet cafes, where students learn and use for their studies, are necessary and we have allowed them," Nazir said.