Georgia authorities Monday announced charges against three teenagers as well as the owners of the home where 19-year-old Trent Lehrkamp drank so much booze he had to be hospitalized.
Parents James Strother, 46, and Lauren Strother, 56, were arrested Monday morning on charges of maintaining a disorderly house and contributing to the delinquency or dependency of a minor in connection to the rowdy March 21 party at their St. Simons Island residence that left Lehrkamp clinging to life on a ventilator.
Edward Hobby, 17, was also charged with battery stemming from an incident that didn't involve Lehrkamp but was uncovered during the investigation, Glynn County Interim Police Chief O'Neal Jackson III said at a press conference.
A pair of minors, whose names were not released, were also arrested. One was booked for simple battery and criminal trespass, and the other for possession and use of drug-related objects, Jackson told reporters.
TRENT LEHRKAMP TORTURE: ANOTHER GEORGIA TEEN SAYS SHE WAS ASSAULTED AT THE SAME HOUSE OF HORRORS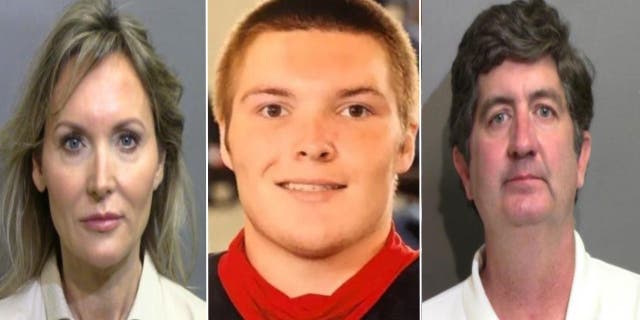 Lauren and James Strother, far left and right, were arrested April 17 after Trent Lehrkamp, 19, drank so much alcohol at their St. Simons Island home that he lost consciousness and had to be hospitalized.  (Glynn County Detention Center/Facebook)
The police chief did not elaborate on the nature of the charges. Glynn County District Attorney Keith Higgins used his remarks to dispel alleged misinformation that has swirled around the Lehrkamp case since disturbing accusations and images emerged on social media of abuse at the hands of vicious bullies.
"He was not tortured," Higgins said. "Trenton voluntarily drank alcohol until he passed out. No one forced alcohol down his throat or forced him to drink."
He added that no one urinated or defecated on Lehrkamp and that he was not autistic.
GEORGIA TEEN SPEAKS OUT AFTER ALLEGED TORTURE BY GROUP OF BOYS LEAVES HIM HOSPITALIZED
After Lehrkamp began having difficulty breathing, Hobby and two other teenagers at the party dropped him off at the ER and left their correct names and phone numbers with the intake desk.
Lehrkamp, who nurses reported smelled of urine, likely wetted himself due to his level of inebriation, Higgins said.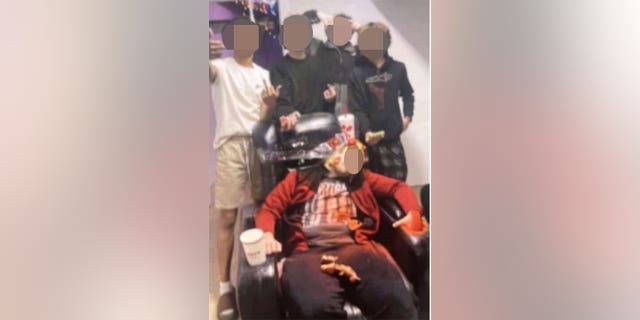 Georgia police are investigating the alleged abused of Trent Lehrkamp, who is shown passed out in a chair. (Facebook )
"By taking Trent to the hospital so he could get medical attention, [Edward] Hobby and the juveniles quite probably saved his life," the prosecutor asserted.
A photo posted to Snapchat showed Lehrkamp passed out in a chair covered in substances and objects as four boys pose in the background. Higgins said one of the objects was a toy dinosaur.
Lehrkamp's father reported the alleged abuse of his son to police at the hospital.
About a week before Lehrkamp ended up on a ventilator, he went to the same residence where he engaged in an egg fight then "voluntarily sat in a chair" to be washed off with a hose, Higgins said.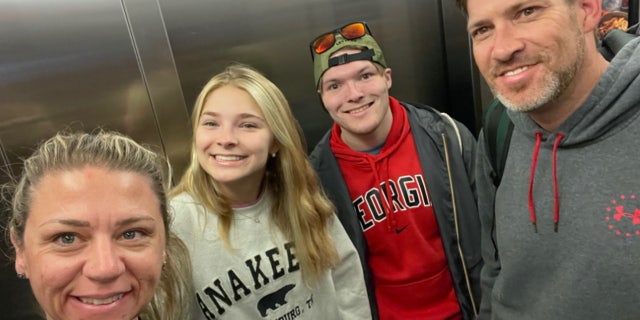 Trent Lehrkamp with his father, sister and stepmother. He's recovering after spending more than a week in the hospital. (GoFundMe)
A 10-second clip posted to social media showing Lehrkamp slumped over in a chair March 17 with a garden hose trained on him sparked public outrage.
Lehrkamp's father told police his son returned home the day he was hosed down "covered in WD-40, vomit, paint, glue, egg yolk and spray paint," and on another occasion with a laceration to his face that required stitches, according to an incident report.
GEORGIA TEENS IN TRENT LEHRKAMP TORTURE IDENTIFIED BY POLICE, FAMILY ASKS FOR PRAYERS
The intense media scrutiny on the case, which roped in the Georgia Bureau of Investigation and the FBI, detracted from more serious crimes, said Higgins.
"It has diverted a lot of resources," he noted.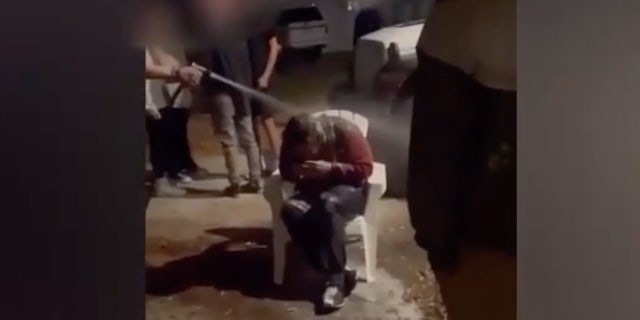 A screenshot of a video showing Trent Lehrkamp getting sprayed with a hose as a group of teenagers socialize. (Facebook)
Lehrkamp was discharged from the hospital and is recovering at an out-of-state facility, according to a GoFundMe account that has raked in more than $130,000.
"Trent wouldn't know until it was too late that these were not friends, but vile and abusive perpetrators who would go on to torture, humiliate and assault him in inhumane, terrifying ways for hours," the GoFundMe organizer wrote on the fundraiser's page.
In an update directly from Lehrkamp posted Sunday, he wrote that he was grateful to be alive.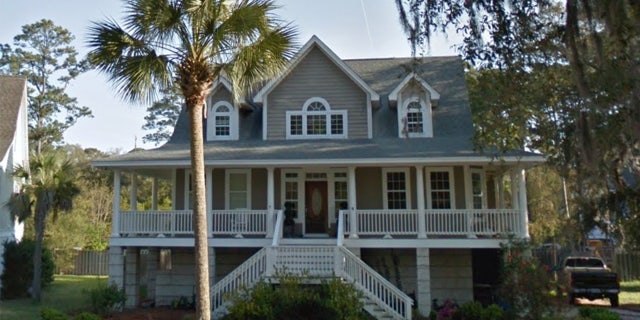 The St. Simons Island home owned by Lauren and James Strother where Trent Lehrkamp allegedly drank so much alcohol he had to be hospitalized. 
"I know that I'm not a cat with nine lives. I look at it like baseball, three strikes and you're out," he wrote. "I want to be alive."
CLICK HERE TO GET THE FOX NEWS APP
He said he's in a program that specializes in trauma, PTSD and grief.
"I want to get well, I want y'all to be proud of me," he added.