Fleet Week 2023 is on a roll in New York City, kicking off with the impressive arrival of the naval warship USS Wasp.
The USS Wasp (LHD 1) is an amphibious warship occupied by both the U.S. Navy and the Marine Corps.
An amphibious assault ship is designed to deploy and support ground forces on shore, with the capability to host tanks, helicopters, cargo and a variety of support vehicles.
US NAVY, FDNY COLLABORATE IN HUDSON RIVER DIVE TRAINING AT USS INTREPID: 'PROTECT LIFE AND PROPERTY'
The 843-foot-long ship, commissioned in 1989, has two main boilers and five steam turbine generators, Sean Gehrold, chief interior communications electrician, told Fox News Digital.
COMFORT FOR MILITARY FAMILIES: US NONPROFIT HOUSES LOVED ONES OF INJURED, FALLEN SERVICE MEMBERS
The ship can carry up to 3,000 people at full capacity, as well as equipment such as landing craft air cushion (LCAC) and landing craft utility (LCU) vessels.
Image 1 of 2
U.S. Navy sailors and Marines line the perimeter of the USS Wasp's flight deck as it arrives in New York City. (Angelica Stabile/Fox News Digital)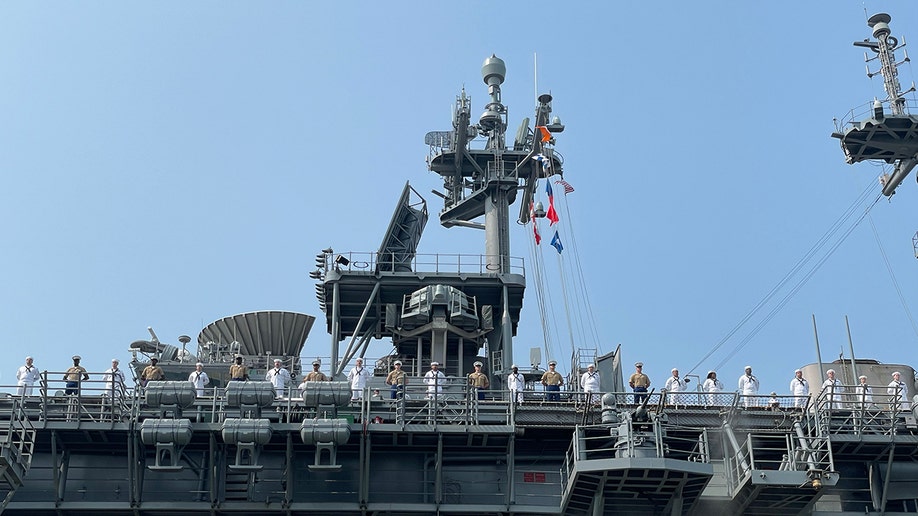 Image 2 of 2

U.S. Navy and Marine Corps personnel arrive for Fleet Week in New York City on May 24, 2023. (Angelica Stabile/Fox News Digital)
"It houses the U.S. military's most important weapon, which is the Marine Corps and the Navy," said Forster, based in Washington, D.C.
The ship's "intended purpose" is to transport its members to serve in specific areas of need, including humanitarian relief, protection of the homeland from amphibious assault, national security and other missions, Forster explained.
"That flexibility is what really makes these ships such an asset to our national security," Forster said.
The Wasp has other unique characteristics, including its ability to carry many service members while maintaining its station for "long periods of time," and to communicate with other vessels.
Producing a warship of this caliber was a collaborative effort, Forster disclosed. Businesses nationwide helped work on the USS Wasp, which was produced at Ingalls Shipbuilding in Pascagoula, Mississippi.
"Everyone has a part to play," he said in an interview with Fox News Digital.
"Everyone minds their Ps and Qs as much as possible to support their other sailors, whether that's repair division, supply, cooking the food or driving the ship."
US NAVY DISPLAYS TIMES SQUARE DIVE TANK DURING FLEET WEEK
The USS Wasp "either brings fear to the hearts of the enemy or brings peace to the people we serve."

— David Forster, chairman of the Amphibious Warship Industrial Base Coalition
Howe, a Navy sailor of 12 years, expressed his gratitude for being entrusted with the equipment kept on deck, including an AV-88 Osprey.
"It's very humbling," he said. "I see it as a blessing every day."
US MARINE CORPS VETERAN WHO LOST LEGS IN AFGHANISTAN SAYS A NONPROFIT HELPED HIM STAY ALIVE
"When you go on board, you notice that everybody's welcome," he said.
Fellow MM3 Lillian Kidd mentioned the friendships she's made aboard the Wasp.
"There is love amongst us."

— Sean Gehrold, chief interior communications electrician
"Engineering is a big department … but we come together as a whole family," she said. "If someone needs help, we're all there to help them."
While the job can require late nights, the deck department is "like a brotherhood," said Navy Boatswain's Mate (BM2) Nelson Jiminian, whose duties include driving the ship.
MEET THE AMERICAN WHO EARNED THE MEDAL OF HONOR AND WAS MIA IN KOREA FOR 73 YEARS, CPL. LUTHER HERSCHEL STORY
"We get to drive a multi-billion-dollar ship," said the Bronx-born Jiminian. "It's not an easy thing to do. It's sometimes nerve-wracking, especially pulling into New York."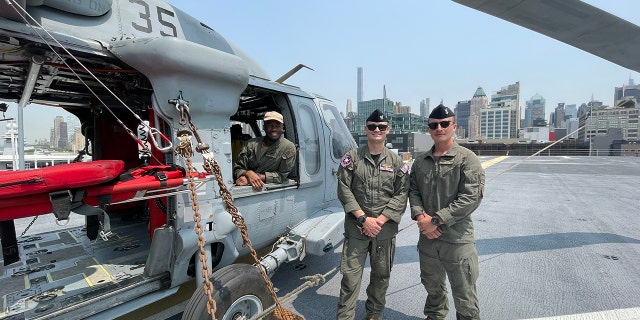 Helicopter Sea Combat Squadron (HSC) 28 service members January Little, Nick Mastrangelo and Donald Mann (left to right) are pictured here. (Angelica Stabile/Fox News Digital)
"I'm just proud to be here," said Sgambati, who is from West Islip, New York.
"Growing up native to New York, I've been seeing Fleet Weeks all my life … It's an honor to be here."
U.S. Navy ceremonial guard Lt. Stephan Acevedo, whose unit rang in the USS Wasp's arrival with a nine-man drill performance, emphasized the importance of "bridging the gap" between soldiers and civilians.
Fleet Week is an opportunity for the three branches to show how "closely" they work together as "one nation united," added Brooklyn-born MM3 Walker.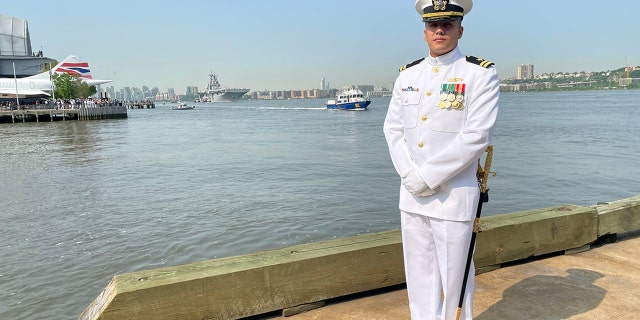 U.S. Navy ceremonial guard Lt. Stephan Acevedo kicked off the USS Wasp's arrival with a nine-man drill performance. (Angelica Stabile/Fox News Digital)
Salazar, from Washington Heights, New York, said she's "just proud to serve the country" and wants to share that sentiment with her fellow proud Americans.
Lance Corporal Johnathan Romero, born and raised in Coney Island, Brooklyn, told Fox News Digital that being back with his fellow New Yorkers feels "amazing."