The Virginia mom of a 6-year-old charged with shooting his first-grade teacher earlier this year has been indicted by a grand jury in connection with the shooting, the Newport News Commonwealth's Attorney's Office announced Monday.
Deja Nicole Taylor, 25, is charged with felony child neglect, and a misdemeanor count of recklessly leaving a firearm so as to endanger a child.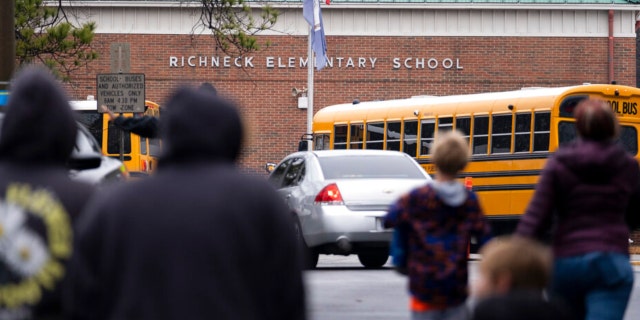 FILE: Students return to Richneck Elementary in Newport News, Va., Jan. 30, 2023. (Billy Schuerman/The Virginian-Pilot via AP)
The charges were brought about after an investigation by the Newport News Police Department and the Commonwealth Attorney's Office.
"Every criminal case is unique in its facts, and these facts support these charges, but our investigation into the shooting continues," Commonwealth's Attorney Howard Gwynn said in a statement.
WORKER CALLED FOR HELP FROM INSIDE VAULT AS GUNMAN STORMED BANK AND OPENED FIRE, TIMELINE REVEALS
The Commonwealth's Attorney has also asked a Circuit Court judge to impanel a "Special Grand Jury" to continue investigating security issues that may have enabled the January shooting. The probe could potentially lead to more people being criminally charged in connection with the shooting.
Abby Zwerner, a 25-year-old first-grade teacher at Richneck Elementary School in Newport News, Virginia, was shot in the hand and chest Jan. 6, as she sat at a reading table in her classroom. She spent nearly two weeks in the hospital and required four surgeries.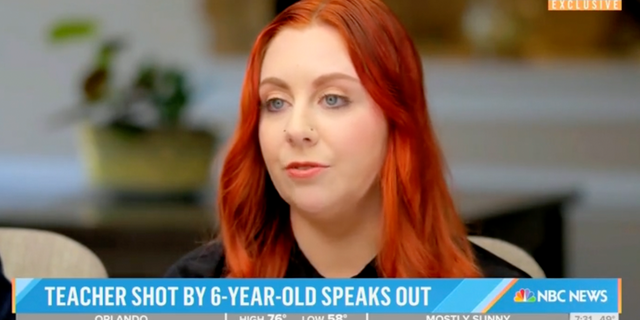 Richneck Elementary School teacher Abigail Zwerner sat down with NBC for an interview a couple months after being shot by her 6-year-old student in the classroom. (Screenshot/NBC)
Monday's indictment announcement comes a week after Zwerner filed a lawsuit seeking $40 million in damages from school officials, accusing them of gross negligence and ignoring multiple warnings the day of the shooting the boy was armed and in a "violent mood."
BIDEN IMMEDIATELY CALLS FOR CONGRESS TO ACT AFTER DEADLY LOUISVILLE SHOOTING
The lawsuit names as defendants the Newport News School Board, former Superintendent George Parker III, former Richneck Principal Briana Foster-Newton and former Richneck Assistant Principal Ebony Parker.
In the lawsuit, Zwerner's attorneys say all the defendants knew the boy "had a history of random violence" at school and at home, including an episode the year before when he "strangled and choked" his kindergarten teacher.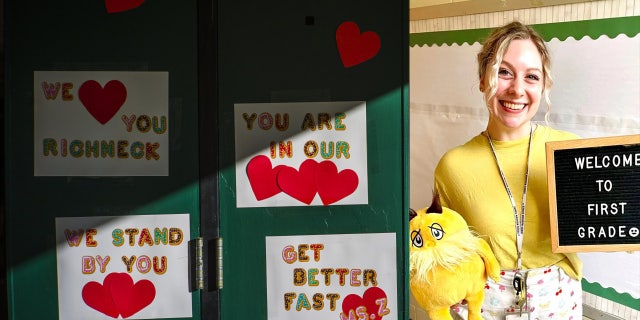 Messages of support for teacher Abby Zwerner, who was shot by a 6-year-old student, grace the front door of Richneck Elementary School Newport News, Va., Jan. 6, 2023.  (Family of Abigail Zwerner via AP, File/ AP Photo/John C. Clark, File)
Last month, Newport News prosecutor Howard Gwynn said his office would not criminally charge the boy because he is too young to understand the legal system. Gwynn has yet to decide if any other adults will be charged.
CLICK HERE TO GET THE FOX NEWS APP
The boy used his mother's gun, which police said was purchased legally. James Ellenson, the attorney for the boy's family, has said previously that the firearm was secured on a high closet shelf with a lock.
Fox News Digital has reached out to Ellenson for further comment.
The Associated Press contributed to this report.