National Security Council spokesman Adm. John Kirby [Ret.] was once again at the White House podium Monday to respond to sensitive breaking news, and caused controversy with his response to questions about "highly classified" Defense material being leaked on social media sites this week.
Kirby previously drew criticism from high profile veterans like retired recon Marine Chad Robichaux, who torched his assessment of the Afghanistan withdrawal report last week.
The new leaked material, first reported by the New York Times on Friday, seemingly contains intelligence on China, the Middle East, Israel's spy agency Mossad, and U.S. support for Ukraine's military.
Former Trump White House counselor Kellyanne Conway conceded Kirby has a tough job in being the ombudsman in such instances, but said he sounded like someone who was less so trying to conceal sensitive developments and moreso a spokesman who had little tangible information to give.
LEAK OF HIGHLY CLASSIFIED MATERIAL ASSESSED BY INTERAGENCY TEAM: PENTAGON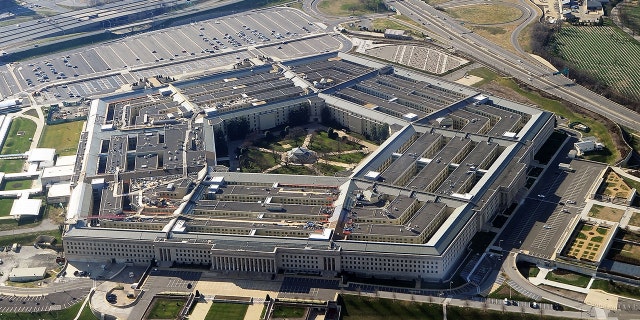 The Pentagon, which is the headquarters of the United States Department of Defense (DOD), is the worlds largest office building by floor area. (STAFF/AFP via Getty Images)
"There is a man long on words today, very short on information [for the] education of the public. He seemed worried, – like somebody who doesn't have the answers that we all seek and deserve," Conway said.
Conway credited the press corps writ large for pressing hard for information following such an unprecedented leak, but added that the Biden administration is the same entity along with the Democrats who continue to condemn former President Donald Trump for the discovery of classified documents at his Palm Beach home – while they have trouble keeping their own dossiers from being leaked.
"This is an administration and a party that's been going after the former president; after documents he may or may not have had in Mar-a-Lago for this, that and the other and we have leaks of classified documents as we speak that affect countries, allies and others around the globe," she said, adding Kirby could not answer several of the questions informatively.
WHITE HOUSE, KIRBY FACE BACKLASH FROM MILITARY VETS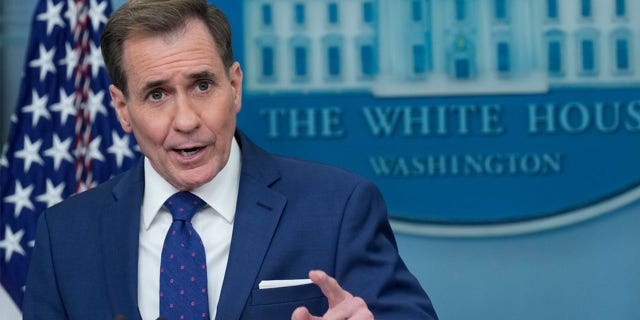 Kirby (AP Photo/Susan Walsh)
"[One good question was] Have you notified our allies who are mentioned is this impeding the ability of the U.S. to help Ukraine? And is it impeding Ukraine's ability to defend its sovereignty, its borders, its people?"
"It didn't sound like they had any more information than the rest of us, because key point, John Kirby did not say 'I can't comment on that right now' — as former Pentagon spokespeople and folks at the White House often need to say because information is sensitive and developing – He basically said, I don't know."
"This is unacceptable. He said there's something like there's no room for any kind of tolerance here for these classified documents."
UKRAINE WAR PLANNING DOCUMENTS LEAKED ONLINE, PENTAGON INVESTIGATING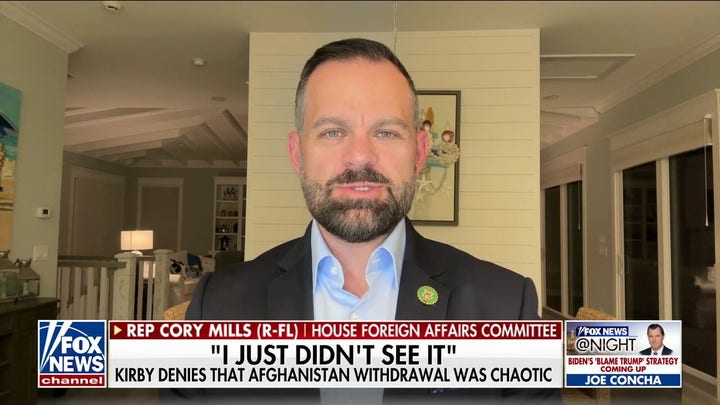 Video
Kirby also fielded questions about Biden's upcoming trip to Northern Ireland, where he is reported to commemorate the 25th anniversary of the Good Friday Agreement of 1998 that largely brought an end to violence involving the Irish Republican Army (IRA) and opposing groups in places like Derry and Belfast.
The April 10 agreement formally ended the "Troubles" – the decades-long oft-violent conflict between the proverbial Orange and Green – Unionists, largely Ulster Protestants, loyal to the British Crown – and nationalists, largely Roman Catholic, loyal to the Irish government.
Kirby said Biden finds the trip important in commemorating the peace deal, along with the fact he has a personal connection to the emerald isle.
CLICK HERE TO GET THE FOX NEWS APP
Northern Irish authorities are reportedly on high alert for potential violence during Biden's visit after demonstrators firebombed law enforcement in Derry/Londonderry on Monday, the U.K. Telegraph reported.
On "America Reports," Conway also criticized how Biden appeared to be snubbed by America's oldest ally, after French President Emmanuel Macron sought the counsel of Chinese President Xi Jinping in terms of the Ukraine war.
Macron too caused controversy when he said France cannot become a "vassal" in the Sino-American clash over Taiwan.
Conway said Kirby was the likely choice to field such questions because the answers could not be "stuck" in Press Secretary Karine Jean-Pierre's binder, which the spokeswoman regularly appears to read from verbatim.
Fox News' Jennifer Griffin and Paul Best contributed to this report.