Russia and Iran are the two most sanctioned countries in the world. Iran had the most before Russia invaded Ukraine with around 3,600. Russia had 2,695. After the invasion in February 2022, sanctions on Russia skyrocketed to more than 16,000.
"The sanctions against Russia began under the Obama administration after the first Russian invasion in 2014," former Ambassador to Poland Daniel Fried said. "These were by current standards, moderate sanctions. At the time, we thought they were severe sanctions. And they were certainly the biggest sanctions we had ever put on Russia or on an economy as large as Russia."
Fried is now a Weiser Family distinguished fellow with the Atlantic Council. During his time working with the Obama administration, he served as State Department coordinator for sanctions policy. He crafted U.S. sanctions against Russia after its annexation of Crimea.
"They had an impact on Putin. He retreated somewhat from his initial war aims in Ukraine in 2014. When we didn't increase the sanctions, as I think we should have at the end of 2015 and 2016, he started preparing, I think, his next moves against Ukraine."
"Then we were in an election year, and the Obama people didn't want to escalate against Russia, even when the evidence mounted of Russian interference in the U.S. election using disinformation. I think that was a mistake The problem with the Trump administration is you had a lot of good people continuing the sanctions. But let us say mixed messages from President Trump himself, which undercut the efforts of his own administration."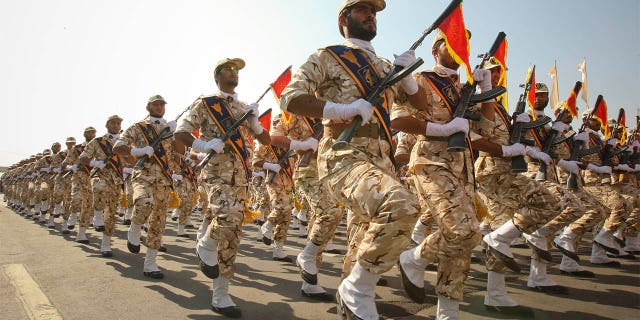 Members of the Iranian revolutionary guard march during a parade to commemorate the anniversary of the Iran-Iraq war.  (Reuters)
The Trump administration added additional sanctions in response to Russian cyber activity, Putin's support for North Korea and U.S. election interference.
"Russia, prior to the advent of the Ukraine war, was actually relatively well integrated in the global financial economy, whereas the Islamic Republic of Iran wasn't," said Behnam Ben Taleblu, a senior fellow with the Foundation for Defense of Democracies.
"The Biden administration prepared very tough sanctions, and when Putin launched his full invasion of Ukraine in 2022, they pulled the trigger on these. These sanctions were basically my escalatory list." Fried said.
Russia's sanctions were mostly imposed all at once while Iran's were added and adjusted over a longer period of time.
"I think it takes a multiple sanctions, dozens of sanctions. And it takes them all working together," said Rep Jared Moskowitz, D-Fla. "These countries are all working together as kind of the underbelly of society because the rest of the world is united against them."
The U.S. initially worked with the European Union and the United Nations to block Iran's oil exports and make it more costly for Iran to develop a nuclear weapon. In 2015, some of those sanctions were lifted under the Iran Nuclear Deal.
"The sanctions applied during the Obama administration were sufficient to get the Iranians to the negotiating table about the nuclear program," Fried said. "When Trump pulled us out, he was basically asking sanctions to force Iranian regime change, and that's probably too much to ask of sanctions."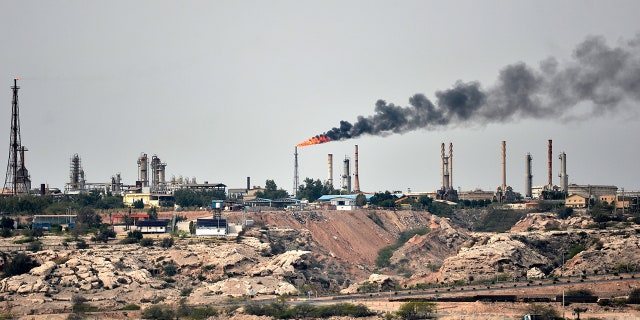 The Port of Kharg Island Oil Terminal in Iran March 12, 2017.  (Fatemeh Bahrami/Anadolu Agency/Getty Images)
In 2018, President Trump pulled the U.S. from the Iran Nuclear Deal. Some sanctions were reimposed and additional restrictions were implemented.
"Collectively, these sanctions that have been applied to Russia, to Iran, to China do cause a great deal of harm to them economically. And sometimes it takes longer than we would like for their behavior to change. But I don't think there's any question, with respect to the Russian invasion of Ukraine, that it has had a significant impact on them and their ability to manage that war," Rep. Mike Lawler, R-N.Y., said.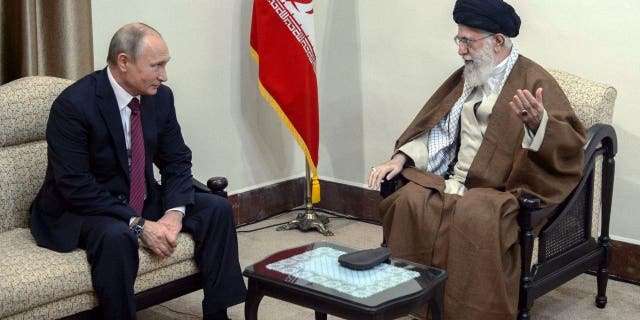 Russian President Vladimir Putin, left, meets with Iran's Supreme Leader Ayatollah Ali Khamenei in Tehran. (Dmitry Azarov/Sputnik/AFP via Getty Images)
CLICK HERE TO GET THE FOX NEWS APP
The Russia sanctions were a clear response to what was happening in Ukraine. The goals were to weaken Putin's military and cripple Moscow's economy. Some experts say the sanctions on Iran have a less clear direction now.