Democratic Mayor Eric Adams on Monday applauded New York City hospitals for feeding patients plant-based meals in lieu of meat by default, claiming "what we eat is impacting our entire planet" as the health care system is apparently leading the charge in the administration's climate change initiatives to reduce carbon emissions.
"It is easy to talk about the emissions that's coming from buildings and how it impacts our environment, but we now have to talk about beef," Adams said Monday of his greens for green initiative at a press conference at New York City Health + Hospitals Culinary Center in Brooklyn. "And I don't know if people are really ready for this conversation. And we can't have a level of hypocrisy where we want to ensure that we do local laws to address the emissions that's come from fossil fuel, but not willing to have a real conversation on what food is doing to us."
"I recall during my campaign for mayor when we first started engaging in the behavioral issues that's attached to unhealthy food, there was a lot of pushback," he added. "There was a lot of people who did not want to look at the science. And now more and more we're discovering how food that is nutritionally void has a major impact on the health of a person's mental state."
Adams and Chief Climate Officer and New York City Department of Environmental Protection (DEP) Commissioner Rohit T. Aggarwala on Monday released what they said was the city's first integrated greenhouse gas inventory. The mayor's office said emissions from the production and consumption of food represent 20% of New York City's overall emissions – the third-largest source, behind buildings at 35% and transportation at 21%.
AOC SLAMS ERIC ADAMS FOR INCREASING PAY FOR 'MILITARIZED' POLICE: 'DEFUNDING SAFETY'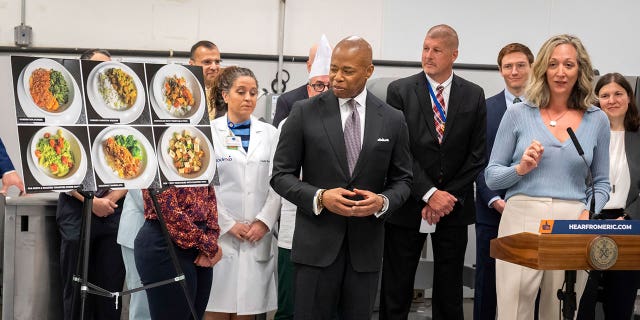 Mayor Eric Adams announced Monday that by 2030, the New York City will reduce food-related emissions by 33%. (NYC Mayor's Office )
The inventory – developed by the Mayor's Office of Climate & Environmental Justice (MOCEJ) – includes emissions involved in the production of goods and services New Yorkers consume, whether that production occurs in New York City. In response, Adams and Mayor's Office of Food Policy (MOFP) Executive Director Kate MacKenzie also announced that the city aims to reduce absolute carbon emissions from food purchases across its city agencies by 33% by 2030.
"We already know that a plant-powered diet is better for your physical and mental health, and I am living proof of that. But the reality is that thanks to this new inventory, we're finding out it is better for the planet," Adams said.
The mayor's office said NYC Health + Hospitals "by serving plant-based meals as the default option and enhancing patients' food experience," is on track to serve 850,000 plant-based meals this year, reducing its food-based carbon emissions by 36% as of February 2023 "while reducing the public health burden of diet-related disease."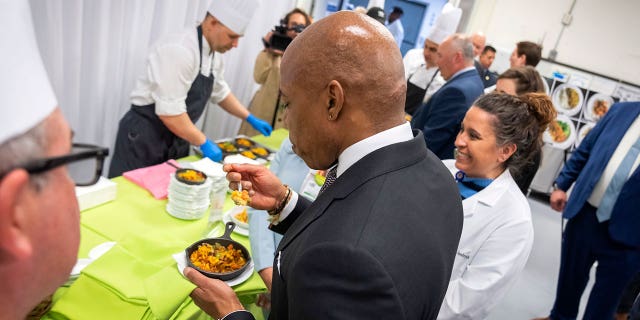 New York City Mayor Eric Adams samples a plant-based meal to be served to hospital patients. (NYC Mayor's Office )
NYC MAYOR ADAMS NAMES FORMER GRADE SCHOOL TEACHER AS 'RAT CZAR'
"New York City's leading in the world when it comes to combating climate change because we're using every option on the menu. And in some cases, we're going to change the menu. That is how you lead. We are leading the world and ensuring we combat climate change," Adams said. "And if we're going to accomplish this goal, it must be accomplished by being honest. You cannot leave the third leading cause of climate change unacknowledged. And when you do a comparison, the numbers that food contributes compared to transportation, they are extremely close. It's almost dead even. So we can't talk about cars, we can't talk about buildings if we're not talking about the food that also contributes to this crisis."
Guardian Angels founder and WABC radio host Curtis Sliwa, who ran against Adams in the 2021 mayoral election, told the New York Post that hospital staffing issues and safety concerns should remain City Hall's focus, not pushing a plant-based agenda. Sliwa also criticized Adams over the plant-based meal push, arguing that serving that to tens of thousands of migrants seeking asylum in the Big Apple is not culturally appropriate for many and will be thrown in the garbage.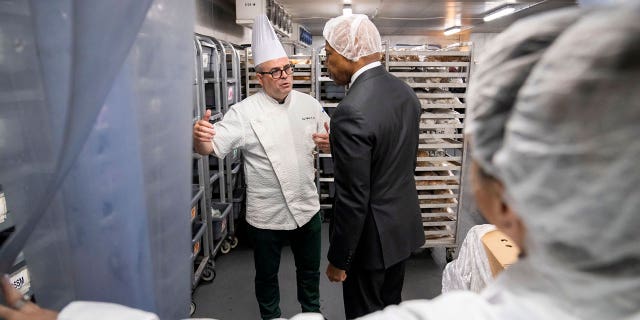 Eric Adams' office says food is the third-largest source of emissions in New York City, "so what we eat is impacting our entire planet." (NYC Mayor's Office )
"I think a complete diet is better. A lot of vegetarians are low on vitamin B12," Joanne Loo, a veteran nurse who worked at Mount Sinai Hospital during the pandemic, also told the Post.
Adams' push is reminiscent of that of former New York City Bill de Blasio's move to ban sodas larger than 16 ounces in the Big Apple. In 2014, the state's highest court ultimately rejected the big soda ban, ruling the city's Board of Health "exceeded the scope of its regulatory authority," the New York Times previously reported.
CLICK HERE TO GET THE FOX NEWS APP
New York City also introduced Plant-Powered Fridays in its public schools last year, "emphasizing the central role that healthy, low-carbon options must have on individuals' plates and inspiring future generations to lead the charge in creating a more just and sustainable food system," according to Adams' office. The mayor also launched the Plant-Powered Carbon Challenge, urging private, institutional and nonprofit sector leaders to reduce their food-based emissions by 25% by 2030.