Some experts have raised concerns that artificial intelligence (AI) could have its own gender gap if more women aren't involved in its development and dataset analysis.
"It's not just AI, but I would say engineering as a whole," Dr. Georgianna Shea, chief technologist at the Foundation for Defense of Democracies' Center on Cyber and Technology Innovation (CCTI), told Fox News Digital. "Whenever there's any type of engineering process for anything, you don't want to end up with bias-based engineers."
Adding to the debate, Melinda French Gates, co-chair of the Bill & Melinda Gates Foundation, recently said in an interview that she was concerned there was a lack of women working in the field of artificial intelligence, which she said made her nervous about potential biases in platforms.
Shea said the problem is two-fold: Not only does the field require more women to help guide the development of AI platforms, the datasets used to inform and train the AI already use biased data.
"Men and women are physiologically different, so if you have a set of men who are testing a drug, then maybe the body mass index is higher or lower than it would be if it was a woman … there's just fundamental differences, so the data itself is going to show that this how it came out based on that test set of people," she argued.
ISRAEL'S EMBRACE OF CUTTING-EDGE TECH HELPS THWART CYBER, TERRORIST ATTACKS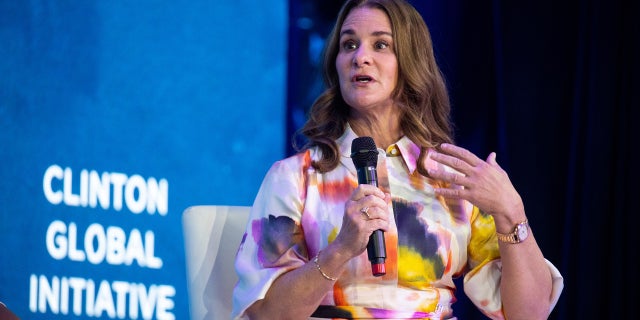 Melinda Gates, co-chair of the Bill & Melinda Gates Foundation, speaks during the Clinton Global Initiative annual meeting in New York on Sept. 19, 2022. (Michael Nagle/Bloomberg via Getty Images)
Women have raised concerns about how gender bias might influence AI for years now, with the Stanford Social Innovation Review discussing possible issues in 2019: The authors argued that institutions making decisions based on AI and using machine learning suffer a "pervasive" gender bias that has profound effects on women's short and long-term well-being and security.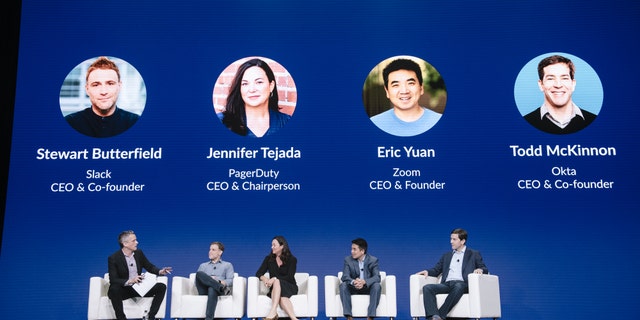 Aaron Levie, chief executive officer and co-founder of Box Inc., from left, Stewart Butterfield, chief executive officer of Slack Technologies Inc., Jennifer Tejada, chief executive officer of PagerDuty Inc., Eric Yuan, founder and chief executive officer of Zoom Video Communications Inc., and Todd McKinnon, chief executive officer and co-founder of Okta Inc., participate in a panel discussion at the BoxWorks 2019 Conference at the Moscone Center in San Francisco, California, U.S., on Thursday, Oct. 3, 2019. BoxWorks brings together leaders across the technology sector to define the future of work and build digital-first companies.  (Michael Short/Bloomberg via Getty Images)
Only 15% of engineering jobs are held by women, and women leave the tech industry at a 45% higher rate than men do, according to DataProt.
Shea compared biased data sets to military equipment, such as a tank or similar vehicle, which was developed for men since they alone could serve in combat roles up until the military changed protocol around 10 years ago. With full integration in 2015, the military and engineers had to start refitting vehicles to accommodate a woman's minimal height and weight requirements for safety.
The key to ensuring that any AI platform does not stumble on this issue is to consider the context of an AI platform, according to Shea.