Alexandria Ocasio-Cortez, a heroine on the Left, does not like the ruling by a Texas judge directing the FDA to stop the approval of an abortion pill that was greenlit by the agency more than two decades ago.
Her solution: simply ignore it. Those are her words.
Now there are serious questions to be raised about the order by Judge Matthew Kacsmaryk, a Trump appointee and opponent of abortion who would freeze the approval of mifepristone while a lawsuit challenging its safety winds its way through the courts. The Biden Justice Department has appealed.
How can a drug that's been safely used by many Americans since 2000 suddenly be deemed unsafe? Wouldn't that destroy the ability of the FDA or any other regulatory agency to make well-grounded decisions?
TRUMP DEFIES JUDGE WITH NEW ROUND OF STINGING ATTACKS ON PROSECUTORS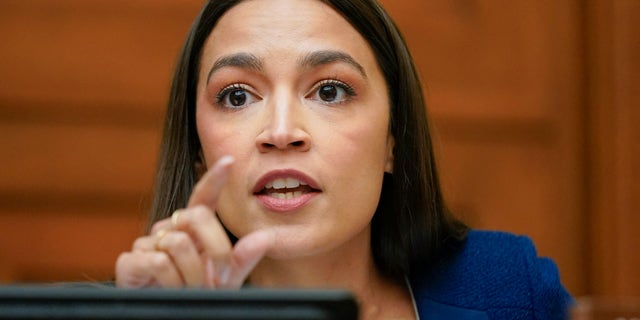 AOC is voicing her dislike for a Texas judge's ruling to stop the FDA from approving an abortion pill. ( ANDREW HARNIK/POOL/AFP via Getty Images)
But the idea that politicians can choose to blow off court rulings they don't like is just as dangerous, since it would – not to overstate things here – totally undermine the rule of law.
"That's a pretty stunning position," CNN host Dana Bash told the New York congresswoman when she made the remarks Sunday.
AOC is hardly the only Democrat slamming the Texas decision. In fact, HHS Secretary Xavier Becerra, in his own CNN sitdown, would not rule out ignoring the court order, saying "everything is on that table." And Republican Rep. Nancy Mace, told CNN's morning show yesterday that she agrees with taking no action on the ruling.
The South Carolina lawmaker, clearly worried about the fallout from taking too hard a line on restricting abortion, said: "This is an issue that Republicans have largely been on the wrong side of. We have, over the last nine months, not shown compassion towards women."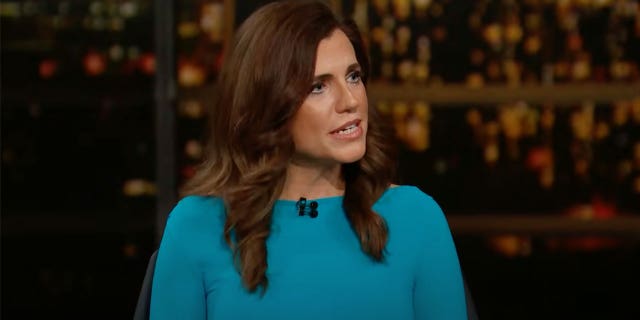 Rep. Nancy Mace, R-S.C., said she she agrees with taking no action on the ruling to stop the FDA from approving mifepristone. (Screenshot/HBO)
Regardless of your views on abortion, we have a judicial system that has worked pretty well since Marbury v. Madison. If you don't like a court ruling, try to get it overturned, countersue or work to elect politicians who would name judges that share your values. I don't see how "ignore it" is a viable option.
AOC argued in the interview that she does "not believe that the courts have the authority over the FDA that they just asserted, and I do believe that it creates a crisis."
Ocasio-Cortez insisted there was ample "precedent" for the executive branch to shrug off lower-court rulings, saying Donald Trump had done that very thing on lower court orders to fully restore DACA, the law protecting the dreamers that he was moving to abolish. The Supreme Court in 2020 blocked Trump's plan on a 5-4 vote. But in that case the issue was resolved by the courts.
Even if Trump had engaged in slow-walking during the court fight, how does it help AOC's case to say, well, the other side does it too? Such logic would lead to both parties feeling emboldened to ignore unfavorable court rulings.
AS EXPECTED, TRUMP INDICTMENT ALL ABOUT FALSIFYING RECORDS – FOR HUSH MONEY
At the same time, an Obama judge in Washington state ruled in favor of preserving the status quo for medicated abortions in the 17 states where it is now legal. So now we have dueling rulings, and this is clearly headed for the highest court.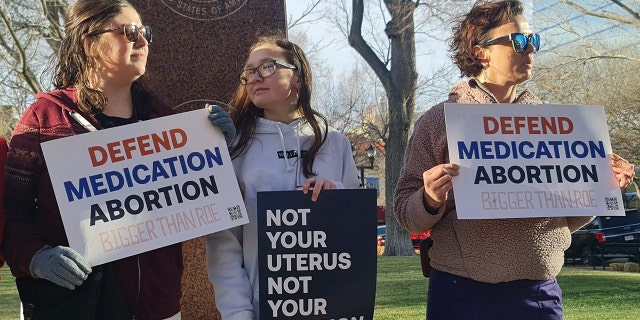 Abortion rights adovcates gather in front of the J Marvin Jones Federal Building and Courthouse in Amarillo, Texas, on March 15, 2023. (MOISES AVILA/AFP via Getty Images)
Which brings up another point: why should a federal district judge be able to issue a nationwide injunction? Shouldn't the authority be limited to that district? That only encourages forum-shopping. If you file a case in Amarillo, you get Kacsmaryk, because he's the only federal judge there. AOC complained about "deeply partisan" judges and said the courts are "now going rogue." Are there no partisan judges on the other side, such as when SCOTUS was issuing liberal rulings on abortion and civil rights a half century ago? What about when the John Roberts court, in 2015, legalized same-sex marriage?
SUBSCRIBE TO HOWIE'S MEDIA BUZZMETER PODCAST, A RIFF ON THE DAY'S HOTTEST STORIES
The stakes are extremely high. For decades, getting an abortion meant going to a clinic, perhaps encountering protesters, even as conservative states passed restrictive new laws. Now the availability of mifepristone means universal access, although there are legal battles to come over whether the pills can be mailed across state lines or within states banning abortion in the post-Roe era.
CLICK HERE TO GET THE FOX NEWS APP
But turning a blind eye to controversial court rulings only makes things far worse.