YUMA, Ariz. – A surge at the southwest border could be what local communities are facing, as Title 42 is set to expire May 11.
It's a public health policy that allows for quick deportations put in place during the Trump administration, but the Biden administration has tried to end it for over a year now.
In Yuma, Arizona, which borders Mexico, only one hospital serves the permanent population and undocumented immigrants crossing.
"When a migrant comes in, they get the same care everybody else gets," said Dr. Robert Trenschel, the president and CEO of Yuma Regional Medical Center.
CBP OFFICIALS WARN POTENTIAL ILLEGAL IMMIGRANTS THAT 'BORDER IS NOT OPEN' AS TITLE 42'S END NEARS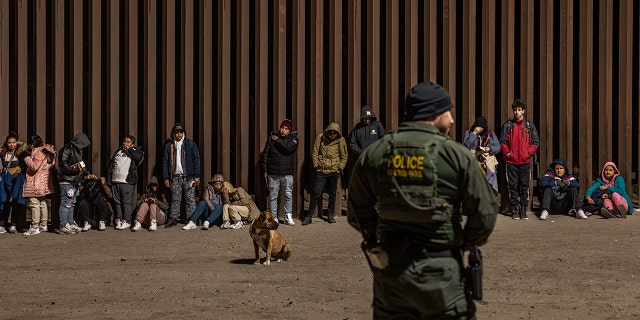 Immigrants wait to be processed by the U.S. Border Patrol after crossing the border from Mexico on December 30, 2022, in Yuma, Arizona.  (Qian Weizhong/VCG via Getty Images)
The area's only hospital spent $26 million in uncompensated care for migrants between December 2021 and November 2022 – a majority going to the emergency department and maternity unit.
The emergency department received about 200 migrants a month at the worst of it during this period, with illnesses ranging from dehydration to pneumonia to fractures.
"We're very concerned with the number that are going to come in, and we hope that we're not going to get the same number that we had in the past, but we're preparing just in case that we do," Trenschel said.
During the peak of border crossings here in December 2021, about 6,000 people crossed in a matter of days.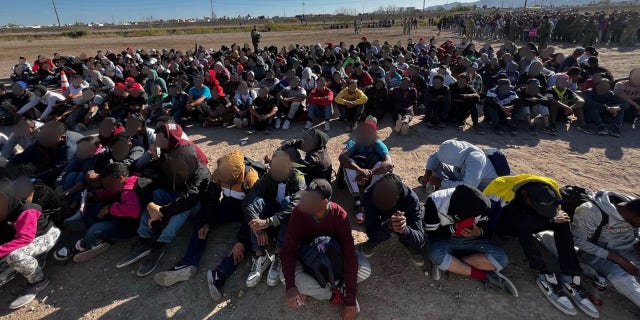 March 29, 2023: Border Patrol agents encounter over 1,000 migrants in El Paso, Texas. (Customs and Border Protection)
Title 42 has allowed Customs and Border Protection to deport nearly 88,000 migrants at the southwest border in March alone. Of that number, nearly 1,900 were in the Yuma sector.
A third of the migrants that Yuma's hospital receives are pregnant women and their children, and they trickle in at once since border crossers often travel in groups.
"Many of the babies wind up in our neonatal intensive care unit. Mom often gets discharged before the baby, but we never want mom and baby separated, or sometimes we'll just keep mom and pop her in a room here for a number of days until her baby is out of the neonatal intensive care unit, or we'll put them up in a hotel," Trenschel said.
TEXAS GOV. ABBOTT MOBILIZES SPECIALIZED UNITS ON MEXICO BORDER AS TITLE 42 END APPROACHES
Temporarily housing the migrants costs money, too. The hospital has requested government funding, but they still don't have an answer. While the hospital said they're well staffed, they need funding to properly care for so many people.
"It's unsustainable for a hospital like us. You can't expect 300,000 people to cross the border, which is the number of individuals across the border (last) year, and we're the only hospital they're going to come to," the hospital's CEO said.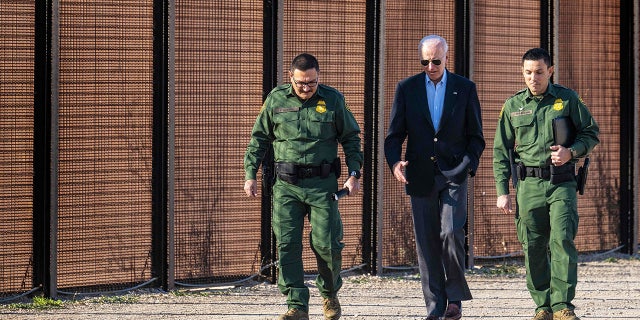 President Biden speaks with US Customs and Border Protection officers as he visits the US-Mexico border in El Paso, Texas, on January 8, 2023.  (JIM WATSON/AFP)
One lawyer calls the situation a stampede.
"A surge is just like you can imagine, a stampede is a dangerous place to be," said Eric Welsh, a private immigration attorney and partner with Reeves Immigration Law Group in California.
CLICK HERE TO GET THE FOX NEWS APP
"There may be people who have not been coming to the border because of the fear of expulsions or being turned back, and so there may be a lot of people who are expecting that they will have a more regular process in the United States than at least they have in the last three years," he said.
Other border cities are also preparing for a surge. The city of El Paso, Texas, declared a state of emergency this week.