A Baltimore, Maryland, man faces attempted murder charges after allegedly intervening in a dispute between his daughter and another teenager, who he shot, according to reports.
Baltimore police said Alan Blue, 37, of Baltimore was arrested April 6, and charged with attempted first-degree murder for a shooting that happened at about 10:30 p.m. April 4.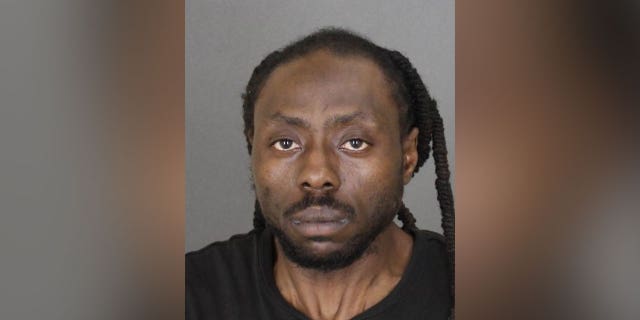 Alan Blue (Baltimore Police Department)
That night, officers responded to North Belnord Avenue for reports of a shooting. When the officers arrived, they were flagged down by members of the community who said a 15-year-old girl was shot.
BALTIMORE MAYOR WANTS SUMMERTIME YOUTH CURFEW AFTER 2 TEENS SHOT OVER WEEKEND: 'NOT NORMAL'
Police located the 15-year-old, who was suffering from a non-life-threatening gunshot wound to her arm, before having her transported to an area hospital for treatment.
FOX 45 reported that according to charging documents, the teenage girl who was shot engaged in a fight on Ellwood Avenue earlier that day.
Later that night, one of the girl's family members received a text message to go outside and fight.
BALTIMORE POLICE STAFFING CRISIS HITS DIRE LEVELS, FOP BOSS AND JUDGE WARN: 'UNDERCOVER' DEFUNDING
When the girl and her mother opened the front door, police said, Blue exited his vehicle, crossed the street, and said, "Hey, y'all wanna fight my daughter? Try to run from this."
Blue then pulled out a gun, according to police, and opened fire, striking the girl in the arm.
Detectives executed a warrant for Blue's arrest, and he was transported to central booking.
According to Maryland Case Search, Blue was charged with four counts each of first- and second-degree attempted murder, four counts each of first- and second-degree assault, one count of using a firearm while committing a violent crime and several handgun-related charges.
CLICK HERE TO GET THE FOX NEWS APP
Blue is scheduled to appear in court May 9.