The Biden administration is once again increasing the number of migrants it potentially allows into the U.S. each day under the controversial CBP One app as its policies face a number of brewing legal challenges.
Customs and Border Protection says it is allowing 1,450 migrants a day into the U.S. each day via CBP One – a mobile application that was expanded earlier this year to allow migrants to upload data and make appointments at ports of entry to be processed into the U.S.
Initially, the agency was allowing 1,000 people in each day ahead of the end of Title 42 in May. In June, it increased the number to 1,250. The latest change means the number of migrants entering the U.S. each day via the process has increased by nearly 50%.
"CBP is expanding the number of available appointments at ports of entry for the second time in less than two months, through scheduling enhancements and operational efficiencies," said acting CBP Commissioner Troy Miller said in a statement. "By utilizing innovative technologies like CBP One™, we are improving the delivery of our homeland security mission and providing for safe and efficient processes at ports of entry."
While there were still over 200,000 migrant encounters in May alone, DHS officials noted a 70% decrease after the end of the public health order – despite widespread concerns that there would be a fresh surge – and have linked the drop to the strategy put in place.
NEARLY 17 MILLION ILLEGAL IMMIGRANTS LIVING IN US, 16% INCREASE SINCE 2021: ANALYSIS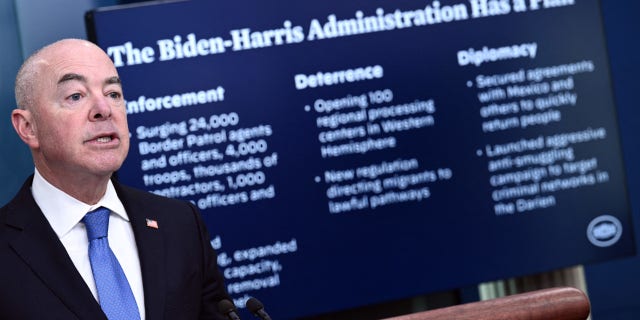 Homeland Security Secretary Alejandro Mayorkas speaks during the daily press briefing at the White House on May 11, 2023. (Brendan Smialowski/AFP via Getty Images)
But Republicans and border hawks have objected to the use of the CBP One app, along with the liberal use of humanitarian parole and other migrant pathways, accusing the administration of allowing otherwise-illegal immigrants in via a process they say is illegal and abuses agency parole power that is limited to a "case-by-case" basis and for urgent humanitarian reason or significant public benefit.
CLICK HERE TO GET THE FOX NEWS APP
Texas has also sued over the use of the CBP One app specifically in a separate lawsuit. Meanwhile, left-wing groups led by the American Civil Liberties Union have sued over the rule, saying it is unduly restrictive and similar to the Trump-era travel ban that was struck down by the courts.