The White House said Monday that President Biden would veto bipartisan legislation reversing a rule allowing Chinese solar panel manufacturers to sidestep tariffs.
Biden's veto promise comes less than a year after he announced his administration would implement a two-year pause on the enforcement of solar panel anti-circumvention tariffs amid pressure from environmental groups and the clean energy industry. Months earlier, the Commerce Department had opened a probe into whether Chinese manufacturers were illegally routing solar panels through Southeast Asia to avoid U.S. tariffs.
Then, in December, the Commerce Department released preliminary investigation findings showing that four large solar companies had, in fact, routed products through Cambodia, Malaysia and Vietnam to circumvent duties. But, with Biden's tariff enforcement moratorium in effect, the agency hasn't enforced trade laws prohibiting such activity.
In response, a month after the findings were released, a group of Republicans and Democrats led by Reps. Dan Kildee, D-Mich., and Bill Posey, R-Fla., and joined by Reps. Bill Pascrell, D-N.J., Bob Latta, R-Ohio, Terri Sewell, D-Ala., and Garret Graves, R-La., introduced a resolution that would nix Biden's executive action.
CONGRESS GEARS UP TO SMACK DOWN PRESIDENT BIDEN'S CHINESE SOLAR HANDOUT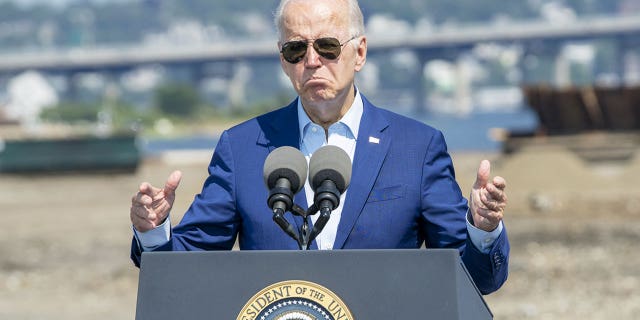 White House characterized President Biden's solar tariff moratorium as a 'temporary, 24-month bridge' to support his climate agenda. (M. Scott Brauer/Bloomberg via Getty Images)
"For too long, unfair trade practices and underinvestment in domestic manufacturing have left the United States dependent on imports for solar power products that are important for reducing energy costs for consumers, improving public health, and combating climate change," the White House said in its statement condemning the legislation Monday.
"From day one, the President has prioritized investments that will create good-paying jobs and build secure supply chains in the United States, including for solar energy," it continued. "The Administration is working aggressively to support domestic solar panel manufacturing."
The statement added that Biden's executive action was needed to ensure the growth of the U.S. solar industry. The White House also characterized his move as a "temporary, 24-month bridge for the import of certain solar cells or modules."
TOP REPUBLICAN RAISES ALARM ON BIDEN ENERGY SECRETARY'S WORK WITH CHINA-CONNECTED GROUP PUSHING GAS STOVE BAN
"I'm a strong supporter of President Biden, and I was proud to work with him to pass new laws to boost American manufacturing and bring back our country's solar manufacturing industry. However, I disagree with the administration's policy on this matter," Kildee told Fox News Digital in a statement.
"China has been found to have violated our trade laws, yet the United States has failed to respond, including suspending tariffs and letting their unlawful behavior go unanswered," the Michigan Democrat added. "By suspending tariffs on those who violate our trade laws, we are making ourselves more reliant, not less reliant, on China for our manufacturing and clean energy needs."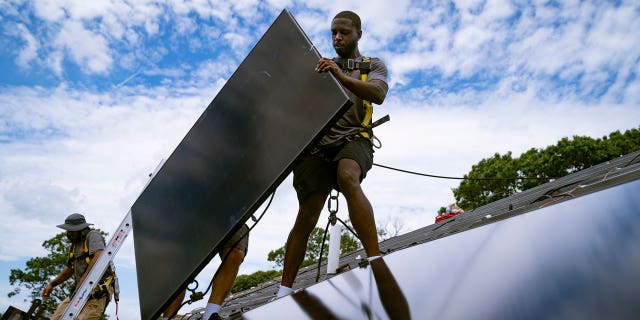 Solar panel installers are pictured on Aug. 11, 2022, in Massapequa, New York. (AP Photo/John Minchillo, File)
The House Ways and Means Committee, meanwhile, green-lit the legislation last week in a bipartisan 26-13 vote, setting up a floor vote that is expected later this week.
Trade groups including the Coalition for a Prosperous America, which argues in favor of tariffs to protect U.S. industry, have backed the legislation and strongly opposed Biden's tariff moratorium, arguing it benefits Chinese companies at the expense of American competitors.
CLICK HERE TO GET THE FOX NEWS APP
"The Biden administration's rule to protect Chinese solar manufacturers that are illegally violating U.S. trade law and avoiding tariffs was a massive mistake that directly harms American manufacturers and workers," Nick Iacovella, a spokesperson for Coalition for a Prosperous America, told Fox News Digital.
"While not surprising, it is incredibly disappointing that an American president would double down on this mistake by threatening to veto bipartisan legislation to repeal this harmful rule," he continued.
"At a time when American solar manufacturers are investing billions of dollars to boost solar manufacturing in this country, it is unconscionable that the Biden administration would choose to protect China's illegal trade activity than stand up for American manufacturers and workers."