Bishop Robert Barron — the most famous Catholic bishop in the U.S. — has encouraged a boycott of the Los Angeles Dodgers over their relationship with an anti-Catholic drag queen troupe.
The bishop said Catholics had no other recourse for showing their disapproval "since the Dodgers are clearly not responding to a decent appeal to reason."
"The Los Angeles Dodgers have made it clear to Catholics and all people of good will that they think mockery of the sacred beliefs of the Catholic Faith is something that they support and will reward with honors and commendation," Barron told Fox News Digital in an exclusive statement.
He added, "It's not enough for the Catholic laity to experience a catharsis because a bishop has spoken up about this, they need to take action to let the Dodgers organization know that their position is not just disappointing, it is unacceptable."
ARCHDIOCESE OF LA CRITICIZES RE-INVITATION OF ANTI-CATHOLIC DRAG QUEENS TO DODGERS GAME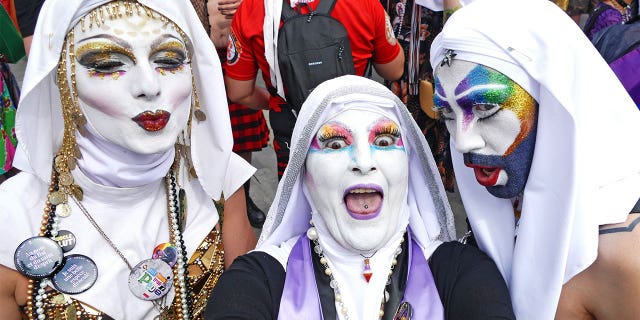 Three Sisters of Perpetual Indulgence pose for a selfie during the Gay Pride March in Paris. (Gregory Herpe/SOPA Images/LightRocket via Getty Images)
Barron, 62, is currently serving as the bishop of the Dioceses of Winona-Rochester in Minnesota. He also draws millions of views a month through his Word on Fire ministry.
Barron pointed to previous performances by the group — including one instance in which a drag queen pulled Jesus Christ down from the cross and began pole-dancing — as reason to consider the "Sisters" an "anti-Catholic hate group."
After intense backlash, the team said last week it would no longer be honoring the group during the upcoming event.
DODGERS RE-INVITE ANTI-CATHOLIC GROUP TO PRIDE NIGHT AMID UPROAR
That decision was walked back the next day after LA Pride announced it would no longer be participating in Pride Night in solidarity with the drag queen group.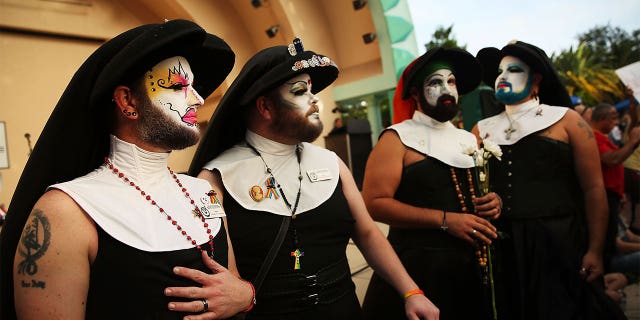 Members of the Sisters of Perpetual Indulgence attend a memorial service in Orlando, Florida. (Spencer Platt/Getty Images)
"The re-invitation was accompanied by a kind of pathetic apology where they were praised for all the great work that they do," Barron said of the Dodgers' 180-degree turn.
Barron questioned if there would be similar praise for the Sisters of Perpetual Indulgence if the group was instead dressed as Jewish or Islamic clerics.
"What would the reaction be?" Barron asked his audience. "You know, those questions answer themselves. Somehow, attacking Catholics in this most disgraceful way is OK — not only OK, it should be honored."
"Our Catholic sisters devote themselves to serving others selflessly. Decent people would not mock & blaspheme them. So we now know what gods the Dodger admin worships. Open desecration and anti-Catholicism is not disqualifying," tweeted Cordileone. "Disappointing but not surprising. Gird your loins."