There is no evidence that Rudolph "Rudy" Farias, who reportedly vanished in 2015 as a teenager, was ever missing or was a victim of abuse, Houston police said Thursday at a press conference.
It was the latest twist in a bizarre saga that has included claims Farias has been missing for eight years and that his mother, Janie Santana, allegedly drugged him, forced him to "play daddy" and sleep in the same bed with her.
"Based on Rudy's interview, there were no reports of sexual abuse," Lt. Christopher Zamora, flanked by Houston Police Chief Troy Finner and Sgt. Stephen Jimenez, told reporters.
He added that the investigation was ongoing. Farias, now 25, was found outside a church in southeast Houston last Thursday more than eight years after his mother reported him missing on March 7, 2015, when he was 17, Zamora said.
MISSING MINNESOTA MOM'S BOYFRIEND CHARGED AFTER GRISLY FIND IN STORAGE UNIT
Investigators determined that Farias was never missing and had actually returned home one day after his mother made the report, Zamora said.
Police interviewed him and his mother, Janie Santana, Wednesday in the presence of community activist Quanell X.
COLORADO HIKER WITH 'EXTENSIVE BACKGROUND IN SURVIVAL' GOES MISSING AFTER SUMMITING MOUNTAIN, FAMILY SAYS
"She would ask him to play daddy, she told him that he had to be the husband," the activist told reporters."I never heard of a mother doing to a child what this woman did."
Jimenez, who interviewed Farias, said at the press conference that he was "trained to listen for probable cause" and that there were no statements made alleging abuse.
Zamora added that Santana "continued to deceive police by remaining adamant that Rudy was still missing," alleging her nephew was the person friends and family saw coming and going from the house.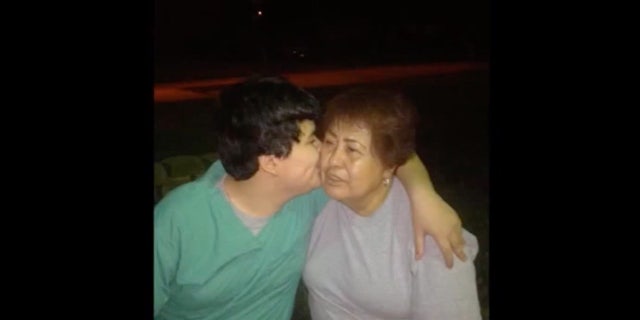 Texas man Rudy Farias, who was reported missing in 2015, was living at home with his mom, according to Houston police. Pictured here with an unidentified woman. (FOX26)
"Currently the DA has declined any charges at this time for making fictitious reports and failure to ID," Zamora told reporters, referring to the alleged misdemeanors they had committed.
In another peculiar turn, police revealed that Farias chose to return home with his mother to the astonishment of several reporters.
A reporter asked the Houston police chief why the mother-son duo would lie.
"We cannot predict motivation," Finner replied.