TACOMA, Wash. – A gun store manager said a sweeping new gun control package signed into law Tuesday by Washington's governor demonstrates the power of a one-party state to chip away at Americans' constitutional rights.
"They have an agenda and that agenda is to get rid of guns," Bruce Smith, the manager of Surplus Ammo and Arms in Tacoma, told Fox News. "And eventually, all guns."
WHY GUN STORES IN WASHINGTON ARE 'RUNNING OUT OF EVERYTHING.' WATCH: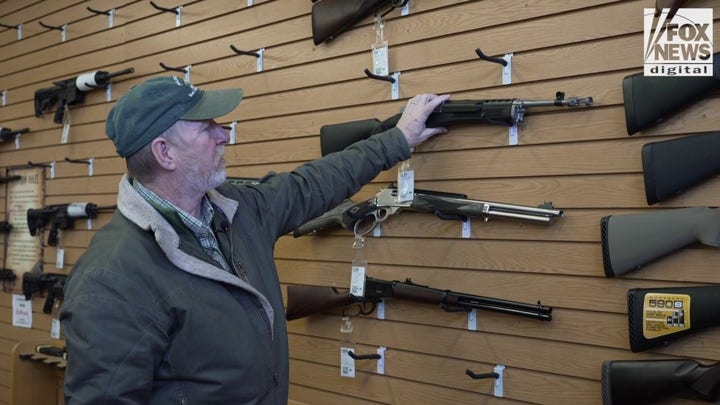 Video
WATCH MORE FOX NEWS DIGITAL ORIGINALS HERE
Gov. Jay Inslee and Attorney General Bob Ferguson pushed for the gun control package, which includes a ban on the manufacture, sale or import of so-called "assault weapons," mandated safety training and a 10-day waiting period to buy a gun, and a bill requiring gun makers and dealers to take "reasonable steps" to keep their products out of the hands of "dangerous individuals."
The bill requiring safety training and a waiting period takes effect Jan. 1, 2024, but the "assault weapons" ban took effect immediately. Washington is the 10th state to adopt such a ban.
Smith wasn't surprised to see the ban pass since Democrats hold the majority in both chambers of the Washington State Legislature, as well as the offices of governor, secretary of state and attorney general.
"Any time there's a one-party state," Smith said, "whatever comes to their mind, they can actually put through."
Smith said Washington used to be "one of the best states for gun rights in the country," but lawmakers have chipped away at the Second Amendment over the past several years.
"If this law goes into effect and the judge doesn't throw it out," Smith said, "we will by far be the worst state in this country for firearms rights."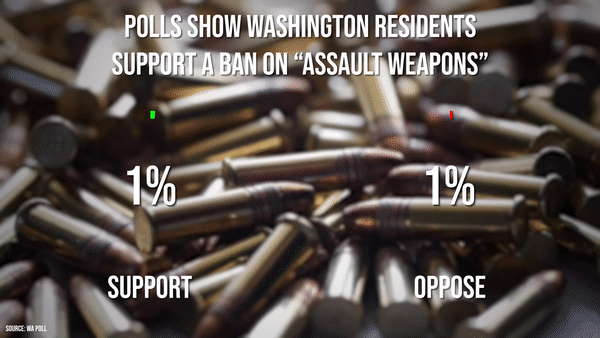 Recent polling suggests Washington residents overwhelmingly support a ban on "assault weapons," a term lawmakers use to define many semiautomatic rifles including AR-15s and AK-47s. (Fox News Digital)
WASHINGTON BUSINESS OWNERS FED UP WITH CRIME TURN TO THE SECOND AMENDMENT FOR PROTECTION
About 25% of mass shooters used "assault weapons" to commit their crimes, according to The Violence Project, a database supported by the National Institute of Justice. The project chronicles mass shootings in which four or more victims were murdered with firearms in a public location.
Washington has had eight such shootings since 1966, according to The Violence Project, the majority of which involved handguns.
But semiautomatic rifles have been used in other killings in the state, including the 2016 shooting at a Mukilteo house party, which spurred Ferguson to advocate for an "assault weapon" ban.
"Mass shootings traumatize entire communities," Ferguson said in a statement after HB 1240's Senate passage. "We must stop selling these weapons of war in Washington."
But Smith accused politicians of ignoring their pledge to uphold the Constitution, not just "the parts that they like."
"What they've decided is that they can change [gun rights] locally, knowing that … it will get tied up in federal court for years, if not forever," he said.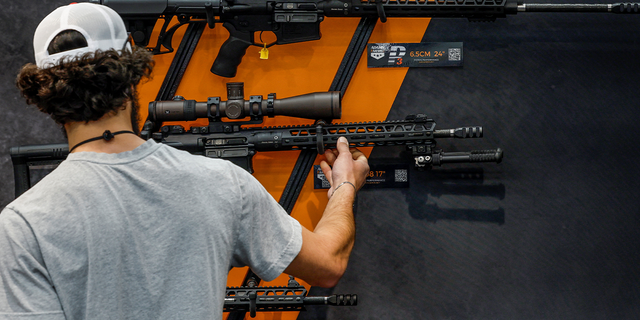 Dozens of semiautomatic rifle models are banned from being manufactured, sold or imported in Washington under one of three new gun control bills signed by Gov. Jay Inslee. (REUTERS/Evelyn Hockstein)
CLICK HERE TO GET THE FOX NEWS APP
People who already own semiautomatic rifles are allowed to keep them, but the new law bans conversion kits and parts that can be used to assemble popular rifles like the AR-15. So if a part breaks on a gun, the owner won't be able to buy a replacement in Washington, Smith said.
Gun dealers are granted 90 days to sell any stock they had before Jan. 1, 2023, to out-of-state buyers.
Legal challenges have already begun. The Washington-based Second Amendment Foundation (SAF) announced a complaint against the "assault weapons" ban almost simultaneously with Tuesday's bill signing. SAF has two other legal actions in progress challenging Washington's high-capacity magazine ban and the ban on sales of semiautomatic rifles to young adults.