Months after a student was suspended for challenging transgender ideology, Canadian teenager Josh Alexander was detained at a protest while handing out free Bibles.
Liberty Coalition Canada organized an international walk-out recently called "I Stand With Josh Alexander" in protest of his suspension. Protests at Western Canada High School in Calgary took a turn when a clash ensued between protestors and counter-protestors.
Alexander, although threatened and pushed by counter-protestors, was captured in a video being detained by police.
"I certainly don't think it was a coincidence that after four minutes at the protest, police standing by witnessing me being assaulted by a mob with my hands in the air and they decide to arrest Josh Alexander at the I Stand with Josh Alexander rally. So I don't think there is any coincidence there," Alexander shared on "Fox & Friends Weekend," Saturday.
"Officers were on the scene to support public safety during a protest… During the event, a fight broke out between several individuals of opposing views. Two people were taken into custody and released without charge… The investigation remains ongoing… The Calgary Police Service recognizes the Charter rights of everyone to freedom of expression and peaceful assembly… We police behavior, not beliefs," Calgary police said following the incident.
Alexander did say he was "impressed" that "it would appear, [Calgary police are] going to be pressing charges against a few of the individuals that assaulted me."
The protests were largely in response to an earlier incident involving Alexander at St. Joseph's High School in Renfrew, Ontario in November.
According to a human rights complaint filed by Alexander's lawyer James Kitchen with Liberty Coalition Canada, students erupted during a math class when Alexander argued against the school's bathroom policy.
"I quoted Mark 10:6 after a teacher told us that there was as many genders as we want there to be and we should explore ourselves. And I said, 'No, God created male and female," he said.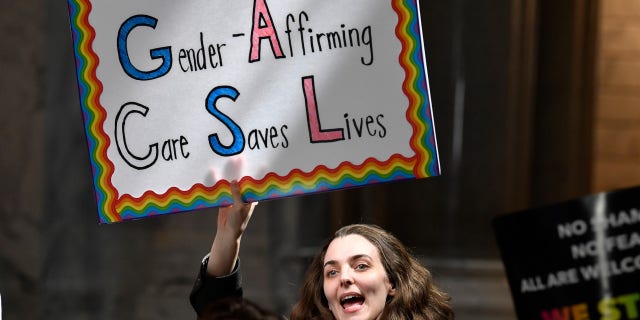 A protester shows her opposition to Kentucky Senate bill SB150, known as the Transgender Health Bill outside the Senate chamber at the Kentucky State Capitol in Frankfort, Ky., Wednesday, March 29, 2023. (AP Photo/Timothy D. Easley) (AP Photo/Timothy D. Easley)
When he claimed that men have penises and women have vaginas, Alexander's classmates reportedly called him a "misogynist," a "racist," and a "homophobic transphobe," while the teacher allegedly "nodded and gestured at the students yelling at Josh, indicating his approval of the students' name-calling."
CLICK HERE TO GET THE FOX NEWS APP
The complaint argues that Alexander protested transgender ideology on religious grounds.
"Josh believes he is called by the Lord Jesus Christ to proclaim the truth which includes telling those around him about the Lord's design for gender and to openly oppose the School Board's policy of permitting males to enter the girls' washrooms," the complaint said. "Josh believes he would commit a sin if he disregarded the Lord's calling on his life and remained silent."