For a handful of children growing up in Hollywood, acting runs in the family. Many kids of parents in the entertainment business have gone on to create an established career of their own in the same field. There have even been a few cases where mother-daughter duos have worked together on the big screen.
Whether it be a small cameo, a supporting role or a leading one, it is always fascinating to see a real life family acting as characters on a screen.
Andie MacDowell, Uma Thurman and Leslie Mann are just some examples of actresses who have been in movies or television shows with their real life children.
Here are just a few celebrity moms who have acted with their children over the years.
KATE HUDSON, LILY-ROSE DEPP AND MORE STARS FIRE BACK AT THE 'NEPO BABY' LABEL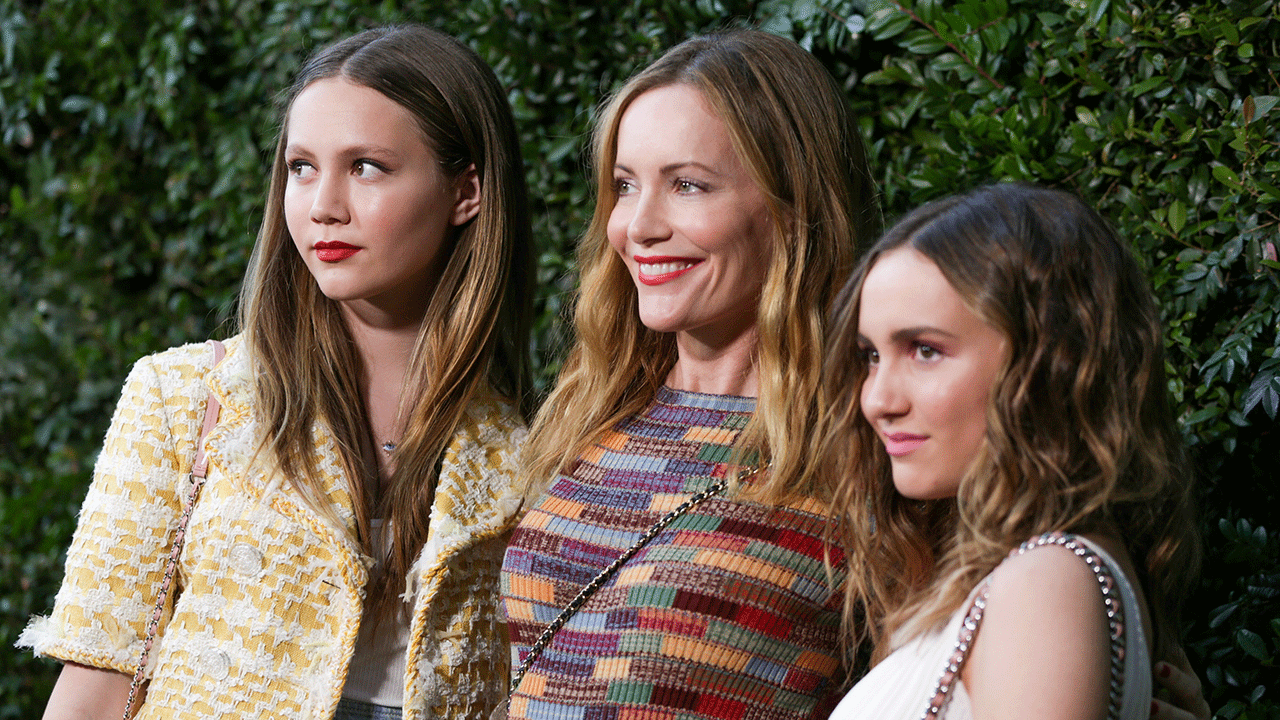 Lots of Hollywood moms have acted in movies and shows with their kids, including Leslie Mann, who has been in films with both of her daughters. (Rich Fury/Getty Images)
Andie MacDowell and Margaret Qualley
Uma Thurman and Maya Hawke
Leslie Mann with Maude and Iris Apatow
Meryl Streep and Mamie Gummer
Demi Moore and Rumer Willis
Angelina Jolie and Vivienne Jolie-Pitt
1. Andie MacDowell and Margaret Qualley
MacDowell's daughter Margaret Qualley, who she shares with ex-husband Paul Qualley, is the star of the Netflix show "Maid." Qualley was nominated for an Emmy Award for her portrayal of Alex, a single mom who leaves her abusive boyfriend and takes on a job as a maid to stay afloat and support her young daughter.
MacDowell is also on the show and plays the mother to Qualley's character, Paula.
Both MacDowell and Qualley have discussed what it was like working with each other for the limited series television show.
"Every moment was precious for me," MacDowell said of working with Qualley during an interview with USA Today. "I really wanted to do a good job because it meant everything to me because I was scared it would never happen again."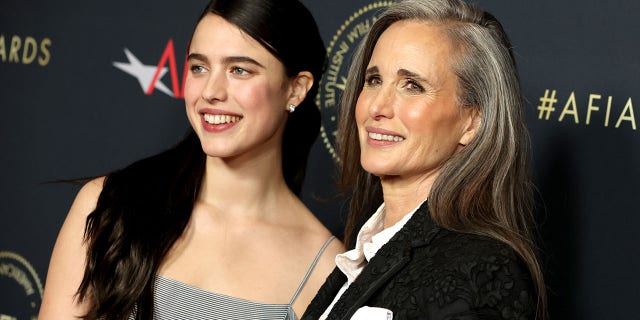 Margaret Qualley and Andie MacDowell play mother and daughter in the Netflix show, "Maid." (Emma McIntyre)
ANDIE MACDOWELL IS EMBRACING HER GRAYING HAIR, BUT NOT HER DATING LIFE
Qualley has also spoken fondly of working with her mother on the show.
"You walk in the room, and you have your mom playing your mom-that's the biggest cheat in the world," she told USA Today. "That goes all the way from the inherent eye rolls that are built in when your mom says something-and then also, later in the series, there's a moment where Paula tells Alex that she's proud of her. It felt like my mom was telling me that she was proud of me, and it was just one of the coolest things that's ever happened to me."
Qualley has also been in a number of other films and shows like "Once Upon a Time…in Hollywood," "Fosse/Verdon" and "My Salinger Year."
2. Uma Thurman and Maya Hawke
Thurman and Ethan Hawke's daughter Maya Hawke rose to fame after joining the cast of the Netflix series "Stranger Things" to play Robin Buckley.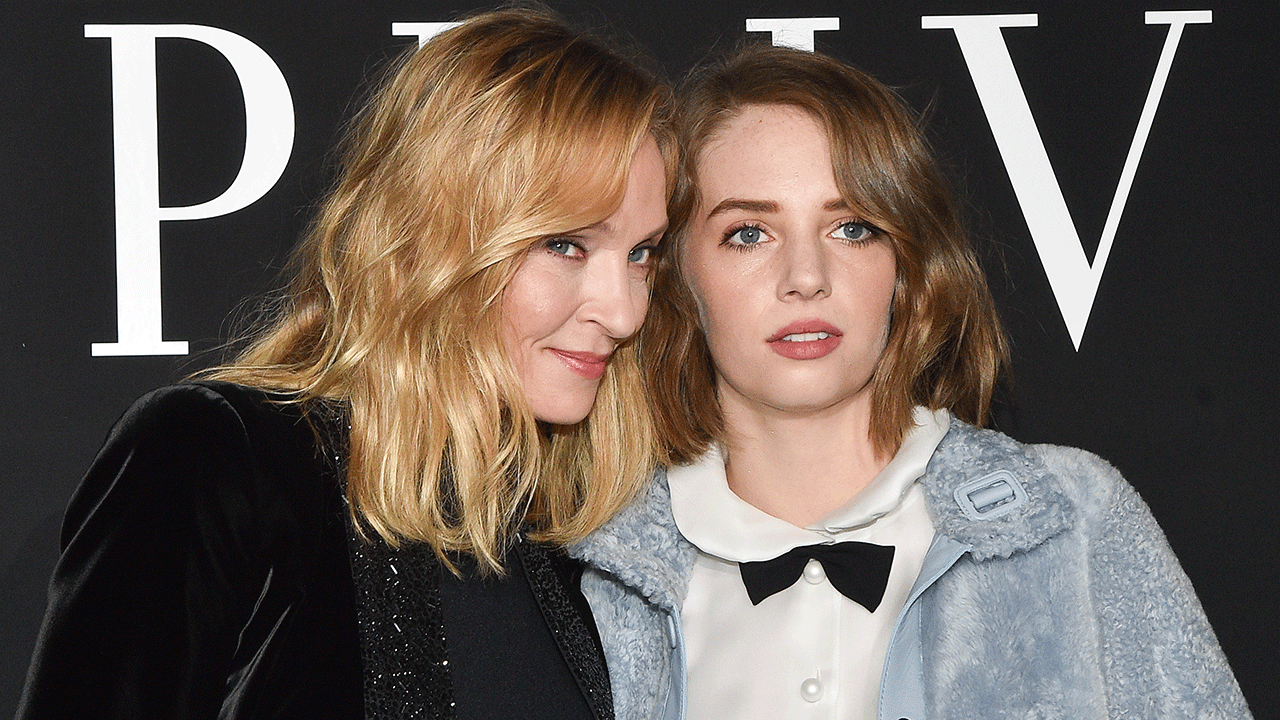 Maya Hawke is the daughter of Uma Thurman and Ethan Hawke. The mother and daughter are set to star in the 2023 thriller, "The Kill Room." (Stephane Cardinale – Corbis/Corbis via Getty Images)
MAYA HAWKE SAYS SHE WAS 'KICKED OUT OF SCHOOL FOR NOT BEING ABLE TO READ' AS A CHILD
The upcoming summer 2023 thriller, "The Kill Room" stars both Thurman and her daughter. This likely won't be the only movie the two star in together.
Director Quentin Tarantino has floated the possibility of casting Hawke to play Thurman's on screen daughter in "Kill Bill: Vol. 3," if the movie comes to fruition.
Hawke has starred in other movies like "Fear Street," "Mainstream" and "Once Upon a Time… in Hollywood."
3. Leslie Mann with Maude and Iris Apatow
Mann has worked with both of her daughters in a number of films. Mann shares daughters Maude and Iris Apatow with filmmaker husband Judd Apatow. In fact, all three of the movies starring Mann and her daughters were ones where the whole family was involved, as they were all directed by Judd Apatow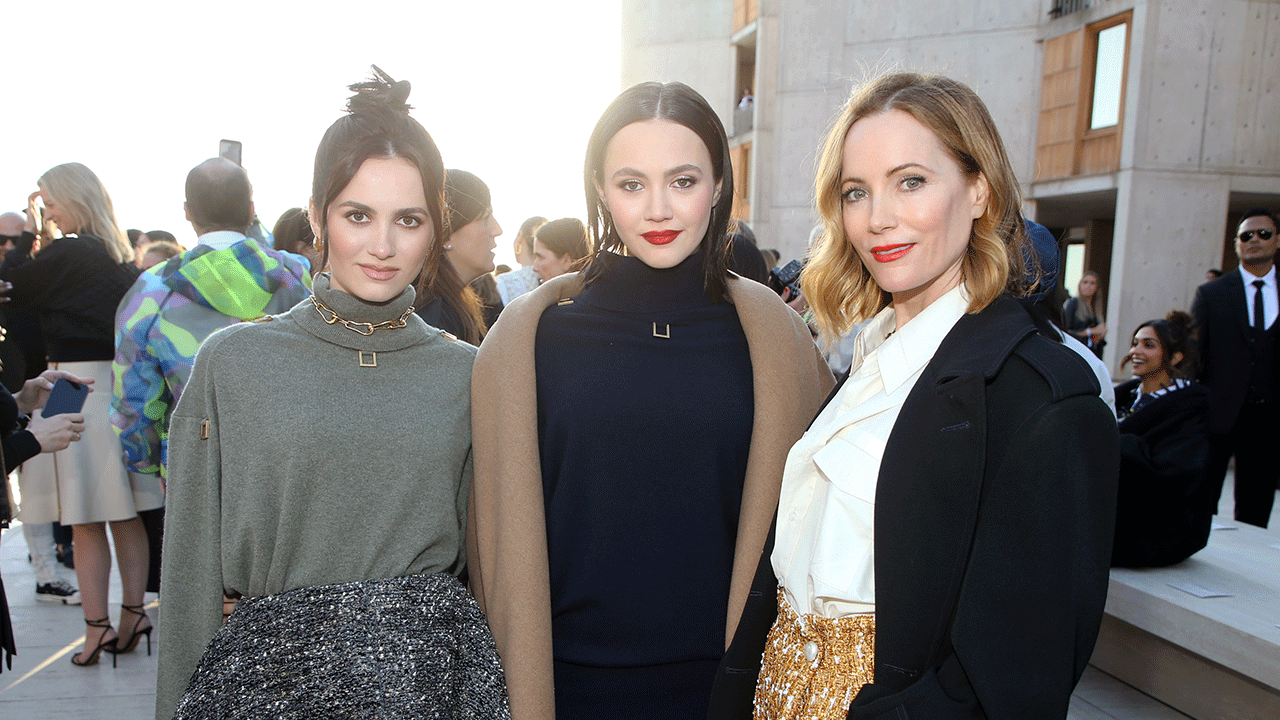 Both of Leslie Mann's daughters have been in several movies with their mom, including "This is 40." (Phillip Faraone/WireImage)
VIOLET AFFLECK TO AVA PHILLIPPE: HOLLYWOOD STARS' KIDS ALL GROWN UP
The sisters have acted with their mother in three different films, their biggest being "This is 40," where they had the most screen time. In the movie, the two played daughters Sadie and Charlotte. The daughters were also both in "Knocked Up," and "Funny People."
Maude went on to star in the television drama series "Euphoria," where she played Lexi Howard.
4. Meryl Streep and Mamie Gummer
The mother-daughter duo were first in the 2007 movie "Evening" when Gummer was approaching the age of 3. The two were then in "Heartburn."
The 2015 movie "Ricki and the Flash" is the most well-known movie starring the pair. Streep plays a musician who gives up her career to rejoin her family. Gummer plays Streep's daughter in the movie.
Streep shares Gummer with husband Don Gummer. The two have been married since 1978. They have four children together, Henry, Mamie, Grace and Louisa.
Meryl Streep and Mamie Gummer's most popular movie together was "Ricki and the Flash." (Christopher Polk/Getty Images)
CLICK HERE TO GET THE FOX NEWS APP
5. Demi Moore and Rumer Willis
Moore acted with her daughter Rumer in two movies. They were first in the 1995 movie "Now and Then" and were in "Striptease" the next year.
Rumer is the daughter of Moore and Bruce Willis. The couple was married from 1987 until 2000.
6. Angelina Jolie and Vivienne Jolie-Pitt 
Jolie played the lead role in the movie "Maleficent," where her young daughter Vivienne played young Princess Aurora in an adorable appearance.
Jolie told "Entertainment Weekly" during the time of the film's release that the young daughter, whom she shares with ex-husband Brad Pitt, played the role because she was the only one of her kids who wasn't afraid of her character.
"We think it's fun for our kids to have cameos and join us on set, but not to be actors. That's not our goal for Brad and I at all," Jolie told the outlet in 2014. "But the other 3- and 4-year-old [performers] wouldn't come near me. It had to be a child that liked me and wasn't afraid of my horns and my eyes and my claws. So it had to be Viv."
Shiloh Jolie-Pitt, another one of the divorced couple's children has also been in a film with his mom. He voiced, Shuai Shaui in "Kung Fu Panda 3," where Jolie voiced Tigress.