Chicago will begin a new chapter on Monday when Brandon Johnson is sworn in as the city's 57th mayor – but the Windy City's new leader will immediately be faced with the issue of rampant crime.
As Chicago voters flocked to ballot boxes earlier this year, they reported crime was at the top of their lists of concerns. Chicago was rocked in 2021 by more than 800 homicides, the most the city had recorded since 1996, while simultaneously dealing with other crimes such as smash-and-grab robberies, carjackings and illegal street racing.
Under outgoing Mayor Lori Lightfoot's tenure, Chicago recorded 2,784 homicides and a total of 14,681 shooting incidents, according to police data from 2019 to this month. The number of homicides and shooting incidents during Lightfoot's administration notched a 9% increase from the 2,546 homicides and 13,421 shootings that took place during her predecessor, Mayor Rahm Emanuel's, final term in office.
"Public safety is a prerequisite to the prosperity of Chicago and the voters have sent a clear message that they want to get smart, not just tough on crime," Johnson pledged last month.
CHICAGO'S MAYOR-ELECT BRANDON JOHNSON PROMISES TO BE 'SMART' IN FIGHT AGAINST CRIME IN THE CITY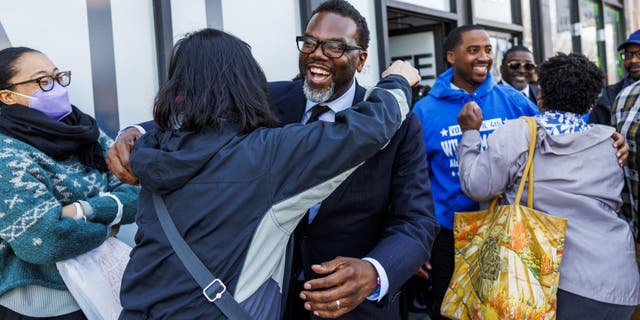 Now Chicago Mayor-elect Brandon Johnson hugs Rhoda Rae Gutierrez at campaign stop at 6th Ward aldermanic candidate William Hall's office Sunday, April 2, 2023. (Chicago Tribune/Getty Images)
Johnson's campaign platforms on crime included reopening the city's mental health clinics, funding year-round youth employment, and working with law enforcement to "invest in community-based interventions that de-escalate conflict, reduce violence and make our neighborhoods safer," according to his campaign website.
"As mayor, I will chart a new strategy for public safety, rather than relying on the same failed approaches that have brought trauma to communities across the city," the mayor-elect said.
2021 ENDS AS CHICAGO'S DEADLIEST YEAR IN A QUARTER CENTURY
Johnson is a former school teacher and Chicago Teachers Union organizer who went on to become a Cook County commissioner in 2018. He launched his mayoral campaign last year, earning endorsements from a bevy of liberal organizations and leaders, including the Democratic Socialists of America, as well as support from self-described Democratic socialist Sen. Bernie Sanders.
He has recently come under scrutiny for how he will handle crime and the police department, with questions about his apparent support of the defund the police movement, after describing it as a "real political goal" in a 2020 radio interview.
While campaigning, however, Johnson attempted to walk the comment back, saying in March of this year, "I said it was a political goal. I never said it was mine."
That same month, Chicago Fraternal Order of Police (FOP) president John Catanzara issued a dire warning to voters about a potential Johnson election.
"If this guy gets in, we're going to see an exodus like we've never seen before," Catanzara said, predicting 800 to 1,000 officers would leave the force. He added that there will be "blood in the streets" following a Johnson win.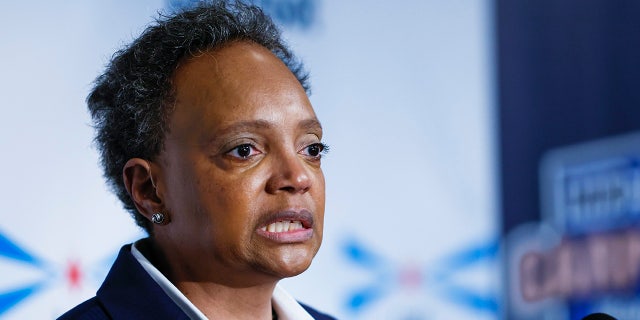 Chicago Mayor Lori Lightfoot speaks during election night rally at Mid-America Carpenters Regional Council on Feb. 28, 2023 in Chicago. Lightfoot lost in her bid for a second term. (Kamil Krzaczynski)
Lightfoot also often came under the ire of Catanzara and rank-and-file cops. The FOP president charged in 2021 she encouraged the vilification of police officers in the city, and cops even turned their backs on her when she visited a hospital after a shooting left one officer dead and another injured that same year.
MAYOR-ELECT BRANDON JOHNSON DOUBLES DOWN AGAINST 'DEMONIZING' YOUTH FOR VIOLENT BEHAVIOR
Jordan McGillis, a Paulson Policy analyst at the Manhattan Institute, told Fox News Digital that the top notable differences between Lightfoot and Johnson come down to "crime, education, and fiscal matters."
McGillis said that on crime, for example, Johnson has "taken a more conciliatory tone than the outgoing Lightfoot." He pointed to the violence that exploded over the weekend of April 15 at Chicago Loop, when crowds gathered, fights broke out, people were seen dancing on cars and two teenagers were shot.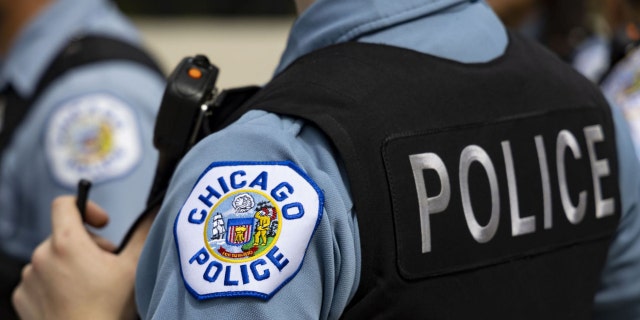 Chicago police officers in the West Englewood neighborhood of Chicago on Aug. 11, 2022. (Brian Cassella/Chicago Tribune/Tribune News Service via Getty Images)
"Johnson urged Chicagoans not to 'demonize' the perpetrators, whereas Lightfoot has argued that we need a stronger culture of parents and guardians instilling the value of respect for people and property at home," McGillis said.
VIOLENT CRIMES ON THE RISE IN 2022, FOLLOWING PREVIOUS UNPRECEDENTED SPIKE IN MURDERS
As for education, McGillis said Lightfoot had taken on the teachers union over strikes and coronavirus lockdowns during her time in office, while "Johnson is firmly in its corner." Johnson received a handful of union endorsements during his campaign, including from the ​​Chicago Teachers Union and the Illinois Federation of Teachers.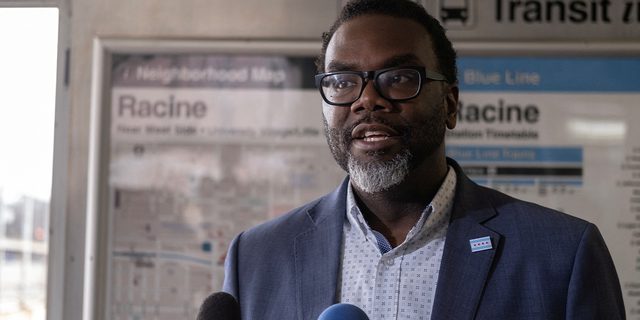 Brandon Johnson campaigns a day ahead of the runoff election in Chicago April 3, 2023. (REUTERS/Jim Vondruska)
"On fiscal matters Johnson has also been further left, consistently supported soak-the-rich tactics that will further exacerbate Chicago's troubles by driving people and businesses out of town," McGillis said.
Fox News Digital has previously reported on the exodus of businesses from the Windy City during Lightfoot's tenure, with many of those who left citing a perception of lawlessness in the city for the move.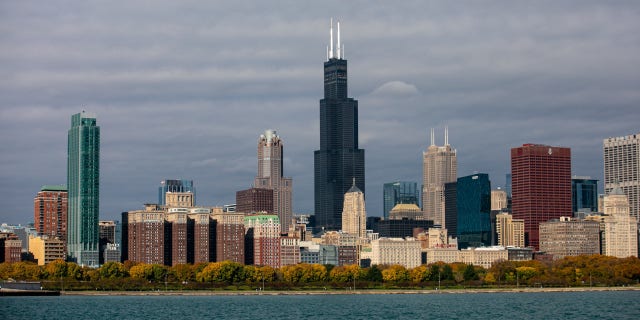 Fall colors blanket the ground of the skyline of Chicago with Lake Michigan in the foreground in downtown Chicago Oct. 16, 2022. (Vincent D. Johnson/Xinhua via Getty Images)
"We would do thousands of jobs a year in the city, but as we got robbed more, my people operating rollers and pavers we got robbed, our equipment would get stolen in broad daylight and there would usually be a gun involved, and it got expensive and it got dangerous," a Chicago business owner told Fox News Digital last year of why he pulled his road paving company out of the city.
Johnson has also come under fire from fellow Democrats in the city, including Alderman Raymond Lopez who called the incoming mayor "left of left."
CHICAGO MURDERS CONTINUE TO SKYROCKET AS POLICE BRASS ADMIT 'IT'S JUST BEEN A REALLY CHALLENGING YEAR'
"He has made defunding the police a priority even though he's tried to walk back those comments. He has stated that this election was a power struggle between Black labor and White wealth, and he's used the race card at every turn. What concerns me is … crime still remains the number one issue in the city of Chicago," Lopez said last month on Fox News' "America Reports."
Lopez argued that Johnson needs to fill the roughly 1,600 vacant police jobs in the city and crack down on criminal behavior. More than 1,000 police officers in the city left the force last year, which follows a trend across the country where police departments face steep staffing shortages due to cops leaving over morale issues and lack of support amid the defund the police movement.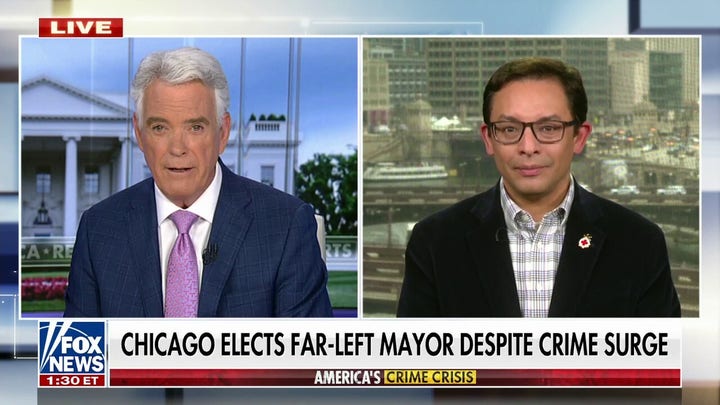 Video
Lopez said that Johnson's plans to address the root causes of crime – such as addressing youth unemployment, funding mental health services and offering affordable housing – will take "a generation to implement" and actually bear fruit. He argued that the new mayor must simultaneously address the root causes of crime, while cracking down on criminals currently spreading violence and lawlessness.
AS MURDERS SOAR IN CHICAGO, JUDGES ARE FREEING MORE VIOLENT-CRIME SUSPECTS ON ELECTRONIC MONITORING
"We have to address root causes, but also address those criminals right now who have gone unchecked for nearly five years. And I think that unless he is able to control the left, and extreme left policies that he and his socialist colleagues in the city council are trying to push forward, he will find that this will be a very tumultuous term," Lopez said.
Johnson has vowed to add 200 detectives to the force, which would boost the squad to levels seen under the Emanuel administration – though the plan has been criticized for not back-filling the vacated patrol positions first, according to the Chicago Sun-Times.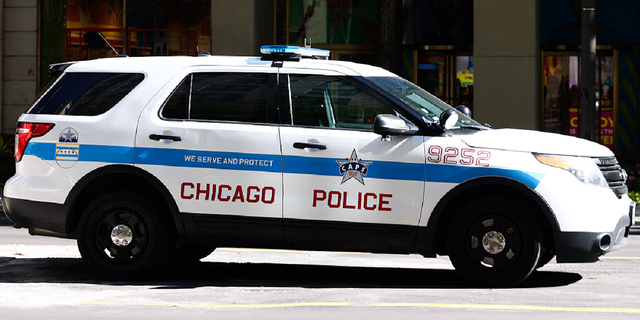 Chicago Police Department vehicle on city street. (Beata Zawrzel/NurPhoto via Getty Images)
Johnson has also vowed to end the city's decade-old ShotSpotter program, which uses artificial intelligence to alert police when gunshots are heard in the city. The program, however, has been costly and does not always work accurately.
The incoming mayor said last month he will reassure officers who are wary of his administration that he will focus on "bringing people together around the things that we agree upon," according to the Sun-Times.
CLICK HERE TO GET THE FOX NEWS APP
"I don't know if police officers are afraid. What I've heard repeatedly is that, much like teachers, police officers are being asked to do their job and someone else's job," he said.
Johnson's campaign did not immediately respond to Fox News Digital's request for comment.