CNN anchor Dana Bash joined the recent media pile-on against President Biden for refusing to acknowledge his seventh grandchild calling it "sad and disturbing on so many levels."
Late last month, Hunter Biden reached a settlement following a years-long court battle with an Arkansas woman who he shares a four-year-old daughter after previously denying paternity.
It was also recently reported the White House's messaging was that President Biden, who often speaks fondly about his family, only has six grandchildren, not including the one his son had illegitimately.
NY TIMES COLUMNIST REBUKES BIDEN'S 'COLD' HEART FOR DENYING EXISTENCE OF GRANDDAUGHTER: 'IT'S SEVEN GRANDKIDS'
Bash then played a clip of Biden from April boasting about how he's "crazy" about his "six grandchildren" and how he speaks to them "every single day," adding they're "crazy" about him because "I pay so much attention to them."
"Look, it's complicated. Families are really, really hard especially when you have issues that we have seen in this one, but he's also the president and he again, he also has a political brand," Bash reacted.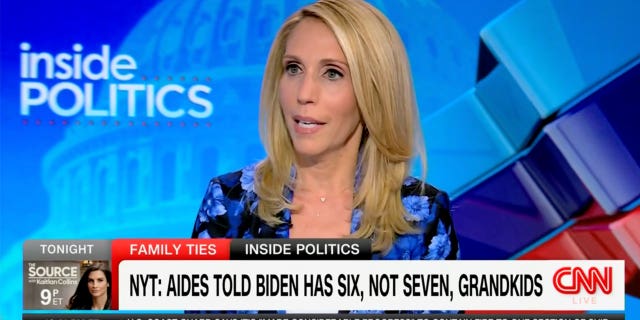 CNN anchor Dana Bash called President Biden's shunning of his seventh grandchild "sad and disturbing on so many levels." (Screenshot/CNN)
The CNN anchor shrugged out Democrat complaints about how the mother received financial assistance with her lawsuit against Hunter Biden from "MAGA and Republican lawyers," telling the panel "Maybe that's true, but does that matter when you're talking about a four-year-old girl?"
Times columnist Dowd penned a critical piece over the weekend calling out how Biden's shunning of the granddaughter undercuts his "empathy" persona.
"The president's cold shoulder — and heart — is counter to every message he has sent for decades, and it's out of sync with the America he wants to continue to lead," Dowd wrote.