Denmark's acting defense minister on Tuesday said he expects Copenhagen and its NATO allies will reach a decision on sending warplanes to Ukraine "before the summer" as concerns mount over Kyiv's air defense capabilities amid the classified U.S. document leak.
The Pentagon is still scrambling to locate the source of the leaked documents that paint a grim picture of Ukraine's air defenses and suggest they could be depleted by next month.
Officials have yet to authenticate the validity of the documents and it is unclear when exactly they were leaked, though some reporting has suggested images of the documents were first posted online a month ago before they become widely known of last week.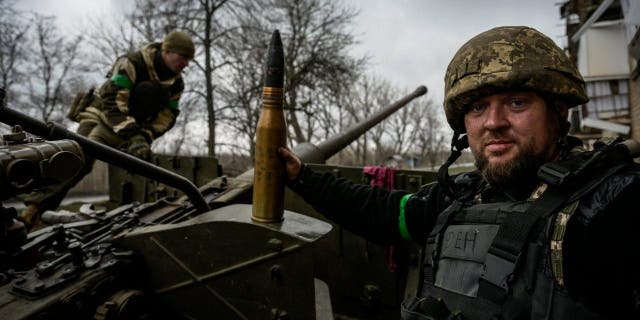 Ukrainian soldiers on the front line as they continue in the direction of Bakhmut in the Donetsk region. (Muhammed Enes Yldrm/Anadolu Agency via Getty Images)
LEAKED PENTAGON DOCUMENTS PAINT GRIM PICTURE OF UKRAINIAN AIR DEFENSE SUPPLIES, MAY ONLY LAST A MONTH
Despite the renewed focus on Ukraine's air defenses, Western officials have been seriously considering sending combat aircraft to Ukraine for weeks.
Poland and Slovakia also broke away from top NATO players like the U.S. and said last month that they would send Kyiv Soviet-era MiG-29 fighter jets.
The U.S. has remained steadfast in its public refusal to send combat aircraft to Ukraine, though Washington has capitulated several times on defensive aid to Kyiv since the war began, including earlier this year when it eventually agreed to supply Ukraine with tanks.
"Denmark will not do it alone," acting Danish Defense Minister Troels Lund Poulsen told several outlets Tuesday before adding that a decision would be reached "in the near future."
"We need to do this together with several countries. We will also have a dialogue with the Americans about this," he added.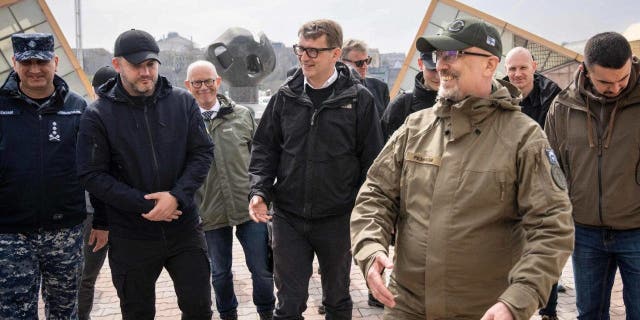 Ukrainian Defence Minister Oleksii Reznikov, right, and Danish Defense Minister Troels Lund Poulsen, center, visit the port in Odessa on April 11, 2023. (Bo Amstrup/Ritzau Scanpix/AFP via Getty Images)
JOHN KIRBY WARNS PRESS THAT LEAKED INTELLIGENCE DOCUMENTS ARE 'NOT INTENDED FOR PUBLIC CONSUMPTION'
Despite pleas from Kyiv since the onslaught of the war, no modern aircraft has yet been pledged to Ukraine, though Britain in February offered to train Ukrainian pilots on combat aircraft.
According to French news outlet Le Figaro, Denmark has more than 40 American F-16's – 30 of which are active.
Copenhagen is looking to replace its fleet with 27 U.S. F-35s, which could enable it to provide Kyiv with the modern aircraft it desperately seeks.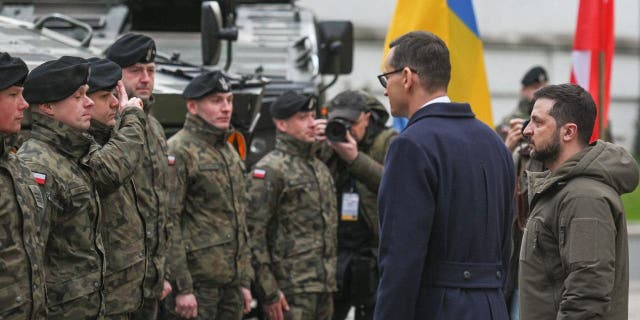 President of Ukraine Volodymyr Zelenskyy and Polish Prime Minister Mateusz Morawiecki meet Polish soldiers ahead of a press conference, on April 5, 2023, in Warsaw, Poland. (Photo by Artur Widak/NurPhoto via Getty Images)
CLICK HERE TO GET THE FOX NEWS APP
Ukraine has some 85 fighter jets compared to Russia's estimated 485, and, according to documents leaked last week, this precarious imbalance of airpower could become more dire as Ukraine is allegedly predicted to run out ammunition for its S-300 air defense systems by May 2.
These missile systems reportedly make up 89% of Ukraine's air defense capabilities, though the Pentagon has not confirmed these predictions and Kyiv has accused Russian operatives of falsifying and leaking the documents to "discredit counteroffensive ideas" and turn Western support away from Ukraine.
Fox News' Anders Hagstrom contributed to this report.