Turkish President Recep Tayyip Erdogan's main political opponent accused Russia of using deepfakes and other artificial intelligence (AI)-generated material to meddle in the country's upcoming presidential election.
"The Russians have a vested interest in backing an Erdogan presidency to ensure that he basically stays in power, mainly because the Russians benefit [from] driving a wedge between Turkey and NATO, and they've been very successful about that in the last decade or so," Sinan Ciddi, non-resident senior fellow on Turkey at the Foundation for Defense of Democracies, told Fox News Digital.
"So, in the last several days, weeks, it has been credibly reported by Turkish sources that Russian bot accounts, Twitter accounts, all sorts of disinformation campaigns have started pressing the thumb down on backing the Erdogan presidency, and that comes as no surprise."
The election, scheduled for May 14 alongside parliamentary elections, has proven difficult for Erdogan as his election rival Kemal Kilicdaroglu maintains a slight lead in opinion polls.
META ANNOUNCES AI IMAGE GENERATION TOOLS FOR ADVERTISERS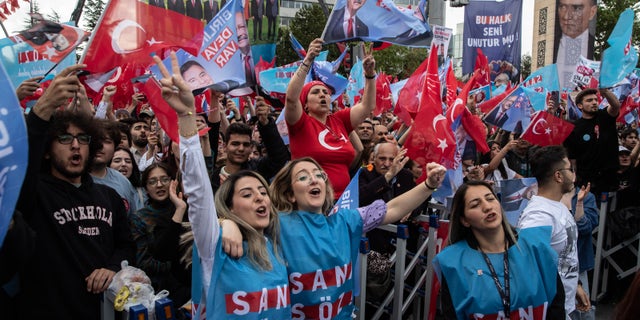 Supporters wave flags and chant slogans while waiting for the arrival of CHP Party presidential candidate Kemal Kilicdaroglu during a campaign rally May 12, 2023, in Ankara, Turkey. (Burak Kara/Getty Images)
The race has already seen another candidate, Muharrem Ince, drop out after claiming he was the victim of a faked "character assassination" online.
Ince claimed an alleged sex tape released online was created using deepfake technology, which fabricates videos and images that can look and sound like real people and events, using footage "from an Israeli porn site," The Guardian reported.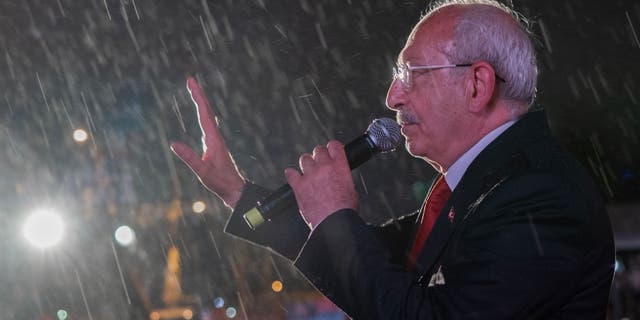 Turkey's Republican People's Party (CHP) Chairman and Presidential candidate Kemal Kilicdaroglu delivers a speech under heavy rain during an election campaign rally in Ankara, Turkey, May 12, 2023. (Bulent Kilic/AFP via Getty Images)
"I do not have such an image, no such sound recording," Ince said. "This is not my private life, it's slander. It's not real.
"What I have seen in these last 45 days, I have not seen in 45 years."
AI COULD BECOME THE WORLD'S WEATHERMAN AS HUMAN-DESIGNED MODELS MAY BE ON THE WAY OUT
News agencies have covered instances of deepfakes and other material that many allege to have originated from Russian agents. Another high-profile instance saw Erdogan playing an alleged deepfake video that appeared to show Kurdish militants supporting his rival.
Kilicdaroglu accused Turkey's "Russian friends" of responsibility for "the release in this country yesterday of montages, plots, deepfake content."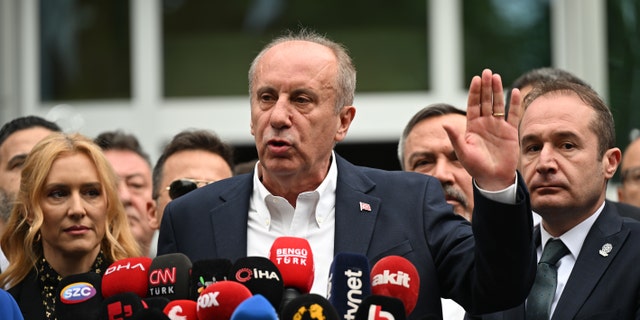 Presidential candidate and Chairman of the Homeland (Memleket) Party Muharrem Ince speaks to the press at the Homeland Party headquarters in Ankara, Turkey, May 11, 2023. (Mustafa Ciftci/Anadolu Agency via Getty Images)
"If you want to continue our friendship after May 15, withdraw your hand from the Turkish state. We are still in favor of cooperation and friendship," he said on Twitter Thursday evening in both Turkish and Russian.
Teyit, a Turkey-based verification platform that analyzes the accuracy of dubious online content, has already debunked over 150 controversial election claims, Euronews reported. Many of the claims were based on deepfake material that tried to accuse candidates of terrorism and incivility.
HOLLYWOOD WRITERS' STRIKE HIGHLIGHTS AI: INDUSTRY CREATIVES 'SHOULD BE CONCERNED' FOR FUTURE, EXPERT SAYS
"It's easy to recognize that kind of content is fake, but it isn't to people who no longer think critically," Turkish AI expert Cem Say told Euronews.
Experts have already raised concerns as to how some bad actors might utilize AI technology to interfere in upcoming elections. Sen. Pete Ricketts during a Senate Foreign Relations subcommittee hearing earlier this year referenced China and its alleged use of deepfake videos to spread propaganda on social media platforms.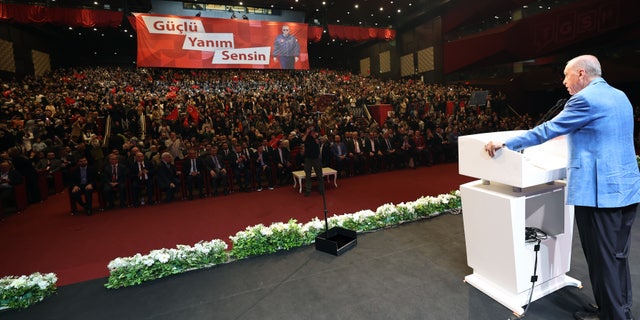 Turkish President Recep Tayyip Erdogan makes remarks as he attends the third Turkey Youth Summit organized by the Turkey Youth NGOs Platform at Istanbul Congress Center May 12, 2023, in Turkey. (TUR Presidency/Murat Cetinmuhurdar/Handout/Anadolu Agency via Getty Images)
Aiden Buzzetti, president of the Bull Moose Project, told Fox News Digital AI technology will be able to do more than just create misleading deepfake images and videos.
CLICK HERE TO GET THE FOX NEWS APP
"AI involvement in elections could upend the large portions of campaign strategy from data-driven collection to dirty tricks," Buzzetti said. "Artificial intelligence tools could bolster the impact of targeting specific voters to articulate a campaign message — as well as trash opponents.
"Unethical campaign consultants could utilize AI deepfake tools to create inflammatory and outwardly false representations of federal officials and candidates, or even, potentially illegally, use robocalls in a candidate's voice to present them in a negative and destructive way."
Reuters contributed to this report.