The Department of Homeland Security released a statement at midnight Thursday as the Title 42 public health order expired affirming that the U.S.-Mexico border remains secure and Border Patrol agents will resume the authorized removal of migrants.
"The border is not open," DHS Secretary Alejandro Mayorkas said. "Starting tonight, people who arrive at the border without using a lawful pathway will be presumed ineligible for asylum."
He added: "We have 24,000 Border Patrol Agents and Officers at the Southwest Border and have surged thousands of troops and contractors, and over a thousand asylum officers to help enforce our laws. Do not believe the lies of smugglers."
Mayorkas cautioned that violators would face "tougher consequences" as the Biden administration looks to combat the ongoing migrant crisis.
AS MIGRANT WAVE HITS THE BORDER, MAYORKAS SAYS IT WILL 'TAKE TIME' FOR RESULTS OF TITLE 42 PLAN TO BE REALIZED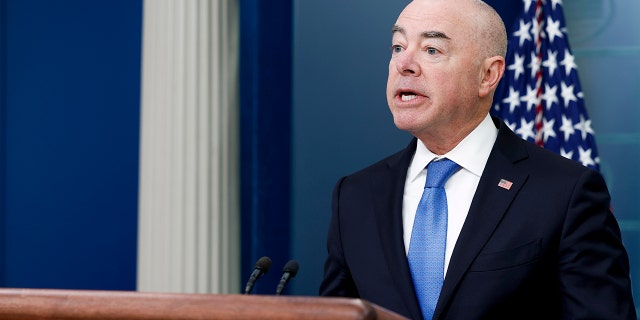 Secretary of Homeland Security Alejandro Mayorkas speaks during the daily news briefing at the James S. Brady Press Briefing Room of the White House on May 11, 2023 in Washington, D.C.  (Anna Moneymaker/Getty Images)
"People who do not use available lawful pathways to enter the U.S. now face tougher consequences, including a minimum five-year ban on re-entry and potential criminal prosecution," he said. "Together with our partners throughout the federal government and Western Hemisphere, we are prepared for this transition."
As for migrants currently in the country, Mayorkas said the DHS and its partners stand "ready to humanely process and remove people without a legal basis to remain in the U.S."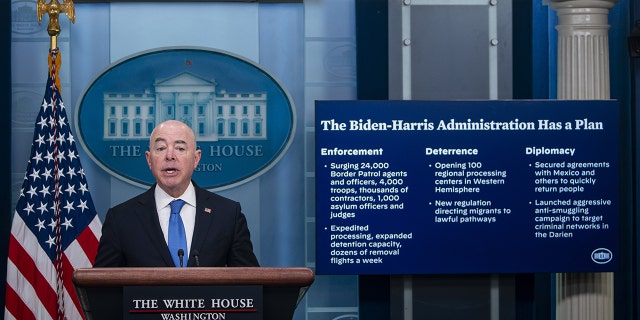 Alejandro Mayorkas, secretary of the US Department of Homeland Security (DHS), speaks during a news conference in the James S. Brady Press Briefing Room at the White House in Washington, D.C., on Thursday, May 11, 2023.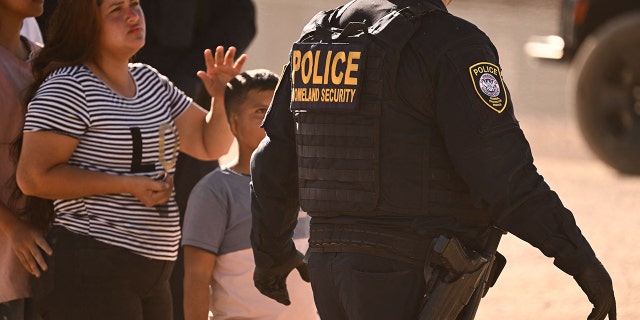 Migrants with children board Border Patrol vans after waiting along the border wall to surrender to US Customs and Border Protection (CBP) agents for immigration and asylum claim processing upon crossing the Rio Grande into the United States on the US-Mexico border in El Paso, Texas, on May 11, 2023.  (PATRICK T. FALLON/AFP via Getty Images)
Mayorkas' warning comes as Border Patrol agents made another 10,000 migrant apprehensions Wednesday, the third day in a row, according to Customs and Border Protection (CBP) sources.
MAYORKAS ISSUES NEW WARNING TO MIGRANTS AS BORDER PATROL MAKES RECORD APPREHENSIONS AHEAD OF TITLE 42 END
The statement comes after a federal judge Thursday evening blocked the Biden administration from implementing a policy that would have allowed immigration officials to release migrants currently in custody. The policy was announced to clear immigration holding facilities to avoid overcrowding ahead of the Title 42 expiration, which was expected to bring a surge of migrants to the border.
In his decision, Judge T. Kent Wetherell II imposed a two-week restraining order on the policy.
The policy was outlined in a Border Patrol memo, which says that migrants can be allowed into the country on parole if CBP faces overcrowding.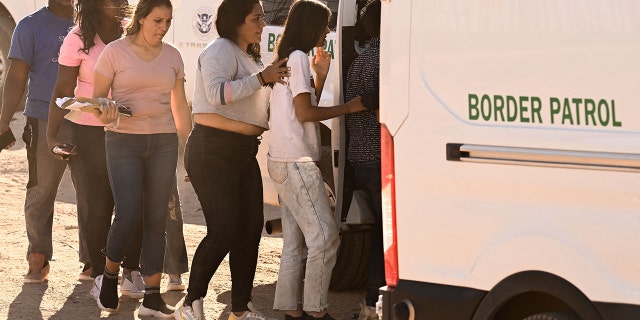 Migrants board Border Patrol vans after waiting along thhe border wall upon crossing the Rio Grande into the United States on the US-Mexico border in El Paso, Texas, on May 11, 2023.  (PATRICK T. FALLON/AFP via Getty Images)
Earlier Thursday, Mayorkas spoke at the White House, where he cautioned the country would see a brief rise in the number of migrant encounters at the border.
"We expected to see large numbers of encounters initially. We are already seeing high numbers of encounters in certain sectors," Mayorkas said. "This places an incredible strain on our personnel, our facilities and our communities with whom we partner closely. We prepared for this moment for almost two years and our plan will deliver results. It will take time for those results to be fully realized, and it is essential that we all take this into account."
BORDER PATROL ENCOUNTERS 10,000 MIGRANTS FOR THIRD DAY IN A ROW AS NUMBERS SWELL BEFORE TITLE 42 DROPS
The State Department previously announced that with Thursday's expiration of Title 42, the U.S. would return to implementing Title 8.
"Like many other COVID-era public health measures, the CDC's temporary Title 42 public health order will also come to an end. But the lifting of the Title 42 order does not mean the border is open," the State Department said in a statement on April 27.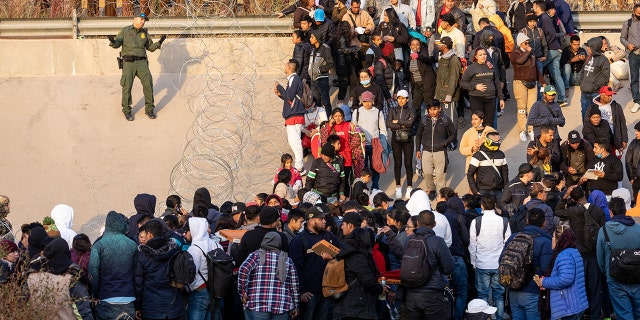 The expiration of Title 42, a public health order issued in 2020, is expected to bring a surge of migrants to the United States-Mexico border. (John Moore/Getty Images)
It continued: "When the Title 42 order lifts at 11:59 PM on May 11, the United States will return to using Title 8 immigration authorities to expeditiously process and remove individuals who arrive at the U.S. border unlawfully. These decades-old authorities carry steep consequences for unlawful entry, including at least a five-year ban on reentry and potential criminal prosecution for repeated attempts to enter unlawfully."
CLICK HERE TO GET THE FOX NEWS APP
President Biden and Congress have been unable to come up with an agreement on how to secure the southern border. The president has threatened to veto the latest proposal from House Republicans.
Fox News' Adam Shaw and Chris Pandolfo contributed to this report.