President Biden attacked Republicans and supporters of former President Trump in his 2024 presidential campaign announcement while simultaneously calling for national unity, continuing a contradiction seen throughout his presidency of targeting political opponents as he pledges to bring the country together.
Biden announced that he and Vice President Harris will seek re-election in a video released early Tuesday morning. The video echoed his 2020 campaign message of uniting the country and battling for the "soul of America."
"When I ran for president four years ago, I said we're in a battle for the soul of America, and we still are," said Biden. "Let's finish this job. I know we can, because this is the United States of America, and there's simply nothing we cannot do if we do it together."
However, Biden also targeted his political opponents on the same video, calling out Republicans who support Trump's Make America Great Again (MAGA) movement as extremists who threaten democracy.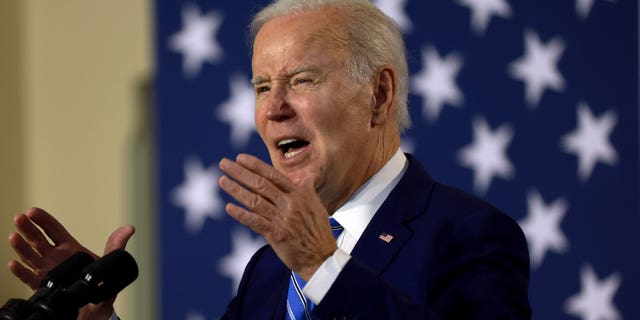 President Joe Biden speaks at the University of Tampa on Feb. 9, 2023. (Joe Raedle/Getty Images)
BIDEN, HARRIS OFFICIALLY ANNOUNCE THEIR 2024 RE-ELECTION CAMPAIGN
"Around the country, MAGA are lining up to take on those bedrock freedoms," said Biden. "Cutting Social Security that you paid for your entire life while cutting taxes for the very wealthy, dictating what health care decisions women can make, banning books, and telling people who they can love — all while making it more difficult for you to be able to vote."
While Biden was narrating, the video played images of Trump, Florida Gov. Ron DeSantis, and the Jan. 6 Capitol riot.
The contrast between Biden's message of unity and his words toward Republicans continues a pattern that's been consistent since he became president.
During Biden's State of the Union address earlier this year, he hit on his usual theme of unity and fighting for the "soul" of the country.
"The people sent us a clear message. Fighting for the sake of fighting, power for the sake of power, conflict for the sake of conflict, gets us nowhere," Biden said. "That's always been my vision for our country, and I know it's many of yours: to restore the soul of this nation, to rebuild the backbone of America, the middle class and to unite the country. We've been sent here to finish the job."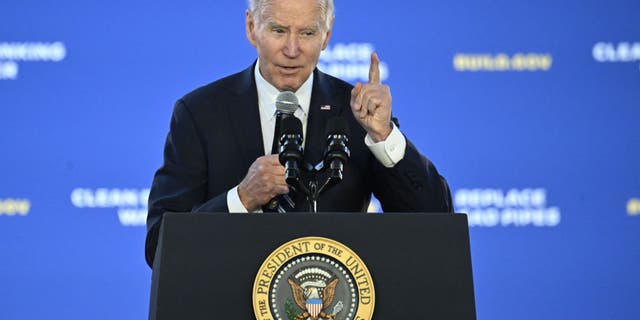 US President Joe Biden speaks about the progress of the administration's economic agenda at Belmont Water Treatment Center in Philadelphia, Pennsylvania, on February 3, 2023.  (ANDREW CABALLERO-REYNOLDS/AFP via Getty Images)
BIDEN EXPECTED TO CALL FOR UNITY AT STATE OF THE UNION AFTER REPEATED ATTACKS AGAINST REPUBLICANS
Biden's message of unity and bipartisan compromise in his speech was reportedly honed by White House senior adviser Anita Dunn, among other people.
Dunn said on NBC in November that painting Republicans who support Trump's MAGA movement as extremists who threatened democracy was a "very effective strategy" for Democrats in the midterm elections.
Biden's "ultra-MAGA" messaging reportedly came from a six-month research project, led by Dunn, from the liberal group Center for American Progress Action Fund.
That messaging became a persistent campaign to label the GOP as a threat to democracy overtaken by the MAGA movement — which culminated in Biden's now-infamous speech in Philadelphia in September.
"Donald Trump and the MAGA Republicans represent an extremism that threatens the very foundations of our Republic," he declared.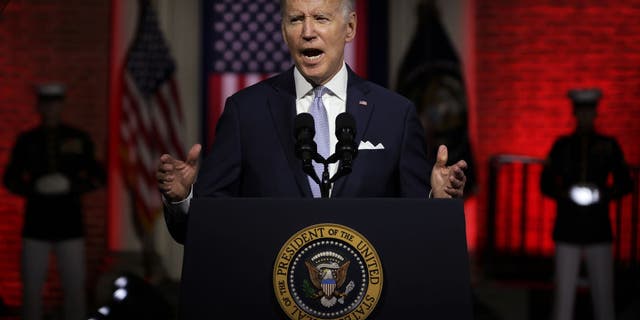 President Joe Biden delivers a primetime speech at Independence National Historical Park September 1, 2022 in Philadelphia, Pennsylvania.  ( Alex Wong/Getty Images)
BIDEN SLAMMED FOR 'RANCID' PHILADELPHIA SPEECH ATTACKING AMERICANS WHILE FLANKED BY US MARINES
Biden clarified that "not every Republican, not even the majority of Republicans, are MAGA Republicans" before adding: "But there's no question that the Republican Party today is dominated, driven, and intimidated by Donald Trump and the MAGA Republicans. And that is a threat to this country."
Biden went on to say that MAGA Republicans don't respect the Constitution or the rule of law.
A majority of Americans disapproved of Biden's speech in Philadelphia as divisive, dangerous, and going too far, according to multiple polls.
One of the surveys found a striking 62% of independents said Biden's address was "a dangerous escalation in rhetoric and designed to incite conflict amongst Americans." A mere 31% of independents said it was acceptable rhetoric during an election year.
The Philadelphia speech was hardly the first time that Biden deployed such rhetoric. Just weeks earlier, the president described the MAGA movement as fascist.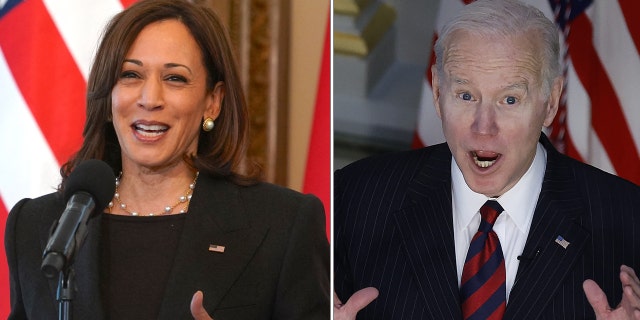 Vice President Kamala Harris and President Biden (JANEK SKARZYNSKI/AFP via Getty Images | Chip Somodevilla/Getty Images)
WSJ EDITORIAL BOARD SAYS BIDEN SHOULDN'T RUN IN 2024: 'HIS DECLINE IS CLEAR'
"What we're seeing now is the beginning or the death knell of an extreme MAGA philosophy," Biden reportedly said at a fundraiser for Democrats in Bethesda, Maryland. "It's not just Trump, it's the entire philosophy that underpins the — I'm going to say something, it's like semi-fascism."
Three months earlier, Biden told reporters that "this MAGA crowd is really the most extreme political organization that's existed in American history, in recent American history."
More recently, Biden called Republicans "fiscally demented" for criticizing his administration for pushing large government spending packages — just two weeks after calling for unity at the National Prayer Breakfast in Washington, D.C.
Biden's accusations against the GOP of authoritarianism contrast with his declaration in his inaugural address that the central mission of his presidency was to unify the country.
"Today, on this January day, my whole soul is in this: Bringing America together, uniting our people, and uniting our nation," said Biden. "I ask every American to join me in this cause…. With unity we can do great things."
President Joe Biden gestures as he speaks about gun violence prevention in the Rose Garden at the White House, Thursday, April 8, 2021, in Washington. ((AP Photo/Andrew Harnik)
BIDEN JOKES HE'S A 'VERY DULL PRESIDENT' ONLY KNOWN FOR RAY-BAN SUNGLASSES, CHOCOLATE CHIP ICE CREAM
"We must end this uncivil war that pits red against blue, rural versus urban, conservative versus liberal," he added. "We can do this if we open our souls instead of hardening our hearts."
Despite such rhetoric, Biden has routinely attacked Republicans and other Americans who disagree with his political agenda.
Last January, Biden said Trump "and his supporters" want "to suppress your vote, to subvert our elections," and "to disenfranchise anyone who votes against them," describing Republican election reforms as "Jim Crow 2.0," a reference to laws that enforced racial segregation in the South.
"That's the kind of power you see in totalitarian states, not in democracies," he continued. "Will you stand against election subversion? Yes, or no? Will you stand for democracy? Yes, or no?… Do you want to be on the side of Dr. King or George Wallace? Do you want to be on the side of John Lewis or Bull Connor? Do you want to be on the side of Abraham Lincoln or Jefferson Davis?"
Beyond Republicans, Biden also attacked those unvaccinated against COVID for not doing the "right thing" and "costing all of us." He accused them of causing "a lot of damage" by "making people sick and causing… people to die" and standing in the way of "getting back to normal."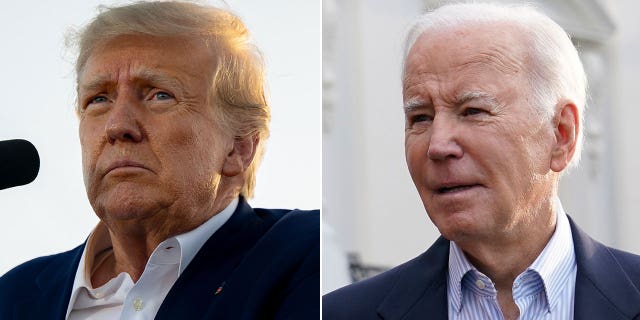 Former President Donald Trump, left, takes the mic at a rally in Waco, Texas. President Biden speaks to reporters outside the White House.  (Getty Images)
BIDEN ISSUES CALL FOR UNITY AFTER INSULTING GOP AS 'FISCALLY DEMENTED'
When announcing his vaccine mandates last year, Biden warned those hesitant to receive the vaccination: "We've been patient, but our patience is wearing thin."
Such rhetoric has led Americans to say Biden is doing more to divide than unite the country, according to polling.
A Fox News poll from last year found a majority of Americans believe the nation has become less united since Biden, who has referred to Republicans as "election deniers," took office.
More recent polling indicated a large portion of the population, including many Democrats, don't support Biden seeking re-election. A new USA Today/Suffolk University poll, for example, found that about 40% of people who voted for Biden in the 2020 presidential election don't think he should seek re-election. Meanwhile, a new survey from NBC News found that 70% of Americans, including 51% of Democrats, don't think Biden should run for a second term, with only 26% supporting the president. And earlier this month, only 32% of those questioned in a CNN survey said Biden deserves a second term in the White House.
CLICK HERE TO GET THE FOX NEWS APP
The White House didn't respond to a request for comment for this story.