Rep. Dan Crenshaw, R-Texas, and Sen. Marco Rubio, R-Fla., have introduced the bicameral "Restore Public Health Institution Trust Act," demanding answers from the Centers for Disease Control and Prevention (CDC) on its policies during the coronavirus pandemic.
"Not later than 120 days after the enactment of this Act, the Comptroller General 5 of the United States shall submit to the appropriate committees of Congress a report on the public health mitigation messaging, decision-making, and guidance of the Centers for Disease Control and Prevention," the bill reads.
Specifically the bill will consider what data the CDC was operating off of and the impact the inconsistent messaging had on "the level of trust Americans have in the CDC, the willingness of Americans to follow CDC guidance, and the opinions of immunization among school age children."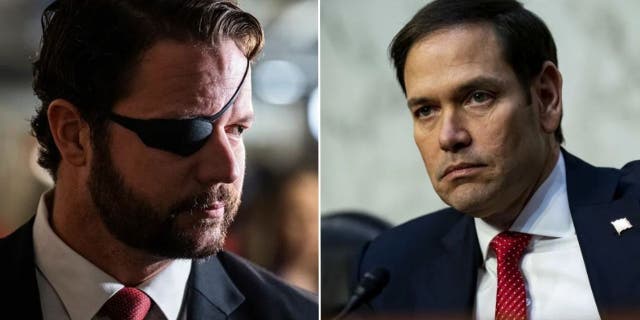 Senator Marco Rubio and Representative Dan Crenshaw introduce the "Restore Public Health Institution Trust Act." (Associated Press)
"The Centers for Disease Control and Prevention has sown distrust in the American people with its reactionary recommendations that spurred vaccine and mask mandates during the COVID-19 pandemic," Rep. Crenshaw told Fox News Digital. "Americans deserve answers. I'm proud to lead this bicameral legislation with Sen. Rubio, which will force a full accounting of the messaging the CDC engaged in during COVID-19."
FORMER INTELLIGENCE CHIEF TO SAY A LAB LEAK IS THE 'ONLY EXPLANATION' FOR COVID
The CDC has been under fire in recent weeks after Director Rochelle Walensky testified that the vaccine did little to stop transmission of the coronavirus.
'MISSING' CANCER CASES: NEW DIAGNOSES DROPPED MORE THAN 14% EARLY IN PANDEMIC
"So, it does prevent severe disease and death," Walensky said while responding to Rep. Larry Bucshon, R-Ind., during a Congressional hearing. "It doesn't prevent transmission as well as it did for prior variants [of COVID-19], but it does still prevent some."
"During the COVID-19 pandemic, the CDC's messaging was inconsistent and the data was constantly changing," Senator Rubio told Fox News Digital. "The mixed messaging undermines the American people's trust and will have long-term consequences. We need to bring more transparency to the CDC if we are to restore trust in the agency."
CLICK HERE TO GET THE FOX NEWS APP
"The American people rightfully see an agency that's lost its focus. They see an inability to respond to the growing science on COVID-19, and the CDC's track record of defending lockdowns that don't work, mask mandates that are ineffective and detrimental to our kids, and vaccine mandates that have only resulted in discriminatory behavior against those who chose not to get vaccinated," Rep. Crenshaw told Fox News Digital. "Ironically, the CDC and the federal government's mishandling of vaccine mandates likely led to more vaccine skepticism and resistance."
Fox News Digital reached out to the CDC for comment, but has not yet heard back.