Two Florida deputies and an off-duty deputy helped to rescue a newborn dolphin that was found alone and struggling in the ocean off the coast of a beach town earlier this month.
The off-duty deputy was fishing from a boat in the gulf near Hudson, Florida, on May 10 when he spotted the dolphin calf swimming in circles and struggling to get above water to breathe, the Pasco Sheriff's Office said Tuesday.
The calf was believed to have been just hours or days old, according to officials.
The off-duty deputy called the sheriff's Maritime Operations Unit, which sent two deputies out by boat to meet him in the water.
At the dock, the deputies met with staff of the Clearwater Marine Aquarium, which took the calf into its care before transferring it to SeaWorld Rescue.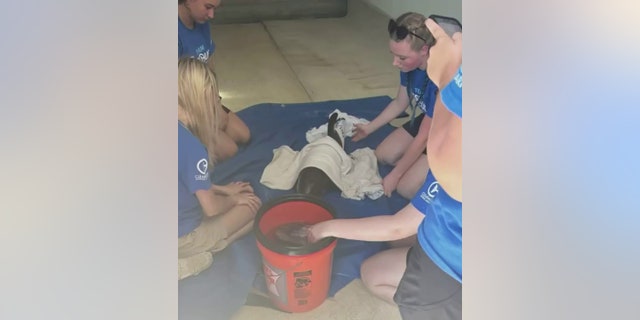 Staff of the Clearwater Marine Aquarium met the deputies at a dock in Clearwater and took the dolphin calf into their care. (Pasco Sheriff's Office )
SeaWorld Rescue said the dolphin calf, a male, was still in critical condition as of Tuesday, but is showing signs of improvement and was swimming on his own, according to the sheriff's office.