FIRST ON FOX – As he's racked up a slew of conservative legislative victories this year in his home state of Florida, Republican Gov. Ron DeSantis has also been making friends with plenty of Republican Party officials across the country through his efforts to boost their fundraising.
DeSantis has helped haul in over $4.3 million in fundraising since the beginning of March for state and local GOP organizations from coast to coast, according to Fox News figures confirmed by the governor's political team.
Starting with a March 3 Harris County GOP Lincoln-Reagan Day dinner in Houston, Texas, DeSantis has headlined 10 Republican Party events in eight states. And over 10,000 people have been in attendance at the gatherings where the governor gave keynote speeches. DeSantis remains on the 2024 sidelines but is expected to launch a Republican presidential campaign in the coming weeks.
More than 500 Republican leaders and activists packed a hotel ballroom in Manchester, New Hampshire, last month as DeSantis headlined the state GOP's annual fundraising gala. New Hampshire GOP chair Chris Ager told Fox News that the dinner broke fundraising records for the state party. Ager emphasized that DeSantis' efforts were "extremely helpful" to the state party.
WHAT RON DESANTIS SAYS ABOUT RUNNING FOR PRESIDENT IN 2024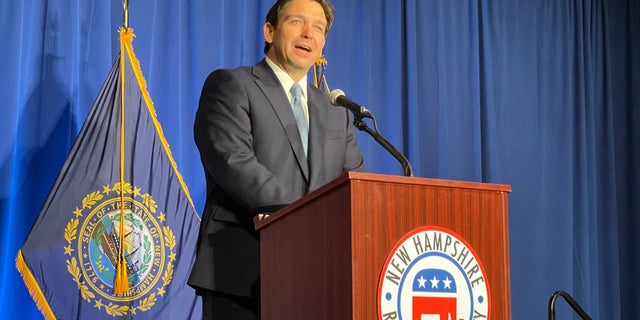 Florida Gov. Ron DeSantis headlines the New Hampshire GOP's annual fundraising gala on April 14, 2023, in Manchester. (Fox News)
"I was blown away by his graciousness and the fact that he didn't try to take credit for it," the chairman added on Thursday.
DeSantis also helped the Alabama GOP set a new fundraising record when he keynoted their annual gala in Birmingham in early March. The state party had to move their gathering to a larger venue to meet the demand on activists wanting to attend their winter dinner.
"We have been blown away by the response we've received since announcing this year's Winter Dinner," Alabama Republican Party Chairman John Wahl said ahead of his March 9 dinner.
Cindy Siegel, the Harris County GOP chair in Texas, told Fox News that "a lot of people were excited to get to hear from Gov. DeSantis and see him in action."
Siegel highlighted that "we raised over $1 million the first time ever for our Lincoln-Reagan dinner and we had over 1,400 people in attendance." And pointing to DeSantis, she said "he helped us raise in a very short period of time a lot of money."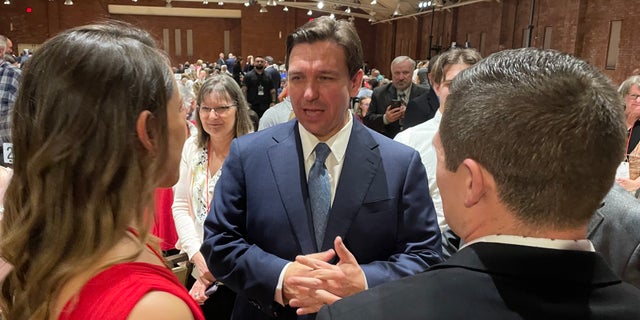 Florida Gov. Ron DeSantis greets GOP activists and leaders after headlining the New Hampshire GOP's annual fundraising dinner, on April 14, 2023, in Manchester. (Fox News )
DeSantis this year has also headlined a Dallas County GOP Reagan Day dinner in Texas, on March 4; an Orange County GOP event in Anaheim, California, on May 5; a Hillsborough Lincoln Day dinner in Tampa, Florida, on March 31, a Midland GOP Lincoln Day dinner in Michigan, on April 6; a Summit County Lincoln Day breakfast and a Butler County Lincoln Day dinner in Ohio on April 13, and a Marathon County GOP Lincoln Day dinner in Rothchild, Wisconsin, on May 6.
DeSantis heads to Illinois on Friday, where he'll keynote the Peoria and Tazewell County GOP Joint Lincoln Day dinner. On Saturday, the governor will be in Iowa, where he'll headline Rep. Randy Feenstra's annual Feenstra Family Picnic fundraiser in Sioux Center. Later in the day he'll serve as a main attraction at a Iowa GOP fundraising event in Cedar Rapids.
The governor said last week that he'll decide "relatively soon" whether he will launch a 2024 GOP presidential campaign.
WHO'S IN AND WHO'S ON THE SIDELINES — YOUR GUIDE TO THE 2024 GOP PRESIDENTIAL NOMINATION RACE
DeSantis, who won an overwhelming 19-point gubernatorial re-election victory last November, said at a news conference last Friday marking the end of Florida's legislative session that "I felt very confident going into November '22 we were gonna do very well, but you really had to put up or shut up on that."
Asked about his 2024 plans, the governor said "what happens in the future? We'll get on that relatively soon. You either gotta put or shut up on that as well. So we'll see."
But behind the scenes, he's already made plenty of moves toward launching a campaign, including beefing up staff in Tallahassee. And the past couple of months, he's made campaign-style stops in Iowa, New Hampshire and South Carolina, the first three states to vote in the GOP presidential nominating calendar.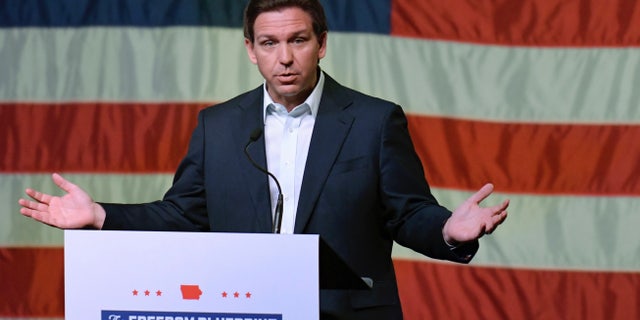 Florida Gov. Ron DeSantis speaks at a campaign event, March 10, 2023, in Davenport, Iowa. (AP Photo/Ron Johnson)
The efforts by DeSantis to help fellow Republicans raise money could pay dividends down the road if he — as expected — launches a presidential campaign.
CLICK HERE TO GET THE FOX NEWS APP
"For the past 50 years people who want to run for president have helped state parties and candidates by raising money… it's a very smart tactical move. Bob Dole did it. Ronald Reagan did it. George Bush 41 and 43 did it," former Republican National Committee member and former longtime New Hampshire GOP chair Steve Duprey told Fox News.
Duprey emphasized that "it's a great way to get introductions to local candidates and local parties and meet the activists. Does it automatically turn into support for a candidacy? No. Does it help open doors and make introductions? Yes, it does."