A Florida landlord said she's giving up on real estate as a source of income while in retirement after spending thousands of dollars fighting to get squatters out of one of her properties.
Patti Peeples and Dawn Tiura regained control of their house in Jacksonville's Hogan's Creek neighborhood after squatters illegally occupied it for more than 30 days and left behind $38,000 in damage.
"This is my retirement, and so any sort of income that I was trusting to live off of for this year is diminished because of this act of stealing," Peeples told Fox News."That's essentially what they've done – they've stolen my home from me."
SQUATTERS TAKE OVER FLORIDA HOME FOR 34 DAYS
Video
WATCH MORE FOX NEWS DIGITAL ORIGINALS HERE
Peeples and Tiura first realized their investment property was occupied by squatters when they sent a handyman in March to make repairs ahead of a home inspection for selling it.
"We had an interested buyer, but the repairman we sent ahead of an inspection said that when he arrived there was a pitbull with puppies on the sun porch," Tiura told Fox News. "This was only 48 hours after showing it to the interested buyer."
The squatters were two women in a relationship who moved into the home with two toddlers and a pitbull that had several puppies.
Peeples and Tiura lost the offer on the house once the squatter issue arose, and they had to remove the house's listing because they were legally not allowed to show it.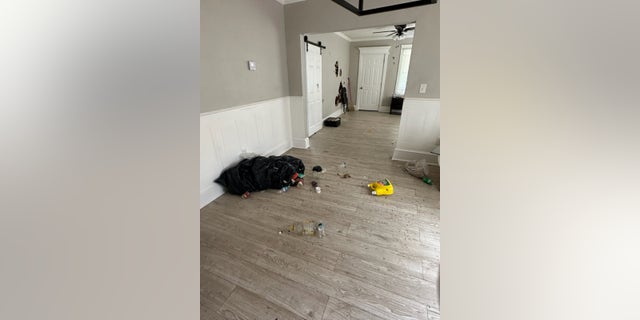 Patti Peeples saw the destruction that squatters left behind in her home after 34 days.
According to the police report, the squatters said they found the house listed on Zillow and claimed to be victims of a rental scam by a false landlord. One of the squatters told police that she paid rent, a security deposit and a pet deposit in cash for the house.
REALTY COMPANY: SQUATTERS MAKING LIFE MISERABLE FOR PROPERTY OWNERS, PHILADELPHIA OFFICIALS DON'T SEEM TO CARE
According to Zillow's website, the property was not listed as a rental at the time the two women moved in.
Police discovered that one of the squatters was caught in a nearly identical situation at a nearby home and was evicted in mid-February. In the last lease, the same address was listed for the fraudulent landlord, according to the police report, raising suspicions that the lease was fabricated.
Peeples explained that police were unable to help her because the situation must go through the courts.
"They are simply going from property to property to property and getting free room and board in segments of 20 or more days," Peeples said, adding that it took them 34 days to get the squatters to leave.
SQUATTERS TORMENT HOMEOWNERS ACROSS US WITH NO RESOLUTION IN SIGHT: 'IT'S A PROBLEM'
Peeples says squatters know the law and abuse it for free housing, knowing that landlords may not enter the property because of privacy rights.
"These squatters have the expectation of privacy, even though the law knows that they're squatters. I know that they're squatters, and they know they're squatters," she said.
In total, Tiura and Peeples paid $5,000 in legal fees.
In the aftermath, Peeples told Fox News that new carpet placed into the home just weeks prior was destroyed, there were smashed walls and windows, cabinets off the walls, a washer and dryer missing, toilets broken, and dog fecal matter scattered throughout the Florida home.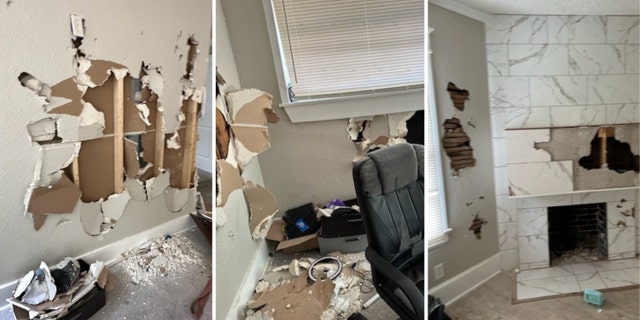 A Jacksonville home was destroyed after squatters moved in. (Courtesy of Patti Peeples)
"I've had so many emotions," Peeples said. "I've had just intense anger, I have felt defeated, I felt wronged by the legal system, I felt wronged by the police system."
Peeples also said that she has felt afraid for her safety after several altercations with the squatters, including once being forcibly pushed out of the house, as seen in a video obtained by Fox News.
HANDYMAN TURNS THE TABLES ON SQUATTERS WHO TOOK OVER HIS MOTHER'S HOUSE
"In another altercation, we were driving by at night, and they threw a brick at my car and damaged it, and we had the window partway down, and they threw human feces into the car," Peeples said.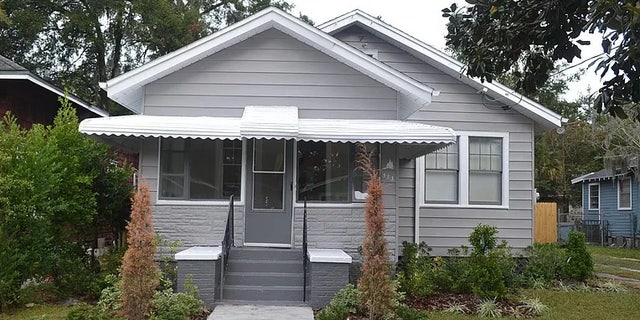 The Jacksonville home that was illegally occupied by squatters for 34 days.
After the repairs are made, Peeples said she plans to relist the home but will be taking cautionary steps to prevent another squatter situation.
CLICK HERE FOR THE FOX NEWS APP
"No. 1: We will not place a for-sale sign outside the front of the house, that's just an advertisement," Peeples said. "We will not allow the lockbox to be visible."
She added that she purchased a more secure lockbox, plans to install timed lights, and she is even considering having someone live at the property until it's sold.
Click here to learn more about the squatters in Jacksonville, Florida.